Blue Microphones Snowball iCE USB Black
Plug 'n Play USB microphone for recording and podcasting
USB condenser microphone

Polar pattern: cardioid

Perfect for vocal and music recordings as well as podcasts

Frequency response: 40 Hz - 18 kHz

Sample rate: 44.1 kHz

Resolution: 16 bit

system requirements: Win 10 or newer, Mac OS 10.13 or newer, USB 1.1 / 2.0 / 3.0 interface

Weight: 0,46 kg

Colour: black

Incl. USB cable and adjustable table stand
Switchable Polar Pattern
No
available since
June 2021
A new addition to the streaming microphone family
The Blue Microphones Snowball iCE USB Black is the little brother of the Blue Snowball, a classic in the world of streaming microphones. The Snowball iCE is the most affordable USB microphone that Blue Microphones has in its range, and it delivers all the sonic clarity of the manufacturer's other models at an even more budget-friendly price and comes in an attractive white design. This easy-to-operate USB microphone, which offers plug-and-play installation, is suitable for more than just voice streaming for podcasts and vlogs, however – it is also ideal for recording music. To allow you to get started straight away, the microphone is supplied with both a USB cable and an adjustable table tripod. And those who would prefer the microphone in white can also find the corresponding model in our catalogue (article no. 520929).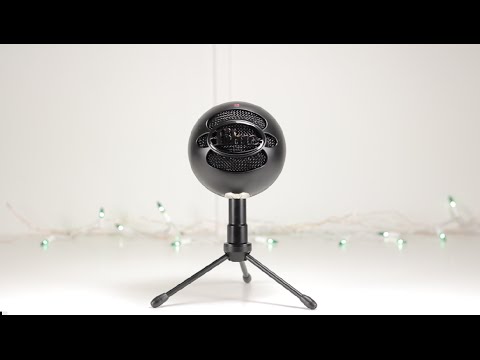 Ready in an instant
Once mounted on its compact table tripod, the Blue Microphones Snowball iCE USB Black is remarkably easy to use. The microphone can easily be connected to a PC, MacBook, or laptop using the micro-USB socket on the rear. No driver installation is needed and the system requirements – Windows 10 / MacOS High Sierra 10.13 or newer – are also modest. What is more, the USB connection of the Snowball iCE is downwardly compatible as far as USB 1.1, and an LED indicator shows whether or not a connection has been established. The microphone can deliver CD-quality sound thanks to its signal sampling rate of 44.1 kHz and bit depth of 16 bits per sample. And to ensure that spoken-word recordings made with this microphone sound both full and well-defined, it can process a frequency range of 40 Hz to 18 kHz and emphasises frequencies intrinsic to the human voice in order to ensure that every word can be understood.
From home office to home studio
The Snowball iCE allows those working from home to hear their own voice in outstanding quality during video conferences, and gamers can enjoy flawless speech clarity while streaming their favourite games. And since it weighs just 460 grams, the microphone will easily fit into a rucksack – so taking it to your next LAN party is no problem at all. Podcasters, vloggers, and singers who want to safely take full advantage of the microphone's proximity effect can combine the Snowball iCE with Blue's "The Pop" universal pop filter (article no. 163537). The optionally available "Ringer" shock mount also makes it easy to record music without traffic noise from the street or footsteps from the next room being picked up. Together, all of these advantages mean that anyone looking for a microphone in the entry-level price range without needing a low-cut filter or pad function should definitely take a closer look at this stylish microphone.
About Blue Microphones
Blue Microphones is a US-based manufacturer whose eye-catching products never fail to make an instant impression. The company's microphones, which include the stylish Yeti and the ultra-streamlined Snowball sound converter, are always quick to win over microphone afficionados. The company behind these creative ideas is Baltic Latvian Universal Electronics ("BLUE" for short), whose product range includes handheld, large-diaphragm, and small-diaphragm microphones in both USB and XLR formats and has recently been expanded to include headphones. The Bottle, a microphone with a selection of interchangeable capsules, is a high-end classic in the Blue Microphones range. Swiss firm Logitech acquired Blue Microphones in 2018. Since then, streaming bundles that include Blue Microphones mics and Logitech webcams have also been available.
Not just for podcasters and gamers
The Blue Microphones Snowball iCE USB Black picks up sound from one specific direction thanks to its cardioid characteristic, which eliminates a lot of the background noise that is typical of the omnidirectional microphones found on laptops and webcams. And since the Snowball iCE USB White is a condenser microphone, the nuances of speakers' and singers' voices will always be faithfully preserved when streaming or recording. Those using the Snowball iCE to record podcasts can thus be sure of a full and outstandingly clear sound, and the microphone will also put the speaker's voice across in great detail during video chats and video conferences. This microphone will provide gamers with a professional-sounding audio tool for their Twitch channels and, last but not least, the Snowball iCE is perfect for musicians who want to record vocals, acoustic guitar, and other instruments.