Analog Synthesizer
37 Full-size keys

Monophonic/Duo-phonic synthesizer

Controls: octave +/-, pitch bend, modulation

2 VCOs with sawtooth and square/pulse

VCO sync

VCO pulse-width modulation

Noise generator

Ring modulator

Low-pass filter with resonance

3 Selectable filter circuits

Adjustable high-pass filter

Switchable overdrive

1x AR- and 1x ADSR envelope

VCO 1 can be used as LFO

Digital effects section

32-Step sequencer

Arpeggiator
Connectors:
CV input: 3.5 mm

Gate input: 3.5 mm

Trigger input: 3.5 mm

CV output: 3.5 mm

Gate output: 3.5 mm

Trigger output: 3.5 mm

Stereo headphone output with volume control: 6.3 mm jack

External audio input: 6.3 mm jack

Audio output: XLR und 6.3 mm jack

Footswitch- and pedal input

USB port

MIDI input/output

External 9V DC power supply

Dimension (H x W x D): 133 x 589 x 409 mm

Weight: 8.1 kg

Suitable case: Article Nr. 482987 (not included)
Suitable bag: Art. 485315 (not included)
available since
August 2019
Number of simultaneous Voices
1
MIDI interface
1x In, 1x Out
Number of Analog Outputs
1
Pedal Connections
1x Pedal, 1x Footswitch
Dimensions
133 x 589 x 409 mm
Duophonic analogue synthesizer
The original Odyssey from the 1970s was marketed as the alternative to a competitor model that was very sought-after at the time, with different operation logic and a wider range of timbres. Behringer's Odyssey expands the model to include an effect processor, sequencer, and MIDI capability. With classic waveforms, ring modulation, hard sync, and a noise generator, a wide spectrum of musical and experimental sounds can be created. Operation is facilitated by the integrated LEDs, which make the panel very easy to understand. The two oscillators can be actuated individually for playing in two voices, so that a bass and lead voice can be played in parallel on a full-size keyboard, for example.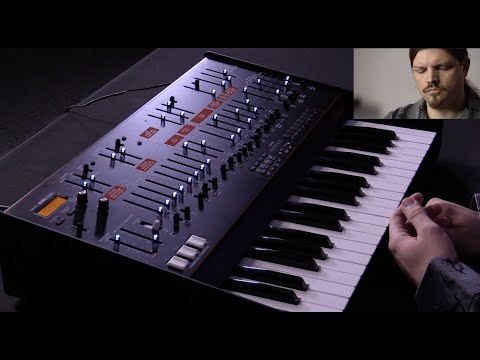 Classic, wide-ranging analogue sound
The two VCOs deliver powerful basic waveforms, which also create aggressive and metallic sounds via sync and ring modulation. The filter can be switched between three modes from 12dB to two different 24dB variants, which alters the sound character substantially. This is accompanied by a high-pass filter and an adjustable overdrive, which is particularly suitable for lead sounds and SFX. The concept of fader-assignable audio and modulation signals allows for a wider sound spectrum than users may be used to from comparable analogue classics, as well as expressive playing with intuitive sound manipulation.
For duophonic solos
With its tonal character, the Odyssey is perfect for Funk and Fusion. Its sonic variety, the three pressure-sensitive rubber pads, and the option of duophonic playing are perfect for expressive keyboardists. Bass/lead solos in the style of Funkadelic or Joe Zawinul are no problem with the Behringer Odyssey in terms of both sound and playing feel. For use in electronic music and dance tracks, an arpeggiator and a sequencer are also on board. The triggerable sample and hold functions and the sync, overdrive, and ring modulation effects enable a range of powerful sounds to be created. The sequencer can also be programmed from a computer via the free Synth Tool.
About Behringer
The company, which was founded in Germany by Uli Behringer and now manufactures its products in China, has been known for affordable and great-value equipment since its very first product, the Studio Exciter F. An array of mixing consoles (such as the Eurodesk MX8000), signal processors, and later sound amplification and monitoring equipment, has made it possible for countless musicians to fit out their home studios, practice rooms, and mobile PAs within budget limits that were previously unthinkable. The acquisition of other companies, including Midas, Klark Teknik, and TC Electronic, meant that new product groups were added - and also resulted in the technical expertise of these companies being incorporated into product development.
Intuitive sound editing - live or in the studio
With its 37-note keyboard, the Odyssey is predestined for solo playing. The flexible structure of its sound generation circuitry allows the player to spontaneously shape the sound. The integrated effects unit is especially helpful for live use, where it saves on additional equipment, and the LED faders provide a clear overview that allows for quick changes during a live gig as well as experimentation with the different sonic options or intuitive modulation during a running sequence. In the studio, the Odyssey can be controlled directly by a DAW via MIDI or USB.
Duophonic vs. paraphonic
For polyphonic (duophonic) playing, a synthesizer just as often needs to use all of its sound generation components: Oscillator, filter, VCA, envelopes, LFO, etc. Paraphonic synthesizers feature only a corresponding number of oscillators, and all other elements are only available for one voice. The notes can therefore be played polyphonically or duophonically here, but they go through the same post-processing and modulation. In practice, this often doesn't matter, except that the envelopes on the second note also affect the filter and VCA controls on the first note.