Digital Mixer
With Bluetooth audio and USB audio interface

2 Mono channels with microphone inputs: XLR (+48 V phantom power switchable)

2 Mono channels for microphone and line signals: XLR / TRS combo socket

2 Stereo channels for line and instrument signals: 6.3 mm jack

Per channel: 4-band EQ and compressor

Stereo main output with 9-band EQ and limiter: XLR

2 Monitor outputs: 6.3 mm jack

Stereo headphone output: 6.3 mm jack

Foot switch input: 6.3 mm jack

USB-B port for audio transmission

Micro USB port for power supply

60 mm Fader

2 Effects processors with 16 effects

Fully controllable via the Behringer FLOW Control App (available for Android and iOS)

Bluetooth audio for direct streaming from smartphones or tablets

24 Bit / 48 kHz USB audio interface with 10 inputs and 2 outputs

Dimensions (W x D x H): 229 x 172 x 48 mm

Weight: 1.4 kg

Includes external power supply unit (5 V DC)

Suitable protective cover: Art.507895 (not included)
Available since
November 2020
Max.number of input channels
8
Analog Line Outputs
2x Jack, 2x XLR
Analog in/ out with plug-in card expandable
No
Digital in-/ outputs expandable
No
User Interface
Physical/remote
Digital stagebox connection
No
Special Features
Bluetooth
Soundcard interface
USB-B
integratated Player/Rec via USB/SD
No
Separate Personal Monitor system
No
The Behringer Flow 8 is a compact digital mixer that is adaptable to a wide range of applications thanks to its small size and its wide array of functions. All its settings can be saved and recalled at a later time. The unit can be controlled remotely via a dedicated app and also features an extra channel strip for receiving external audio signals via Bluetooth. The Flow 8 has six channel strips in total, two of which are stereo, bringing the total channel count to 8 – and hence its name. Each strip is equipped with an EQ section and a compressor. Its small size and its simple and reliable operation make the Flow 8 suitable for an extensive range of different settings – whether on stage, in the rehearsal room, or even rigged into a conference sound system.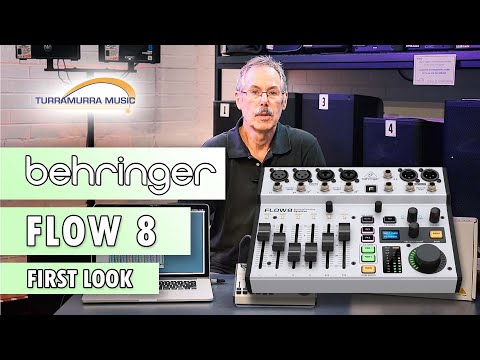 Versatile input options
The Flow 8 has two mic XLR inputs with switchable 48V phantom power. The next two inputs are XLR/jack combo sockets that can be used for dynamic microphones or line-level instruments. The additional jack inputs function both as mono and stereo – and can therefore be used to connect guitars or keyboards, for example. The main stereo output is on two XLR sockets, while the dedicated monitoring output is assigned to two 6.3mm jacks. The headphones output is in the same format. A footswitch can also be connected to trigger various functions – and last but not least, the Flow 8 stores two banks of 16 effects, which can be assigned to the channels via the console's user interface or remotely via the dedicated app.
Bluetooth control
The fate of a small mixer is that it often lands in tight spaces. To ensure that the Flow 8 remains fully functional even in this context, Behringer has developed the FLOW app, which is both Android and iOS-compatible. Simply pair your mobile device with the console via Bluetooth and launch the app to make sure the setup is working properly. The USB socket allows you to send the eight tracks straight to a DAW. The main stereo output has a 9-band equalizer and a limiter to prevent clipping, which can also be accessed via Bluetooth. Last but not least, the Flow 8 is class compliant, which means it can also be connected to an iOS device for multi-track recording using a camera connection kit and a DAW program.
About Behringer
The company, which was founded in Germany by Uli Behringer and now manufactures its products in China, has been known for affordable and great-value equipment since its very first product, the Studio Exciter F. An array of mixing consoles (such as the Eurodesk MX8000), signal processors, and later sound amplification and monitoring equipment, has made it possible for countless musicians to fit out their home studios, practice rooms, and mobile PAs within budget limits that were previously unthinkable. The acquisition of other companies, including Midas, Klark Teknik, and TC Electronic, meant that new product groups were added - and also resulted in the technical expertise of these companies being incorporated into product development.
Gain staging for dummies
The EZ-Gain function automatically adjusts the gain levels for each of the Flow 8's channels by assessing the loudest sounds present on each one. It can be activated on one or on all channels. If no signal is present at mic inputs 1 and 2, phantom power is automatically switched on, in case a condenser microphone is connected. These functions greatly simplify the gain-staging process. The signals are converted and processed without distortion and with little to no background noise, allowing musicians to concentrate fully on playing their instrument!
This is what customers who viewed this product bought