12-Voice Analogue Desktop Synthesiser
4 FX Engines powered by tc electronic & Klark Teknik

24 Oscillators - two OSCs and LFOs per voice

3 ADSR generators

Switchable 2- or 4-pin low-pass filter per voice

High pass filter

8-Channel modulation matrix

32-Step control sequencer

Envelope depth

Key tracking

Remote control via iPad / PC / Mac via USB, MIDI or built-in wifi

26 Controllers and one switch per function for direct access to all important parameters in real time

1024 Program memories

Built-in and adjustable wifi client

LC Display

Dimensions: 120 x 457 x 225 mm

Weight: 4.2 kg

Designed and engineered in the UK

Suitable protective cover: Article Nr. 481852 (not included)
Suitable case: Article Nr. 480289 (not included)
Suitable case: Article Nr. 483023 (not included)
available since
June 2017
Sound Generation
Analogue
MIDI interface
1x In, 1x Out, 1x Thru
Number of Analog Outputs
2
Special Features
Cascadable
Affordable analogue sound module with many features
With 12 analogue voices, a modulation matrix, 32-step sequencer, and four high-quality FX engines, the Behringer DeepMind 12D polyphonic synthesizer has features that neither existed in the great era of analogue synthesizers nor are easy to find today - and all that at an unbeatable price. The DeepMind 12D module delivers massive soundscapes, rhythmically modulated sequences and arpeggios, and concise lead sounds. Besides this, it can be integrated into a studio or live setup - ideal to save space if no additional keyboard is required. With its analogue signal path, it delivers that popular, warm sound character while the four FX engines with algorithms from TC Electronic and Klark Teknik are a useful extension, especially for live use and to avoid having to use additional equipment.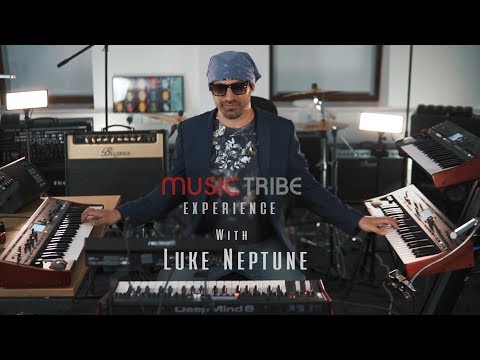 Polyphonic analogue synthesizer with FX engines
The sound of the DeepMind 12D is generated via two oscillators, a 12/24dB low-pass filter, and a VCA in the analogue signal path. Oscillator 1 produces saw and square/PWM, while oscillator 2 produces square/pulse with a special Tone parameter. For modulation, each voice has three ADSR envelopes, as well as two LFOs with seven waveforms, including "sample & hold", which can also be synced to MIDI clock. A total of 19 modulation sources can be assigned to more than 130 different destinations via the integrated matrix, which leaves a lot of scope for sonic experimentation. Since sounds are usually mixed with effects, onboard FXs are standard these days. The DeepMind 12D even has four effect units, usable in parallel, with more than 30 algorithms with which the sounds of the synthesizer can be enhanced. These include reverb, chorus, phaser, delay, and many more.
Compact module for live and studio use
Anyone who already owns a high-quality keyboard, simply needs a more compact keyboard, or maybe even no keyboard at all, can get the DeepMind 12D as a desktop synthesizer or screw it into a 19" rack. Compared to the keyboard version, you don't have to make any compromises in terms of operation, as the module has the same selection of controls and buttons as well as a display. And when controlled by a hardware sequencer or a DAW, all of the important parameters can be changed intuitively while playing. The easy accessibility via the user interface facilitates the creation of your own sound designs. And if you want even more precision, the parameters organised in menus can alternatively be controlled via an app (iOS/PC/Mac) or by using an additional MIDI controller. In this way, the sounds can then be automated via a DAW.
About Behringer
The company, which was founded in Germany by Uli Behringer and now manufactures its products in China, has been known for affordable and great-value equipment since its very first product, the Studio Exciter F. An array of mixing consoles (such as the Eurodesk MX8000), signal processors, and later sound amplification and monitoring equipment, has made it possible for countless musicians to fit out their home studios, practice rooms, and mobile PAs within budget limits that were previously unthinkable. The acquisition of other companies, including Midas, Klark Teknik, and TC Electronic, meant that new product groups were added - and also resulted in the technical expertise of these companies being incorporated into product development.
Pads and other poly sounds
12 voices in one device still have a very high value in the analogue world today. Much more common are polyphonic analogue synthesisers with eight, six, or even just four voices. The DeepMind 12D can thus be used for "big" chords and polyphonic pads as well as for sounds with a long release without the voices being cut off too quickly. With two oscillators and one low-pass filter per voice, the sound structure of the DeepMind series is based on the great analogue classics from the 70s and 80s. The structure has proven itself in countless applications from a wide variety of genres. The end result is that you can quickly become familiar with it, plus you can work on your sounds in a targeted manner.
In the spotlight: DCO (Digital Controlled Oscillator)
As with some synthesizers from the 1980s (e.g. the Roland Juno and JX series), the oscillators of the DeepMind 12D are designed as DCOs. By mistake, these are often classified as "digital". In fact, these are actually analogue oscillators that are only digitally controlled and are indispensable in a polyphonic synthesizer and for achieving reliable tuning stability. This technique prevents the well-known analogue drift in pitch, which occurs mainly due to temperature fluctuations over a longer period of use. However, the actual generation of the waveforms is fundamentally analogue.
This is what customers who viewed this product bought