AD/DA Converter
Successor to the Behringer ADA8000 Ultragain

8-Channel AD/DA transformer 24-Bit at 44.1/48 kHz

8 Integrated microphone amplifiers (designed by MIDAS)

Sample rate sync

All Mic/Line inputs routable to ADAT outputs, all ADAT inputs routable to Line outputs

48V Phantom power at each input

Integrated "Planet Earth" mains adaptor

Rack format: 19" / 1 RU
Connectors:
8 x XLR Mic in

8 x 6.3 mm jack line in, balanced

8 x XLR line out, balanced

ADAT in/out

Word clock
Available since
September 2013
Number of microphone inputs
8
Max. sampling rate
48 kHz
Number of analog inputs
8
Number of Analog Outputs
8
Special Features
8 Mic-Preamps, 48V Phantom power
Eight-channel preamp at a bargain price
The Behringer ADA8200 Ultragain is an eight-channel preamp module which includes full AD/DA conversion and ADAT connectivity. It provides a cost-effective way to add additional analogue inputs and outputs to any compatible audio interface or digital mixer. The eight on-board microphone preamps were developed by Midas and, in addition to their clean basic sound, deliver up to 60 dB of gain – a remarkable feat at this price point. The internal converters are manufactured by Cirrus Logic and support sampling rates of up to 24 bit/48 kHz. Thanks to the convenience and consistency of its design and characteristically budget-friendly price, the Behringer ADA8200 has been a consistent favourite on the audio market for years.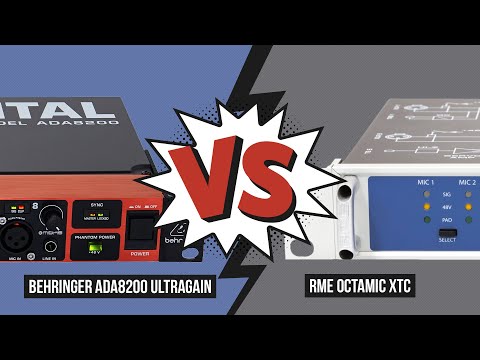 Comprehensive ADAT routing options
The Behringer ADA8200 Ultragain provides phantom power for condenser microphones via a dedicated master switch and also allows line sources to be connected thanks to the additional TRS sockets included on each channel. Each of the analogue inputs is routed to the module's ADAT output. The line outputs on the rear side offer eight additional output channels, which are routed from the ADAT input. This considerably expands the functionality of the ADA8200 and allows the connection of outboard effects units or headphone amplifiers in order to create different monitor mixes, for example.
Great for the studio and mobile recording
Eight clean-sounding, high-gain Midas microphone preamps, eight additional line outputs, complete internal AD/DA conversion and, last but not least, a remarkable price-performance ratio make the Behringer ADA8200 Ultragain a very practical and economical option for use in both home and project studios. Its compact housing, which unites all of these features in a 1RU, 19" rack format, ensures hassle-free portability, thus also making it an ideal component for mobile recording rigs. The ADA8200 is therefore an attractive option not only for beginners but for many other users as well.
About Behringer
The company, which was founded in Germany by Uli Behringer and now manufactures its products in China, has been known for affordable and great-value equipment since its very first product, the Studio Exciter F. An array of mixing consoles (such as the Eurodesk MX8000), signal processors, and later sound amplification and monitoring equipment, has made it possible for countless musicians to fit out their home studios, practice rooms, and mobile PAs within budget limits that were previously unthinkable. The acquisition of other companies, including Midas, Klark Teknik, and TC Electronic, meant that new product groups were added - and also resulted in the technical expertise of these companies being incorporated into product development.
A reliable and versatile companion for multi-tracking
Thanks to its straightforward ADAT connectivity and routing options, the Behringer ADA8200 Ultragain provides a practical solution whenever a compatible audio interface or digital mixer requires additional inputs and outputs. It is thus easy to make extensive drum recordings or, for that matter, record an entire band. For use in combination with additional converters (as a master or slave), the necessary synchronization takes place via the ADAT interface or, alternatively, via the word clock.
This is what customers who viewed this product bought