Semi-modular analog synthesizer
Monophonic

3 VCOs with adjustable pulse width

Oscillator 1 with outputs for sawtooth and pulse

Oscillators 2 and 3 with switchable oscillator synchronization and outputs for triangle, sawtooth, sine and pulse

Low-pass filter with resonance and 2 switchable filter characteristics

Noise generator

Ring modulator

Sample & Hold stage

Preamp and envelope follower for external signals

Voltage processor

ADSR envelope

AR envelope

Stereo VCA with adjustable panorama

Mixable reverb effect

Extensive modulation options for oscillators and filters are possible thanks to a specified signal path and free interconnection of all sections via patch sockets (3.5 mm jack)

Stereo line output: 2x 6.3 mm jack

Stereo headphone output: 3.5 mm jack

Footswitch inputs for Interval Latch and Portamento: 6.3 mm jack

MIDI In / Thru

USB-B port

Format: 19"/ 8 U

Includes external power supply (12 V DC, 2000 mA)
available since
November 2020
Sound Generation
Analogue
MIDI interface
1x In, 1x Thru
Number of Analog Outputs
2
Special Features
Semi-modular
Modern version of a semi-modular classic
The original on which Behringer's 2600 is based was an extremely popular synthesizer when it hit the market in the 1970s and is today considered a true classic. With its semi-modular structure, duophonic mode, separate keyboard, and of course its wealth of sonic possibilities, this legendary synth was ground-breaking for its time and inspired the likes of Herbie Hancock, Vince Clark, and Joe Zawinul to explore completely new possibilities of musical expression, many of which ended up in classic recordings. The Behringer 2600, a new, modernised, and compact version of the original classic, was developed in collaboration with British analogue guru AMSynths and retains all the sonic capabilities of its illustrious predecessor. Each original circuit has been painstakingly recreated to contemporary standards, and its format has been reduced from the original to fit into a 19" rack. The Behringer 2600 retains all the features of the original and has added functionalities of its own, such as MIDI, dimmable LED faders, and a digital reverb. And like the original, the Behringer 2600 can be directly connected to other modular synthesizers and analogue sequencers, and thus become an integral part of a much larger and more powerful system.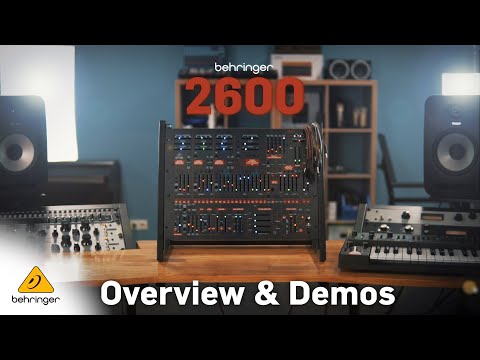 Duophonic analogue synthesizer
The 2600 is a powerful analogue synthesizer with three oscillators and two switchable LFOs which can be assigned to a VCO or even used independently. The Behringer 2600 includes differential VCA inputs, an ADSR envelope section with scaling options, and other functions such as noise generators, S&H (Sample and Hold), and an assignable low-pass filter as well as an inverter option on the voltage processor. The LFO and portamento sections, which in the case of the original were located on a separate keyboard, are also integrated into the main chassis, and the original's spring reverb unit has been replaced here by a commensurate digital emulation. The main signal path and the assignments of each modulation are conveniently controlled via faders, which can also be visualised via LED colour indicators. For greater flexibility, the signal flow can be modified via patch connections and expanded with external devices. Another feature of the 2600 is its Duo Voice Mode, which uses a second oscillator to play two notes simultaneously whereas the original 2600 was exclusively monophonic.
An affordable and successful replica
For most people, owning the illustrious original seemed like an unobtainable dream – until now, that is. The original units are very rarely available anymore, and when they are, they are prohibitively expensive. DIY projects do exist and crop up from time to time, but they require a lot of time and expertise to build – and also come with a high-end price tag. The Behringer 2600 offers an affordable version of the classic synth for the first time, and it can be picked up by small studios or taken on tour without hesitation. This versatile synthesizer will appeal mainly to musicians who are familiar with the semi-modular concept, with a view to integrating it into a larger, more complex environment. The original can be heard in many famous production recordings that span Prog Rock, Fusion, and Electronic. This modern version will also naturally suit all of those styles, and it is also a noteworthy figure in the field of sound design and SFX – the "voice" of Star Wars' robot hero, R2-D2, being a prime example.
About Behringer
The company, which was founded in Germany by Uli Behringer and now manufactures its products in China, has been known for affordable and great-value equipment since its very first product, the Studio Exciter F. An array of mixing consoles (such as the Eurodesk MX8000), signal processors, and later sound amplification and monitoring equipment, has made it possible for countless musicians to fit out their home studios, practice rooms, and mobile PAs within budget limits that were previously unthinkable. The acquisition of other companies, including Midas, Klark Teknik, and TC Electronic, meant that new product groups were added - and also resulted in the technical expertise of these companies being incorporated into product development.
Compact rack synth
As a semi-modular synthesizer, the 2600 can play to its strengths in a modular setup by expanding on them. In the studio, it will link up perfectly with a multitrack analogue sequencer to rhythmically control not only the oscillators but also an array of other functions. The Behringer 2600 can also interact with other modular systems, thereby expanding its capabilities via additional sound and control modules. The original, though "portable", was housed in a rather bulky and heavy "suitcase" for transport. The Behringer 2600, on the other hand, can be built into a conventional 19" transport case and easily taken to live gigs. The Behringer 2600 is also an extremely capable and expressive standalone instrument, even outside a modular context. Its flexible and clear structure allows sound and modulation patterns to be quickly and intuitively created, either directly on the main chassis or via external performance-oriented devices.
This product is currently sold out
These are other customers' choices: