E-Drum Set
Tom and snare pad equipped with mesh heads

Nitro drum module with 385 sounds

25 Preset kits

15 User kits

60 Songs

Metronome

6.3 mm mono jack outputs (L/R) for connecting to speakers or mixers

6.3 mm stereo jack headphone output

3.5 mm stereo jack mix input for connecting an MP3 or CD player

2x 6.3 mm stereo jack input for additional tom and cymbal pad

USB-MIDI interface for direct connection from Mac or PC

Required surface area approx: 120 x 80 cm
Set configuration:
1x 08" Two-zone snare drum pad (head/rim)

3x 08" One-zone tom pads

3x 10" One-zone cymbal pads (one with stop function)

1x Bass drum pad including pedal

1x Hi-hat controller

Drum rack

Cabling

Drumsticks
Available since
July 2018
Luxury features on a budget
The Alesis Nitro is an affordable entry-level electronic drum set that is compact, easy to use, and packed with practice features. All of the drum pads are - and this is not common for a brand-name set in this price range - equipped with mesh heads, which significantly improves the playing feel compared to hard rubber pads. In addition to a large number of sounds, kits, and songs, the sound module also offers a training mode and the possibility to connect additional pads. With its two playing zones, the snare pad also enables players to play rim click and rimshot sounds, and a choke function for the crash pad is also on board.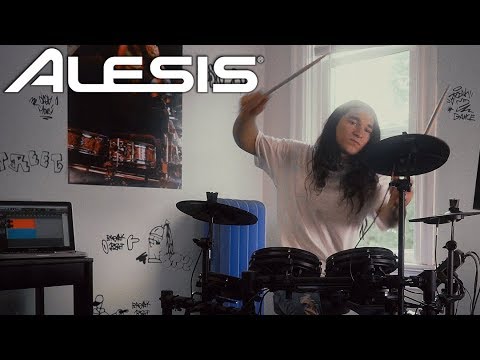 Great features in a compact form
The Nitro Kit comes with three 8" single-zone tom pads, a dual-zone snare pad of the same size, a kick pad with an included bass drum pedal, and three 10" cymbal pads (hi-hat, crash, and ride). The hi-hat pad comes with a foot controller, and of course the set also includes a drum rack to which the components are attached. This rack is stable and yet so light that the complete drum set weighs only 19 kilogrammes, making it easily transportable by people who don't possess immense physical strength, if need be. The heart of the kit is the sound module, which is extensively equipped with 385 sounds, 40 drum kits, 60 play-along songs, and various practice functions. MIDI and USB ports allow connection to a computer or MIDI sound sources, so that external sounds can also be triggered via the Nitro Kit.
Finally players can drum at home
The extremely quiet mesh head pads lower the volume level of the Alesis Nitro Kit to a level that makes it possible to use the set even in an apartment, making it the ideal tool for anyone who wants to learn how to play the drums and practise at home. The learning mode offers a low-threshold introduction for novice drummers, but also offers some real challenges for advanced players. Of course, users can also record their own performances. Thanks to the compact design and the height-adjustable components, the kit can be adjusted to suit players of all sizes, so that even preschool children can easily reach all the pads and pedals.
About Alesis
Alesis was founded in 1984 by Keith Barr in Hollywood, California, and has become one of the leading manufacturers of signal processors, drum machines, synthesizers, and other studio equipment. The company's most successful products during its early years were the MIDIverb, the HR-16 drum machine, and the ADAT multitrack digital recorders. In 2001, Alesis was acquired by Numark owner Jack O'Donnell and is now part of his InMusic parent company alongside brands like AKAI, Denon, and many other well-known names in the audio manufacturing industry. Alesis has also been a major player in the field of e-drums for many years and offers a large choice of products in all price ranges.
Discovering new soundscapes
Children love variety and are inspired by new and exciting sounds, which increases the joy of playing and ultimately helps them to learn more successfully. And it is precisely this variety of completely different sounds that distinguishes an e-drum set from an acoustic drum set. It's just a lot of fun (and not just for children) to delve into various soundscapes, be it an 80s electro drum kit, a natural-sounding Jazz drum set, an African percussion kit, or a hotchpotch of wacky sound effects. The Alesis Nitro Mesh Kit offers all of these sounds, and the best part is that the player can customise the sounds and create their own kits, making limits to creativity a thing of the past.
This is what customers who viewed this product bought