Electric Drum Set
With Alesis DM10 MKII Pro drum module

700 Sounds

50 Preset- and 30 user-kits

150 Presetsongs

16 MB Memory for audio samples

Metronome of 30 - 280 bpm

Additional inputs for fourth Tom and second crash (both already used)

2x 6.3 mm mono jack master outputs

1x 6.3 mm stereo jack headphone output

1x 3.5 mm Stereo jack aux in

MIDI in/out

USB for MIDI connections and for loading new sounds

Including chromed drum rack, snare stand, connecting cable, sticks and tuning key
Set configuration:
1x 12" Dual-zone mesh head snare pad

2x 10" Dual-zone mesh head tom pads

2x 12" Dual-zone mesh head tom pad

1x 8" Mesh head kick pad

1x 12" Hi-hat pad

2x 14" Two-zone crash cymbal pad with stop function

1x 16" Three-zone ride cymbal pad

Required set up surface: Approx.: 130 x 100cm
Note: Bass drum pedal not included.
available since
July 2017
A little bit more of everything
The Alesis DM10 MkII Pro Kit is an e-drum set for high demands, which is characterised above all by its extensive features. While most e-drum sets have to make do with three tom pads, there are four toms here, whose playing surfaces - just like the snare pad - are hardly smaller than the corresponding components of an acoustic drum kit. All of the drum pads are equipped with low-noise mesh heads, and Alesis did not skimp on the cymbals either: In addition to a hi-hat pad, there is a ride pad and one crash pad each on the right and left, which significantly increases playing comfort. With 700 sounds, 80 drum kits, and 150 preset songs, the inner values also leave quite a deep impression.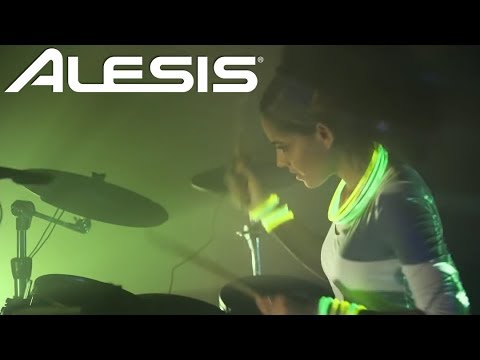 Room for your own ideas
Whether you are playing Rock, Pop, Metal, Funk, Electro, or any other music genre - the 700 sounds that the Alesis DM10 MkII Pro Kit has on board include the right sounds for every situation. And that's not all, as the module also offers 16 MB of memory space that can be used to import your own samples. In addition to the 50 preset drum kits, there are 30 memory slots for your own kits. For practice purposes, the module offers 150 play-along songs, whose tempo can of course be varied and cover the entire range of popular music genres. By assigning two playing zones to the pads – even three in the case of the ride cymbal – one drum kit can contain almost 20 different sounds. All of the components are attached to an extremely stable chrome rack and can be flexibly adjusted to different body sizes.
Suitable for beginners and tone-chasers alike
The Alesis DM10 MkII Pro Kit is just as suitable for drummers who are looking for a fully equipped "plug & play" kit for use at home as it is for those who love to experiment and want to use the 30 free memory slots to put together their own kits from 700 sounds and even incorporate specially created sounds of their own. The large display makes editing a lot easier, and the option of adding various effects to the sounds expands the sonic spectrum. If you want to use the set for practising, you can access numerous coaching functions that make your practice sessions really fun. And what is more, drummers who already have their favourite sounds on their computer can play them directly through the DM10 MkII using a USB connection.
About Alesis
Alesis was founded in 1984 by Keith Barr in Hollywood, California, and has become one of the leading manufacturers of signal processors, drum machines, synthesizers, and other studio equipment. The company's most successful products during its early years were the MIDIverb, the HR-16 drum machine, and the ADAT multitrack digital recorders. In 2001, Alesis was acquired by Numark owner Jack O'Donnell and is now part of his InMusic parent company alongside brands like AKAI, Denon, and many other well-known names in the audio manufacturing industry. Alesis has also been a major player in the field of e-drums for many years and offers a large choice of products in all price ranges.
Practise with class
If you are looking for a fully equipped e-drum set for use at home that can be played at low volume and makes the purchase of additional components superfluous, the Alesis DM10 MkII Pro Kit is just the right choice for you. The mesh head pads won't try your neighbours' patience, and the generously dimensioned playing surfaces are virtually identical to those of acoustic drums. The kit will be fun for any grown-up hobby drummer who simply wants to play along with their favourite songs, as well as for the young drum student looking for an extensive, well-crafted, and low-noise kit that can be used at home and will ensure that practising never gets boring thanks to its wide range of sounds and sophisticated editing options.