Electronic Wind Instrument
Includes built-in speaker

Authentic wind instrument performance and response

200 Acoustic and synthetic preset sounds

Mouthpiece with air pressure and bite sensor

13 Touch sensors

8 Octave rollers - 6 mobile rollers and 2 fixed touch sensors

12+ Hours of play time with the rechargeable lithium-ion battery

OLED Display

Line output: 6.3 mm Jack

Headphone output: 3.5 mm Jack

Aux input: 3.5 mm Jack

USB-B port (MIDI and charging function)

Dimensions (W x H x D): 765 x 76 x 82 mm

Weight: 800 g

Includes USB cable, power supply (5 V DC), shoulder strap, and quick start guide
available since
September 2020
An expressive electronic wind instrument
The name "EWI" stands for "electronic wind instrument". The EWI Solo from Akai represents a wireless model that combines wide musical expressiveness with the control of a traditional wind instrument. Moreover, the EWI also offers synthetic sounds. The mouthpiece is equipped with an air pressure level sensor and bite sensor, by which the sounds can be modified extensively. With its 13 touch sensors, you can control parameters and thus modify the sound of the instrument even more. On top of that, you can enable effects that add more life to the sound. This robust stand-alone instrument offers all artists a huge palette of artistic expression.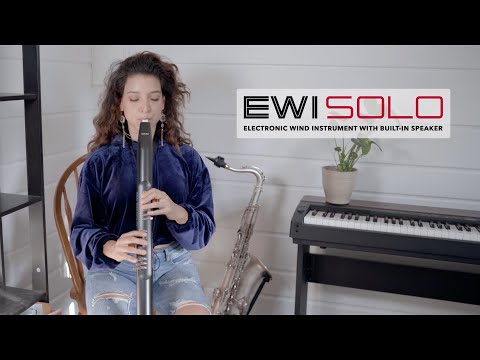 A special playing feel
The front of the instrument features a set of chrome-plated valves on which notes can be played with eight fingers. On the back, there are octave shift rollers which are played with the left thumb in order to control the octave range via a grounding plate on the right. The opposite grounding plate activates the Portamento function, which can also be turned off there. As opposed to a saxophone, where the right hand forms a "thumb hook" stabilising the instrument, the EWI Solo uses two plates to control the pitch bend. When blowing through the mouthpiece made of silicone, the air hits a diaphragm that controls the parameter responsible to create a note. The vibrato effect can be produced with lip pressure. The encoder can be used to choose between many sound presets such as flute, oboe, saxophone, and EVI (Electronic Valve Instrument) - which allows you to find the right configuration.
A stand-alone wireless instrument for a free performance
In the 70s, the EWI was presented as a stand-alone instrument by Nyle Steiner. Since the 80s, Akai Professional has been involved in the development of this instrument, which was played by Jazz players like Michael Brecker, Candy Dulfer, and Bob Mintzer. This instrument is more comparable to a synthesizer and thus not meant to represent a digital variant of an acoustic instrument. Nonetheless, it is innovatively designed and offers extraordinary sounds and allows access to many parameters and effects, turning every performance into an eye-catcher. The EWI Solo can be played as a stand-alone - it doesn't need to be connected to a computer. Powered by a built-in rechargeable lithium-ion battery, it ensures up to 12 hours of playing time.
About Akai Professional
Akai Professional has its origins in the long-established Japanese company Akai, founded in 1929, which initially manufactured electric motors, soon to be followed by high-quality tape recorders and hi-fi products. Since 1988, Akai has also become a household name like no other on the Hip-Hop scene. With the development of its first MIDI Production Centre (MPC for short), created in collaboration with Roger Linn, Akai wrote history by decisively influencing the sound of Hip-Hop and electronic music, which it continues to do to this very day. Famous exponents of the MPC series include DJ Shadow, Eminem, and Kanye West. Today, Akai is also well known for its robust and versatile USB MIDI controllers, not least of which is the bulletproof APC range of Ableton controllers.
Wide-ranging sound options
The instrument's sound generator is sample-based, meaning that the instrument is already equipped with 200 acoustic as well as synthetic stereo sounds. On the back display of the EWI Solo, you can choose between sounds - pretty much half of which are samples of various wind instruments. Beyond that, there are also less common sounds like synthetic basses, leads, and spheric sounds. Some parameters, like the cut-off frequency and LFO, can be directly adjusted on the instrument. You can customise your sound even more thanks to the EWI Solo software and sound editor for Mac and PC. On the back, you will find additional buttons to select and save presets as well as for switching on effects. At the bottom, there is a USB port and a stereo output jack.
This is what customers who viewed this product bought