Menú

Thomann es el mayor expedidor del mundo de instrumentos musicales y equipos de iluminación y sonorización, con cerca de 10 millones de clientes en 120 países y 80.000 productos en catálogo. Nosotros somos también músicos y compartimos la pasión por la música con usted. Como empresa centramos nuestra atención en una sola cosa: Usted como cliente.

Tenemos numerosas páginas de información y contacto dedicadas a dar respuesta a todas las preguntas antes y después de la compra. Puede utilizar adicionalmente todos nuestros canales sociales como Facebook o Twitter para establecer contacto.

Nuestros empleados de servicio son en gran número también músicos. Con ello estamos del lado de nuestros clientes desde el asesoramiento de compra hasta el mantenimiento y las reparaciones.

Gracias a nuestros departamentos y talleres especializados, podemos ofrecerle un soporte profesional y garantizarle un servicio de mantenimiento rápido. Esto también se refleja en el precio – por supuesto como ventaja para el cliente.

No solo nuestra tienda, además puede descubrir muchas otras cosas. Foros, Apps, Blogs y mucho más. Siempre con un valor añadido muy especial hecho a medida para músicos.

Hal Leonard Top Hits of 2016: Ukulele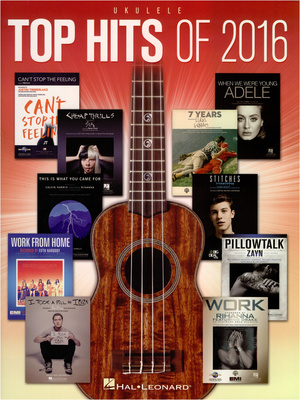 Libro de canciones
Arregladas para ukulele

Con acordes, línea melódica y letras

Afinación: Sol, Do, Mi, La

Nivel intermedio

ISBN: 978-1-4950-7434-9

71 páginas
Contenido:
Can't Stop The Feeling [Justin Timberlake]

Dark Necessities [Red Hot Chili Peppers]

Hymn For The Weekend [Coldplay]

When We Were Young [Adele]

One Dance [Drake]

7 Years [Lukas Graham]

I Hate U, I Love U [Gnash]
Más información
| | |
| --- | --- |
| Grado de dificultad | media |
| Con partituras | Sí |
| Con acordes | Sí |
| Con Tabs | No |
| Afinación GCEA | Sí |
| Afinación ADF#H | No |
| Blues/R&B/Soul | No |
| Folclore / Tradicional | No |
| Jazz | No |
| Canciones de niños | No |
| Música Clásica | No |
| Oldies/Evergreens | No |
| Pop | Sí |
| Rock | No |
Comparar
Añadido
(Eliminar)
Los precios incluyen
IVA (21%)
y son válidos hasta agotar existencias.
Gastos de envío
a España son 15 EUR,
envíos gratis
en pedidos por encima de 199€. Consultar en los envíos a Canarias, Ceuta, Melilla y Baleares. Por favor
clic aquí
para
envíos internacionales
. No aceptamos responsabilidades por errores tipográficos o erratas. *PVP = Precio de venta al público recomendado por los fabricantes en Alemania.