Menú

Thomann es el mayor expedidor del mundo de instrumentos musicales y equipos de iluminación y sonorización, con cerca de 10 millones de clientes en 120 países y 80.000 productos en catálogo. Nosotros somos también músicos y compartimos la pasión por la música con usted. Como empresa centramos nuestra atención en una sola cosa: Usted como cliente.

Tenemos numerosas páginas de información y contacto dedicadas a dar respuesta a todas las preguntas antes y después de la compra. Puede utilizar adicionalmente todos nuestros canales sociales como Facebook o Twitter para establecer contacto.

Nuestros empleados de servicio son en gran número también músicos. Con ello estamos del lado de nuestros clientes desde el asesoramiento de compra hasta el mantenimiento y las reparaciones.

Gracias a nuestros departamentos y talleres especializados, podemos ofrecerle un soporte profesional y garantizarle un servicio de mantenimiento rápido. Esto también se refleja en el precio – por supuesto como ventaja para el cliente.

No solo nuestra tienda, además puede descubrir muchas otras cosas. Foros, Apps, Blogs y mucho más. Siempre con un valor añadido muy especial hecho a medida para músicos.

Hal Leonard Foo Fighters Greatest Hits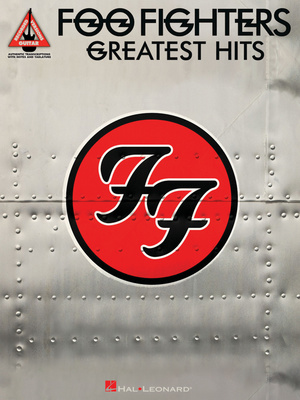 Songbook for Electric Guitar
Foo Fighters Greatest Hits, Guitar Recorded Versions

15 Songs arranged for guitar in notation and tablature

With chords and lyrics

Medium difficulty

ISBN: 9781423491668, catalogue no .: HL00691024

112 Pages
Contents:
Wheels

Word Forward

All my life

Best of You

Big Me

Breakout

Everlong

Learn to Fly

Long Road to Ruin

Monkey Wrench

My hero

The Pretender

Skin and BOnes

This is a call

Times like thesis
Más información
| | |
| --- | --- |
| Grado de dificultad | media |
| Con partituras | Sí |
| Con Tabs | Sí |
| Con texto | Sí |
| Con acordes | Sí |
| Blues/R&B/Soul | No |
| Country | No |
| Folclore / Tradicional | No |
| Jazz | No |
| Música Clásica | No |
| Latin | No |
| Metal | No |
| Oldies/Evergreens | No |
| Pop | No |
| Reggae | No |
| Rock | Sí |
| Canciones populares alemanas | No |
Comparar
Añadido
(Eliminar)
Los precios incluyen
IVA (21%)
y son válidos hasta agotar existencias.
Gastos de envío
a España son 15 EUR,
envíos gratis
en pedidos por encima de 199€. Consultar en los envíos a Canarias, Ceuta, Melilla y Baleares. Por favor
clic aquí
para
envíos internacionales
. No aceptamos responsabilidades por errores tipográficos o erratas. *PVP = Precio de venta al público recomendado por los fabricantes en Alemania.