Menú

Thomann es el mayor expedidor del mundo de instrumentos musicales y equipos de iluminación y sonorización, con cerca de 10 millones de clientes en 120 países y 80.000 productos en catálogo. Nosotros somos también músicos y compartimos la pasión por la música con usted. Como empresa centramos nuestra atención en una sola cosa: Usted como cliente.

Tenemos numerosas páginas de información y contacto dedicadas a dar respuesta a todas las preguntas antes y después de la compra. Puede utilizar adicionalmente todos nuestros canales sociales como Facebook o Twitter para establecer contacto.

Nuestros empleados de servicio son en gran número también músicos. Con ello estamos del lado de nuestros clientes desde el asesoramiento de compra hasta el mantenimiento y las reparaciones.

Gracias a nuestros departamentos y talleres especializados, podemos ofrecerle un soporte profesional y garantizarle un servicio de mantenimiento rápido. Esto también se refleja en el precio – por supuesto como ventaja para el cliente.

No solo nuestra tienda, además puede descubrir muchas otras cosas. Foros, Apps, Blogs y mucho más. Siempre con un valor añadido muy especial hecho a medida para músicos.

DVD Lernkurs Hands on Kemper Profiler Amp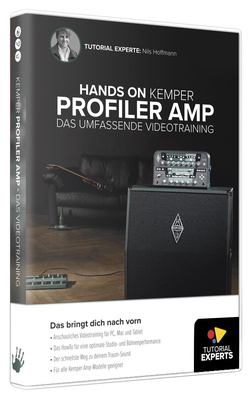 DVD learning course
Comprehensive German-language video training for PC, Mac and Tablet

Suitable for all Kemper Profiler amps

5 Hours Full HD videos

Integrated lesson descriptions

Bookmark function

Full Screen

Search function

Lessons such as create your own virtual amp setups, setup and routing options, sound morphing, modify presets

With PDF table of contents for printing

Supplied on DVD-ROM

Minimum requirements: Windows PC 1.6 GHz with 1 GB RAM, Mac OSX with 1 GB RAM, sound card, DVD drive
Más información
| | |
| --- | --- |
| Contenido | Tutorial |
| Idioma | Alemán |
Otros clientes se han decidido de esta manera
Esto han comprado clientes que han visto ese producto:
Comparar
Añadido
(Eliminar)
Los precios incluyen
IVA (21%)
y son válidos hasta agotar existencias.
Gastos de envío
a España son 15 EUR,
envíos gratis
en pedidos por encima de 199€. Consultar en los envíos a Canarias, Ceuta, Melilla y Baleares. Por favor
clic aquí
para
envíos internacionales
. No aceptamos responsabilidades por errores tipográficos o erratas. *PVP = Precio de venta al público recomendado por los fabricantes en Alemania.