Menú

Thomann es el mayor expedidor del mundo de instrumentos musicales y equipos de iluminación y sonorización, con cerca de 10 millones de clientes en 120 países y 80.000 productos en catálogo. Nosotros somos también músicos y compartimos la pasión por la música con usted. Como empresa centramos nuestra atención en una sola cosa: Usted como cliente.

Tenemos numerosas páginas de información y contacto dedicadas a dar respuesta a todas las preguntas antes y después de la compra. Puede utilizar adicionalmente todos nuestros canales sociales como Facebook o Twitter para establecer contacto.

Nuestros empleados de servicio son en gran número también músicos. Con ello estamos del lado de nuestros clientes desde el asesoramiento de compra hasta el mantenimiento y las reparaciones.

Gracias a nuestros departamentos y talleres especializados, podemos ofrecerle un soporte profesional y garantizarle un servicio de mantenimiento rápido. Esto también se refleja en el precio – por supuesto como ventaja para el cliente.

No solo nuestra tienda, además puede descubrir muchas otras cosas. Foros, Apps, Blogs y mucho más. Siempre con un valor añadido muy especial hecho a medida para músicos.

Avid Pro Tools Ultimate UG Reinst.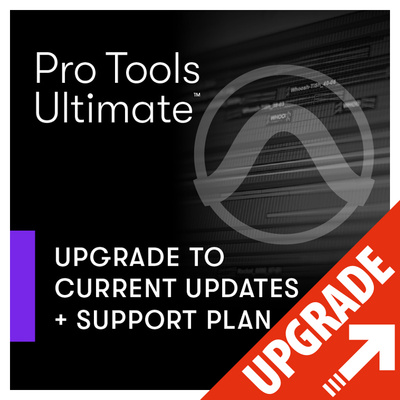 Upgrade and Support Plan Reinstatement (Download)
For owners of Avid Pro Tools HD permanent license from version 9 without an active upgrade and support plan

Activates the upgrade and support plan for 12 months

Upgrade to the latest Pro Tools HD version

Includes all software upgrades and updates within the 12-month term
Otros clientes se han decidido de esta manera
Esto han comprado clientes que han visto ese producto:
60% compraron este mismo producto

Avid Pro Tools Ultimate UG Reinst.

Disponibilidad inmediata

Para este producto podemos enviarte vía email una licencia de descarga inmediatamente tras la compra.

Información sobre envíos

985 € A la cesta

10% compraron Native Instruments Komplete 11 Ultimate UPD 8-10U
389 €

8% compraron Avid Pro Tools Upgrade Plan Renewal
101 €

7% compraron Avid Pro Tools Ultimate UG Reinst.
985 €

5% compraron Avid Pro Tools Ultimate UG Renewal
385 €
Nuestros más populares Updates y Upgrades
Los precios incluyen
IVA (21%)
y son válidos hasta agotar existencias.
Gastos de envío
a España son 15 EUR,
envíos gratis
en pedidos por encima de 199€. Consultar en los envíos a Canarias, Ceuta, Melilla y Baleares. Por favor
clic aquí
para
envíos internacionales
. No aceptamos responsabilidades por errores tipográficos o erratas. *PVP = Precio de venta al público recomendado por los fabricantes en Alemania.