the t.bone RB 500 Bundle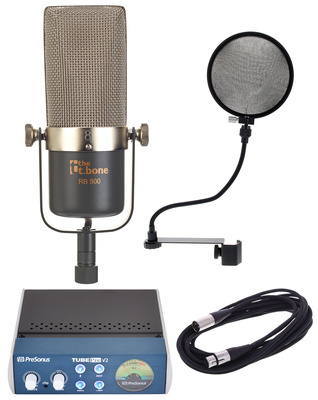 Pakke-tilbud bestående af:
Dette produkt har endnu kun tekstanmeldelser på et andet sprog.
Der opstod en fejl. Prøv igen senere.
| | |
| --- | --- |
| I alt | |
| features | |
| lyd | |
| forarbejdning | |
– Taget fra: the t.bone RB 500
Mein RB500
JulianH., 16.12.2010
Das t.bone RB500 ist ein günstiges China-Bändchen mit - wenn man Bändchensound grundsätzlich mag - hervorragendem Klang.

Ausführungen

Das RB500 wird gebaut als Alctron RM-11 und ist als OEM bei anderen Firmen unter den Namen Nady RSM-2, Apex 210 oder ShinyBox 23 erhältlich und ist dem legendären RCA 44 von 1932 nachempfunden. Trotz großem Variationsspaß der Hersteller, was Gehäuseform und -Farbe angeht, gibt es das Innenleben, den "Motor" der Chinabänder in nur zwei Ausführungen: Kurzes oder langes Bändchen. Die kurzen (RM700, RB100) sind in den Mitten etwas linearer, die langen haben ein weiteres Top-end, sind somit für Stimme evtl. besser geeignet. Michael Joly von OktavaMod schreibt darüber gute Artikel.

Klang

Ich habe mir das RB500 gekauft, nachdem ich festgestellt habe, dass Kondensatoren in der für mich erschwinglichen Preisklasse so gut wie grundsätzlich mit auffallend betonten Höhen, den "China-Höhen" zu kämpfen haben. Da das mittlerweile so gar nicht mehr meinen Klangvorstellungen entspricht und ich diese Härte auch nicht mit echter oder falscher Röhre "wegsättigen" möchte, habe ich ein paar Experimente angestellt und landete schließlich beim Bändchenprinzip.
Also habe ich mich schlau gemacht, erfahren dass es bei den Billigbändern große Fertigungstoleranzen gibt, also gleich zwei bestellt: Das bessere behalte ich.
Ja, da kommt das Paket, die Mikros klingen tatsächlich etwas unterschiedlich in den Höhen (aber vernachlässigbar), sind sogar etwas unterschiedlich gefertigt (die Feststellschrauben) und der Klang - ja wunderbar! So habe ich mir das vorgestellt. Wo sind die Höhen (hatte ich schon gelesen), reingeregelt, dann steigt das Rauschen, tja, da muss man sich noch was überlegen... Aber wie gut klingen Stereoaufnahmen, Blumlein, akustische Gitarre!
- Ich habe sie beide behalten.
Der Klang ist so wunderbar. Der Pegel ist so gering, dass man einiges experimentieren muss, damit man bei leisen Quellen (Gesang, Gitarre) das Rauschen in den Griff bekommt. Die Verarbeitung ist denkbar grob (wie ungeduldig zusammengebaute Fischertechnik, dachte ich beim reinkucken...) und läd zum Weiterbauen ein. Man kann das ein oder andere an Dämmmaterial und Resonatoren entfernen, den Übertrager gegen einen hochwertigeren (Lundahl LL2913, 60EUR) ersetzen, oder das Mic mit dem Phantomgespeisten "Ribbon Booster" aus der Zeitschrift Sound&Recording aktivieren.
Was es tatsächlich bringt: Feinheiten. Kleine, aber hörbare Verbesserungen in Rauschen, Klarheit und Frequenzgang.

Nachtrag am 1.2.2012: Ca ein Jahr und viele Einsätze später... Nach wie vor arbeiten die Bändchen gut und werden immer wieder gerne eingesetzt. Allerdings nicht mehr für alles :-) Habe sehr gute Ergebnisse erziehlt an Trompeten und Amps. In speziellen Fällen (und in gut klingenden Räumen) ebenfalls für Overheads und bestimmte Vocals (m/w) zu empfehlen. Manchmal ist Trittschall wegen der schlechten Aufhängung ein Problem, sie passen aber gut in die Spinne vom AKG P220.

Fazit

Kauft es euch! Das ist ein lustiges Stück Mikrofontechnik, das mit etwas Gefühl und Wissen sogar zu einem brauchbaren Werkzeug werden kann.
Der opstod en fejl. Prøv igen senere.
| | |
| --- | --- |
| I alt | |
| features | |
| lyd | |
| forarbejdning | |
Perlen vor die Säue!
Mischka0815, 25.07.2012
Eine Perle unter den Mikros hat es wirklich nicht verdient, an einem saumäßig rauschenden Preamp zu hängen. Bei diesem Bundle muss natürlich das preisliche Verhältnis gewahrt werden, aber schon um die wirklich hervorragenden Eigenschaften dieses Mikros überhaupt einschätzen zu können man braucht(!) einen Preamp, der nunmal ein vielfaches dessen kostet. Man könnte sagen, das Mikro ist zu Preiswert und der Preamp einfach zu billig... Das RB-500 kann ich absolut empfehlen, den Presonus kann ich zwar für andere Sachen, nicht aber für eben dieses Mikro verwenden. Die Sternchen-Bewertung ist da natürlich schwierig... Der Popschutz ist dagegen eine verdammt gut gewählte Beigabe für ein Bändchen! Das Sssnake-Kabel ist obligatorisch, aber es sei erwähnt, dass sich am Mikro keine Buchse, sondern ein bereits fest installiertes Kabel befindet.

Wen's interessiert, meine Einzel-Bewertungen der beiden Hauptbestandteile sahen aus:

RB-500

Meine Erwartungen waren recht hoch nachdem ich mich mit Rezensionen und Samples von diesem und anderen technisch identischen nur anders gelabelten Mikros befasst habe. Was ich da angeschlossen und ausgiebig z.B. an Gesang, Gitarre, Kontrabass, Schlagzeug und Mundhamonika ausprobieren konnte entspricht so ziemlich genau dem, was ich erwartet habe! Ein liefert ein sehr ausgewogenes, nirgendwo aufdringliches oder fades Signal, das man blind als Bändchen identifizieren könnte, wenn da nicht dieser unüblich weiche Höhen-Abfall wäre, der den Frequenzbereich traumhaft geschmeidig bis ca. 18 kHz reichen lässt. Ich bin hocherfreut, ein Mikro zu besitzen, dessen Output mir bei den meisten Anwendungen ganz ohne EQ-Rumgebügel am besten gefällt. Wichtig ist natürlich, dass man die Brillanz eines Bändchens nur mit nem guten rauscharmen Preamp geniessen kann, was mich lediglich über den Kauf als Bundle mit dem Presonus TubePre ärgern lässt, denn dieser ist genau das Gegenteil. Mit sauberer Verstärkung dagegen kann man mit dem RB500 ein funkelndes Becken genauso gut einfangen wie eine kreischende Gitarre oder einen rumpelnden Bass. Ganz feine Sache!

Presonus Tube Pre

Nix für Bändchen, denn die brauchen ne Menge Verstärkung, die der Pre zwar bietet, aber mit viel zu viel Rauschen. Ich habe ihn als Bundle mit dem RB 500-Bändchen gekauft, und muss leider sagen, dass diese Kombination wirklich nur für laute Quellen wie Amp-Abnahme zu gebrauchen ist. Das Dudeln auf einer akustischen Gitarre bekommt man effektiv nur mit nem Rauschabstand von höchstens 30 dB gepegelt. Am Mikro liegt's nicht, auch ohne verwendeten Eingang möchte man schon bei 60% Transistor und ganz ohne Röhre nicht weiter aufdrehen, da es da schon anfängt, zu nerven. Schleift man die Röhre ein, wird das noch mehr als verdoppelt, die Röhrensättigung ist aber eh nicht sonderlich schön, um sie irgendwo einbauen zu müssen. Im angemessenem Vergleich dazu habe ich noch einen SM Pro TB 202, der noch etwas mehr rauscht, aber angenehmer verzerrt. Ihr werdet's nicht glauben, aber mein Behringer Mic 100 für 35 EUR ist von den drei tatsächlich der "sauberste"! Ich werd bei Gelegenheit mal ne andere Röhre aus bloßer Neugier reinstecken.
Ansonsten macht das Gerät nen ganz robusten Eindruck und an die Features sind auch selbstredend in Ordung, die Pegel-Anzeige scheint verlässlich zu sein. Der Pad-Schalter agiert nur beim XLR-Eingang, warum auch immer, juckt mich aber nicht. Ein Ein/Aus-Schalter wäre nett gewesen.
Fazit: wem 30 dB Verstärkung reichen und wer keine schöne Röhrensättigung sucht, der kann hier 90 EUR ausgeben oder auch jeden beliebigen Mixer-Eingang verwenden. Wer nur ne Fancy DI-Box mit externer Stromversorgung sucht, ist hier gut bedient. Wer aber z.B. mit einem Bändchen-Mikro akustische Instrumente, nicht schreiende Vocals oder den Raum einfangen will, ist mit dem Presonus Tubepre hoffnungslos verloren (es sei denn ich habe mit meinem Exemplar einfach Pech gehabt). Ich habe jedenfalls gelernt, dass ich mal aufhören sollte, in dem Preissegment nach guten Röhren-Preamps zu suchen. Also behaltet den günstigen preis im Auge!
portofrit
og inkl. moms
DKK priser er vejl. priser
Til omgående levering
| | |
| --- | --- |
| Varenummer | 107091 |
| Salgsenhed | 1 stk |
| Fås siden | oktober 2006 |
Salgsrang
i denne kategori
Placering 42
på thomann.de
Placering 75305
find Ribbon sangmikrofoner
Flere produkter fra the t.bone
Tilbud inkl. moms ER gældende så længe lager haves. Vi påtager os intet ansvar for trykfejl.
Feedback
Har du fundet en fejl eller har du kommentarer til denne side?
Tak for din feedback! Vi løser problemet snarest muligt.
Betaling og sikkerhed
Butik
Sitemap
Kontakt & Service
Til vores groupies...

Sikker betaling med Credit Card, Bank Transfer eller PayPal.

+49-9546-9223-647
denmark@thomann.de

Thomann GmbH
Hans-Thomann-Straße 1
96138 Burgebrach
Tyskland




Butik

Småt skrevet
ID: 107091
© 1996 – 2017 Thomann GmbH
Thomann loves you, because you rock!