6. Common Features
As mentioned previously, most models come with some form of built-in amplified speakers - usually a pair set into the body at either end of the keyboard. At the budget end of a manufacturer's range, the sound might only be mono, even though there are a two speakers. A more expensive system will generally benefit from more powerful amplification, typically from 2W to 6W per channel, and sometimes two-way speaker systems with separate tweeters and bass drivers for a fuller sound.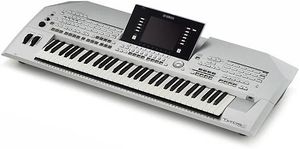 To retain the portable nature of the instrument, most have 5 octave (61 note) keyboards with velocity (touch) sensitive keys and a standard 'synth' style action – not heavily weighted like a piano. All but the very cheapest have full-size keys, as schools often recommend portable keyboards to parents as a budget alternative instrument when their child is starting to learn the piano - not only can they use headphones so as not to annoy the neighbours(!), but the initial financial outlay is not as great as a real piano, and the cost of regular tuning is also avoided. The range of other sounds and features can also serve to encourage a child to experiment with music.
For similar reasons, when it comes to the basic range of sounds, all keyboards have at least one basic acoustic piano sound - Yamaha have a dedicated 'Portable Grand' button on most of their range so that you don't have to hunt through menus to find it! GM compatible instrument sets range through strings, brass, woodwind, keyboard, bass, synthesizer and percussion instruments. The further up a manufacturer's range you go, the better the instrument will tend to be at reproducing these sounds, and the more expensive models will fully support the extended sound sets and control that the GS and XG standards offer.
Another key feature of the portable keyboard is its ability to provide both accompaniment and recording facilities, which can range from the simple to the sophisticated. Not only does this enable the 'enthusiast' musician to quickly produce arrangements without the time, expense and practice that goes with conventional piano lessons, but also aids those that are just starting to learn. Before continuing in more detail, these features require some explanation:
Portable Keyboards Et overblik over