5. Tips for Choosing a Clarinet
The best advice is to go to the store and play on some clarinets - only then will you find the best for you. For a beginner, a plastic clarinet is probably best because of its low cost and resilience against knocks. For the intermediate to advanced player, choose a wooden clarinet, usually made from grenadilla (African hardwood) though other woods, for instance rosewood, have been used. Depending on your clarinet-playing experience, you might opt for either the Boehm or the German system clarinets. Both have their advantages and disadvantages, but on either, aim for a sound that is woody, focussed, yet broad and with a consistent tone throughout the compass of the instrument.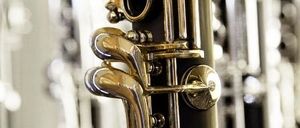 The intermediate to advanced player will need an A clarinet as well as a Bb – the two are often sold as a set. A clarinet should come with a mouthpiece but it is often necessary to try other mouthpieces (see 'The Mouthpiece and The Reed').
Clarinets Et overblik over