5. Laptops
Recent developments in CPU technology have brought the desktop and laptop much closer together in terms of power and performance. Modern laptops can happily run a recording studio, or be used as a performance instrument in a live situation. For recording on the move or on location, the advantages are clear. However, the emphasis with laptop design is on small size and low power consumption, and this brings performance compromises: typically, hard drives are slower, RAM is slower, and the connections between components are not so efficient, so you will never achieve the level of performance that you'll find in a similarly specified desktop computer.
If you are planning to work on the move, something else to consider is battery life: manufacturers' figures of 4, 5 or even 6 hours plus are normally based on light usage or running on standby; but if you're recording, mixing or performing, then the laptop will be working very hard indeed. 1-2 hours is a more realistic time to think about being away from a plug socket, and even less if your laptop is powering a USB audio interface. Windows laptops also tend to be more prone to compatibility issues.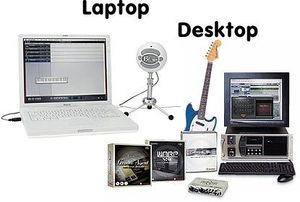 But if portability outweighs all these considerations though, you can't beat a laptop! They're also great as second machines which can be used to run extra synths and effects when you're back in the studio.
Choosing a Computer Et overblik over