2. Origin
The PAR can is an entertainment lighting fixture containing a PAR lamp. PAR is actually an abbreviation of Parabolic Aluminised Reflector; this reflector houses the bulb, and the whole unit is sealed with a glass front which acts a lens.
The PAR lamp and the PAR can come in a variety of different sizes; the most common in the entertainment industry are PAR64, PAR56, PAR36, PAR30, PAR20 and PAR16 - the numbers referring to the diameter of the lamp in eighths of an inch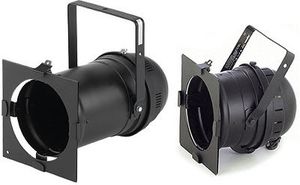 The larger PAR64 and PAR56 cans are often seen in banks on stage, providing the basis of most gig lighting. They are both available with either a long or short nose - the shorter nose providing a wider beam angle - and also as a floor can model which has two yoke arms, allowing it to sit on the floor without the use of a stand.
The PAR36 is often seen in nightclubs lighting mirrorballs; its 6.4volt / 30 watt lamp gives an extremely narrow beam and it is more commonly called a 'pinspot'.
Finally, the PAR30, PAR20 and PAR16 which were originally used for shop display lighting, are now finding more uses in entertainment lighting and are increasingly being retrofitted with LED lamps. The tiny PAR16 is often called a 'Birdie', derived from a golfing joke (one under par)!
Can Lights Et overblik over