10. Silent Practise Systems
The most recent innovation in mutes is Yamaha's 'Silent Brass' system. Available for Trumpet, Flugelhorn, Trombone, French Horn, Euphonium and Tuba, it enables the player to practise in almost total silence while listening to themselves in a pair of headphones. The system comprises a mute section with an electronic pickup, and a choice of pre-amplifiers to power the headphones.
The mute section resembles a regular straight mute, but with a rubber strip that completely seals the bell of the instrument. The air passes through a series of baffles which almost completely muffles the sound. A cable connects a pickup inside the mute to a headphone amplifier, which can be worn on the belt of the player. The most obvious advantage of this over a conventional practise mute is the ability to hear your playing clearly on headphones without disturbing anyone in the vicinity.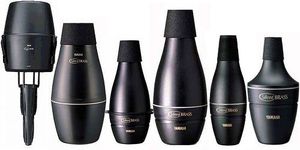 At the time of writing, Yamaha market different versions of the headphone amp section. The basic ST9 model offers some control over room ambience, allowing you to add degrees of reverberation, making it seem that you are playing in a concert hall. There are also auxiliary inputs for CD players or electronic keyboards, and output sockets which make it possible to record your practise session for review at a later date.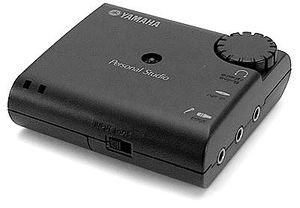 The more advanced ST5 model has a built-in auto-tuner which can be calibrated from 438Hz to 445Hz. Once properly set up, the tuner will automatically tell you when you're out of tune. Other features include 32 digital effect programs such as delay, chorus, flanger, filter, auto-wah, overdrive, distortion and pitch-shifting. Also built-in are a digital metronome and drum machine, and a 'phrase-trainer' which will record up to 16 seconds of music from a CD or tape machine, and then play it back at any tempo for you to practise along with. Another powerful feature is the 'Aux Key' function which transposes the pitch of any incoming sound source to enable you to play along to a CD track for example in any key you like.
Brass Mutes Et overblik over