Menu

Thomann je se svými 80 000 nabízenými produkty a 10 miliony zákazníků ze 120 zemí světa největším internetovým obchodníkem v oblasti hudebních nástrojů a zvukových aparatur. Protože jsme sami muzikanti, absolutně chápeme i vaši vášeň pro hudbu. Jako společnost pak máme jediný cíl: Zařídit, abyste byli jako naši zákazníci šťastní!

Máme celou řadu stránek, na kterých před i po koupi produktu naleznete informace, případně naše kontaktní údaje a odkazy. Spojit se s námi můžete také prostřednictvím sociálních médií – jsme například na Facebooku nebo na Twitteru.

Naši servisní pracovníci jsou z většiny sami muzikanti – jsou to tedy prvotřídní odborníci, kteří našim zákazníkům pomůžou jak s výběrem nástroje, tak i s jeho údržbou a případnými opravami.

Díky našim profesionálním oddělením a dílnám vám můžeme nabídnout profesionální poradenství a rychlý servis i údržbu. To se samozřejmě – jak jinak, než ku prospěchu zákazníků – odráží i v našich cenách.

Kromě obchodu samotného pro vás máme celou řadu dalších věcí: fóra, aplikace, blogy a daleko více. Vše s přidanou hodnotou, kterou si může každý muzikant vyladit podle svého.
Vyberte si obchod
Select Store
Všechny země
All Countries
Arturia Beatstep Pro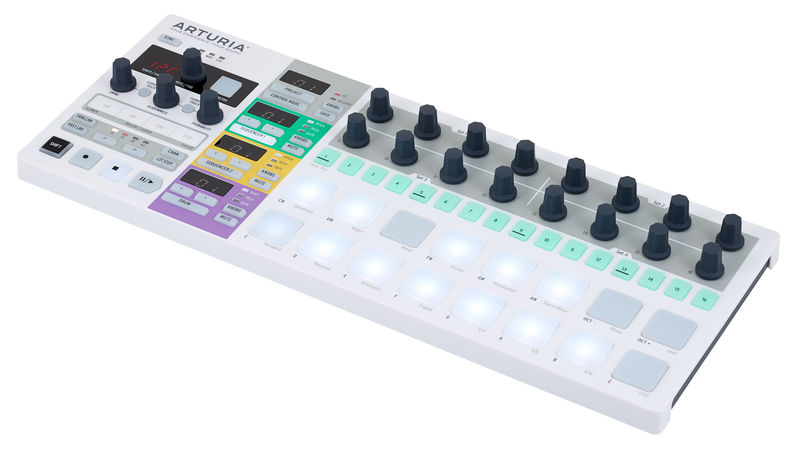 Bohužel se vyskyla chyba. Zopakujte protím tuto akci později.
Zobrazit překlad

MIDI Controller and Step Sequencer
Compatible with devices using MIDI, USB, CV/Gate or DIN Sync connector

Two independent monophonic step sequencers with separate displays (displaying play position and bank length)

Each sequencer has one 1V / Oct CV (Control Voltage) and one (10V) GATE output

Swing and Randomiser function

Additional drum sequencer for 16 separate sequencer tracks

16 Pressure-sensitive pads

16 Step pads

8 Touch-sensitive rotary knobs

Transport keys

LED display

USB port

2x Pitch, Velo and Gate output 3.5 mm mini jack (1x per sequencer)

8x Drum gate output 3.5 mm mini jack

Clock input and output 3.5 mm mini jack

MIDI in / out 3.5 mm mini jack

MIDI adapter included

Suitable transport bag: Art.493541 (not included)
Další informace
| | |
| --- | --- |
| Audio Player Functions | No |
| Storage Medium | None |
| Video Out | No |
| Arranger Function | No |
Zákazníci se při nákupu rozhodli i takhle:
Zákazníci, kteří si prohlédli tuto položku, zakoupili také toto:
59% koupilo tento produkt

Arturia Beatstep Pro

289 € Do košíku

13% koupilo Roadworx Synthesizer Stand
29 €

11% koupilo Korg SQ-1
98 €

7% koupilo Roadworx Synthesizer Stand Extension
9,90 €

3% koupilo Korg SQ-64
289 €
Naše nejoblíbenější Hardwarové sekvencery a aranžéry
Všechny ceny vč. DPH
Cena v Kč je pouze orientační

Na skladě
Dodávku bez poštovného můžete očekávat pravděpodobně mezi Středa, 22.09. a Čtvrtek, 23.09.
| | |
| --- | --- |
| Pořadí prodejnosti v této skupině produktů | 10 |
| na thomann.de | 10988 |
| | |
| --- | --- |
| Číslo produktu | 357506 |
| Prodejní jednotka | 1 ks |
| K dostání od | červenec 2015 |
Kontakt
Tel: +49-9546-9223-30
Fax: +49-9546-922328
Tel: +49-9546-9223-33
Fax: +49-9546-9223-24
Najít Hardwarové sekvencery a aranžéry
*Všechny ceny včetně DPH a platí do vyčerpání zásob. Sazby poštovného do jednotlivých zemí najdete
zde
. Za tiskové chyby a omyly neručíme. Naše faktury obsahují pouze částky v EUR.
Do you like what you're seeing?
Shop and pay safely
Můžete bezpečně platit těmito metodami: PayPal, Kreditní karta, Bankovní převod nebo Dobírka.