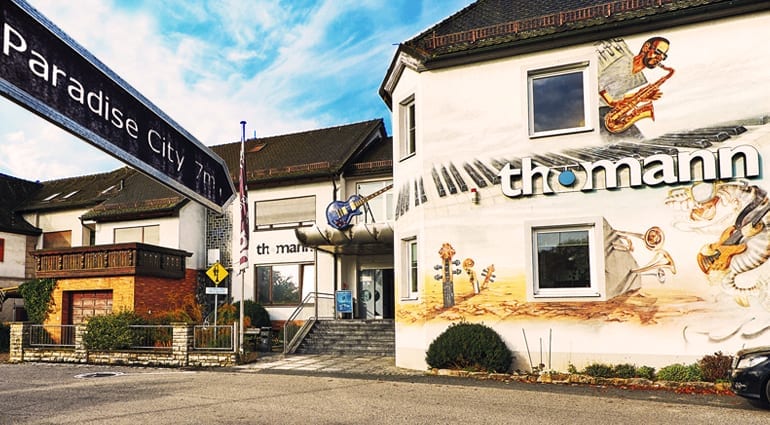 Current Info on Visiting Thomann in Treppendorf (Corona Regulations)
Current Info on Visiting Thomann in Treppendorf (Corona Regulations)
In this blog article you can read the latest information for your next visit to our shop and t.kitchen in Treppendorf. Our shop is open as usual and instruments can be tested in all departments. There are special rules for testing products in certain product groups.
---
General information 🏠
High visitor numbers and waiting times on Saturdays and during the holidays.
In order to comply with the Corona regulations, we unfortunately have to severely limit the number of visitors in the store.
We strongly recommend that you visit our shop during the week and outside of the holidays whenever possible.
If you come on a Saturday or during the holidays, please be prepared for longer waiting times in front of individual departments.
Especially for the guitar department, longer waiting times outside the shop are to be expected on these days.
If possible, please do not come with several accompanying persons on Saturdays and during the holidays.
We ask you to treat each other with kindness and respect. ❤
---
Testing wind instruments 🎺
Wind instruments can be tested individually in separate rooms. The playing areas are unfortunately very limited.
Call the department in advance to get advice. Here you will find the contact details of the department.
---
Testing microphones 🎤
Microphones can only be tested with a mask at this time.
We will provide you with special masks that have a minimal effect on the sound.
---
Waiting times in the guitar department 🎸
In our largest and most visited department, the guitar department, there may be longer waiting times on Saturdays.
We have set up a pager system to control access to the department if needed.
Our recommendation: If possible, visit us during the week or come on Saturday as early as possible.
---
The t.kitchen cafeteria 🍕
The t.kitchen, our restaurant and cafeteria for employees and customers, is now open with limited seating.
In the seating area for customers we are obliged to record the contact details of the guests.
But we also offer you a nice, extensive, Take Away menu.
Thanks for your cooperation! We look forward to your visit to Treppendorf. Stay healthy!
#thomannlovesyou #becauseyourock
Your Team Thomann😘