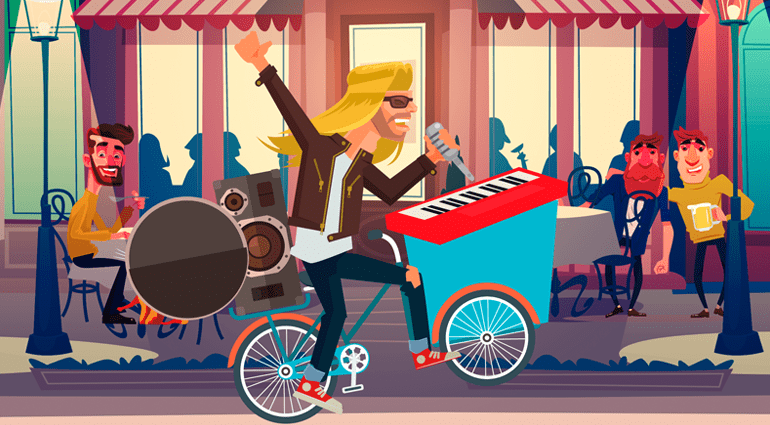 Top 7 Wackiest Street Musicians
Top 7 Wackiest Street Musicians
#SoundsOfTheStreets
Street musicians, street performers, buskers… call them what you want but it must be acknowledged that these are some of the hardest working musicians in the world. They don't make much money but many practice their craft daily. There is some serious talent on our city streets, in fact there are internationally successful artists (The Violent Femmes and Ed Sheeran, just to name a couple) that were discovered while busking. Many are ultra talented but a bit too wacky for commercial success and that's what we want to show you here today…
---
7. Plastic Bucket Drummer
This young man (Phil Bondy) plays on plastic buckets and 2 cymbals with incredible rhythm and speed. But what's most impressive is the style and flare he puts into it. It makes you want to get a pair of drumsticks and hit… well, anything, immediately.
6. Voltak – Next-Level Beatboxer
This guy makes sounds with his mouth, nasal cavity and throat that should not be possible. Using only a dynamic mic and a battery-powered amp (with reverb) he creates some out-of-this-world electronic-inspired music. Have a listen…
https://www.youtube.com/watch?v=PgOlX1aJ7ZM
5. Too Many Zooz
This guy has some serious moves… not to mention his baritone saxophone skills. Honourable mention goes to his amazing drummer/percussionist who keeps things going, in style. Since this video went viral Too Many Zooz have made a YouTube channel and many impressive music videos…
4. Beer Bottle Xylophone
This man in Helsinki decided to turn his alcoholism in to something constructive. A construction of hanging beer bottles with different amounts of water in them, when struck sound kind of like a xylophone or a glockenspiel. In fact, this could have well been the best way for him to quit the drink! #ThePowerOfMusic
3. Plumbing Music
This guy constructed a percussion triggered music machine made out of plastic plumbing pipes tied together with women's underwear. And he uses flip-flops as mallets, of course! It's incredible what kind of sounds he generates, it's shocking that there is no computer involved…
2. Morf's Didgeridoo Voice
Morf uses some really cool vocal effects (like the didgeridoo effect) but that's not his only trick: this Australian's guitar playing and tapping style is unconventional and out of this world good! See for yourselves…
1. The Yelling Kitchen Prince
If we're talking wacky, this guy is it!! His name is Bram Graafland and he puts on a one-of-a-kind performance using a mic, a loop station and a vintage '70s organ that was turned into a portable kitchen! Say what?! He plays truly original music while cooking a pancake for the audience. You'll laugh, you'll cry, you might even get hit by a flying metal bowl…
---
If you've seen or heard of any other wacky/crazy/weird street musicians please share a link or name in the comments below or on the Facebook post!
Maybe YOU are the next big name in street performance! Hit the streets!
---
*
BONUS

*

Speaking of busking, here are 3 famous musicians who started out busking and went on to become internationally famous recording and touring artists… 
3. Justin Bieber
"What do you mean?" I mean that this little kid from Stratford, Ontario, Canada posted a video on YouTube of him busking and was spotted by famous musician/producer Usher's record label. Here is Justin at only 12 years old…
2. BB King
The king of the blues started his career by playing on the streets of Mississippi until he started playing bars and clubs where he was recognised for his sheer talent. This video doesn't show him busking, per se, but it illustrates just how well he can get a crowd going (in this case inmates at Sing Sing prison in New York)…
3. Ed Sheeran
Ed is a perfect contemporary example of how the struggle to make it in the music industry can affect your lifestyle… it took him through periods of having to sleep on his friends' couches and even on the Underground trains in London. But he persisted and busking got him the recognition he deserves…
---
? #SoundsOfTheStreets ?