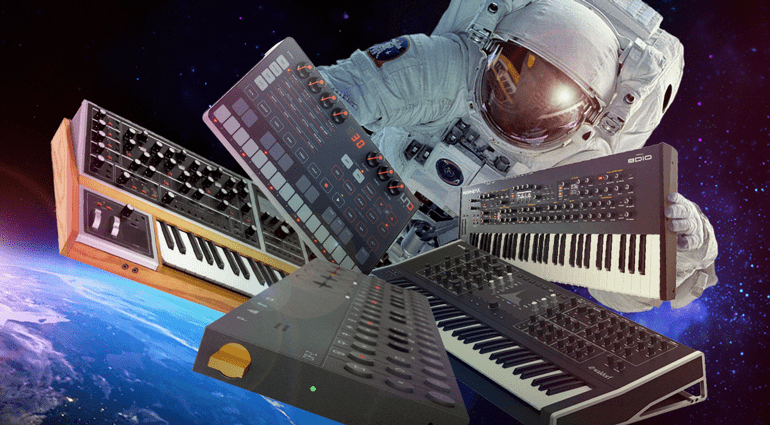 If you've been following the synth universe, including #SuperBooth18, you know that 2018 was an exciting year for synthesizers. As difficult as it was, we had to boil it down to only 5 synths and write an article about them. Our criteria was how much attention they got on our YouTube channel and social media channels, the opinion of our synth experts here in Treppendorf and beyond. So without further ado, here are 5 hot, exciting and interesting synths that emerged on the horizon this year… ??
---
Moog One (8- and 16-voice models)
The first analog polyphonic synthesizer from Moog in over 35 years! Yup, this beast has everything you could ask for in a synth. It comes in two models, an 8-voice one and a 16-voice one. It is purely an analog synth except for the some effects, like the Eventide Reverbs, which can, of course, be turned off. They both feature 3 new developed VCOs per voice, an analog oscillator with seamless blending between waveforms, LCD display screens and so many more features which combine the legendary sounds of the past with so much potential for never-before-heard sounds! The people at Moog even made a 20-minute documentary about the synthesizer, imitating the 1976 documentary about the Polymoog. Click here to watch it. Also, here is a video demonstration of (some of) the capabilities of the Moog One:
Now ON REQUEST at thomann.de 8-voice and 16-voice Prices: €6,699 and €8,699
---
Dave Smith Sequential Prophet X
This top-of-the-line synth has two channels of samples, two oscillators and virtually every form of modulation imaginable built right in. Each sampled instrument or sound contains several variations and/or mic positions. This synth will also allow you (in December) to use your own pre-recorded sounds and place them in a bank to be used just like any of the others. As explained in this video the samples cover a very wide range, everything from drums to a schoolboy choir.
Now available on thomann.de  Price: €3,729 
---
IK Multimedia UNO Synth
It may look similar to a computer keyboard but is actually a very versatile monophonic analog synthesizer with 16-step sequencer, 10-mode arpeggiator and a 20-parameter effects section. It has a 27-semitone multi-touch keyboard, which is friendly for those not familiar with a traditional piano-style keyboard and allows for playability with just one finger if needed. You can choose among 13 adjustable scales and simply swipe your finger across the keys to play them. We've only touched on some of its features… needless to say: this little package has a lot of potential.
Now available on thomann.de Price: €229
---
Waldorf Quantum Synthesizer
Don't even know where to start with this one because of its sheer power and versatility. Simply put if you're serious about sound synthesis, this is the magic tool for you. Three oscillators with 4 modes each, 2 analog filters per voice plus 1 digital filter per voice which can also be adjusted and manipulated using a touch screen for intuitive sound creation. Like Lucas explains it in the video below: "complex but not complicated". You can't go wrong with this machine!
Now available on thomann.de Price: €3,995
---
Teenage Engineering OP-Z Dream Machine
Don't let the brand name discourage you, these machines aren't made by young, hormonal, inexperienced, engineers. Instead they are engineered by innovative techies from Stockholm, Sweden. The OP-Z is a smartphone compatible, intuitive, visual, 16-track sequencer, drum machine and synthesizer which takes music creation to the next level. Its "punch-in" effects make it very handy for live performances and are displayed on your smartphone, iPad, laptop or external display. It also has a DMX controller / sequencer which allows you to sync up lights and fog machines to your composition. Check out the video below to learn even more about it…
Now available on thomann.de Price: €573
---
There you have it, a rundown of the most exciting synths to emerge in 2018! These beauties will definitely be occupying a lot of our time 🙂
Which upcoming synth are you most excited about? Please let us know in the comments below or on the Facebook post ✍