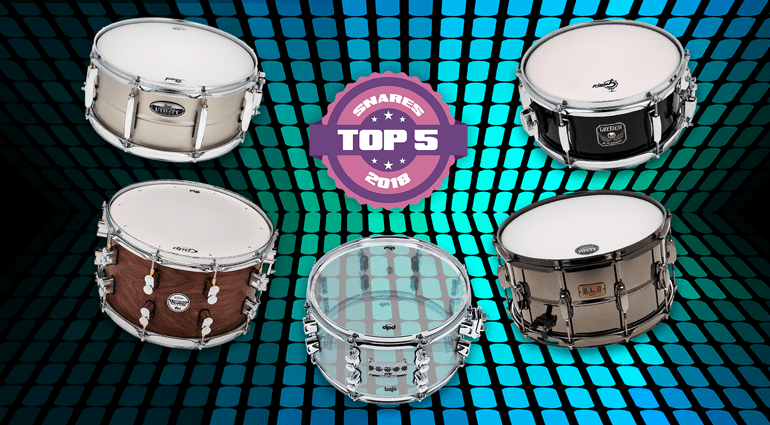 Snares, snares and more snares! One can't own too many snares, right? The year 2018 offered some fine pieces of gear in the snare drum department too! We gathered the Top 5 snares, which were chosen by our respective drum jury. Watch the video and read more about them below. 🥁
---
---
Now here's a really deep snare from DW PDP. This 20-ply maple shell snare with two inner and outer layers of walnut in the 14″ x 08″ size is a feast both for your eyes and ears. The dual turret lugs and true pitch tension rods allow you to really crank up the drum and it has the MAG snare throw-off which is very smooth and easy to use. The snare comes with Remo drumheads which ensure you'll get the best out of it. Playing it with medium or high tuning preserves the fine "phat" sound with little overtones. High quality at a low price!
---
Also Pearl has been productive this year and one of their newborns is this 14″ x 6,5″ snare from the Modern Utility Series with 1 mm thick steel shell, 1.6 mm steel tension hoops, bridge-style lugs and 20 strand snare matt. It has the basic steel snare sound with pretty high overtones and by adding one or two Moongel Damper Pads you'll get that dry and funky snare. This snare allows you to tune it high and low making it an inexpensive all-round snare for drummers who play different styles of music from death metal to latin rhythms.
---
Now this one from Gretsch is one feisty fire cracker! With it's poplar shell, 1.6 mm triple flanged steel hoops, 30° bearing edge in a 12″ x 5,5″ size you'll get that cutting and high cracking bang. This snare can be used as a main snare for really funky stuff, as a side snare or even as a roto tom for adding some effects to your playing.
---
This "Big Black Steel", as they call it, from Tama S.L.P Series makes it big, literally! The size of this beast is 15″ x 08″, it has 1 mm thick steel shell and 10-hole Mighty Hoop steel hoops in black nickel finish. It's a perfect tool for rock and metal drummers out there who want to sound big! It comes with Evans G1 Coated snare head which is more than OK for heavy hitters. 🤘
---
Everyone knows that Chad Smith from the Red Hot Chili Peppers moved from Pearl to DW and now also DW has launched a signature snare for him. And oh what a nice piece of gear it is! This time Chad has moved from his earlier Pearl models, which were 14″ x 5″ and 14″ x 6,5″ to some slightly deeper levels of 13″ x 07″. The shell of this DW model is made of seamless acrylic, it has the MAG snare throw-off, dual turret lugs, true-pitch tension rods and the chrome hardware adds some extra sophistication and style. This drum is loud but also very sensitive for those Chad Smith signature ghost notes. A real showstopper for drummers who want to punch a hole in the ceiling! 💪
DW PDP Chad Smith Signature Snare comes in 3 different sizes:
DW PDP 14″x06″ Chad Smith Snare
DW PDP 13″x07″ Chad Smith Snare
DW PDP 12″x06″ Chad Smith Snare
---
What do you think of this Top 5 Snares list for 2018? Would you add or remove something? Which one(s) have you already tried? Let us know in the comments here or in the Facebook post. ✌️