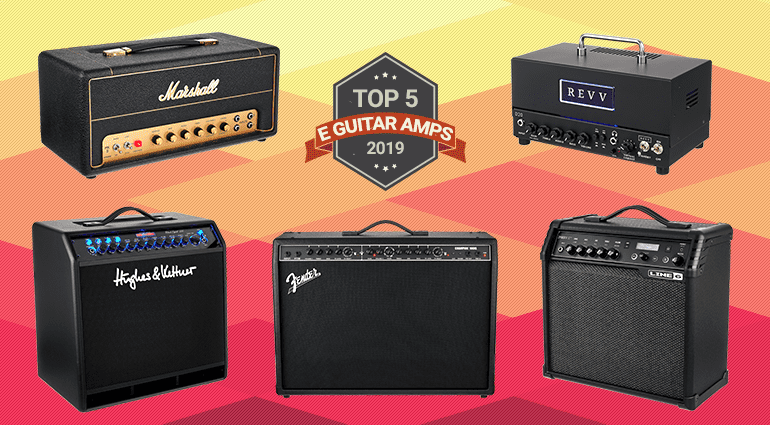 Top 5 Guitar Amps of 2019
Top 5 Guitar Amps of 2019
Electric guitar would be nothing without its partner for life: the amplifier. Guitarists will agree that 2019 was a great year for making yourself be heard. We've compiled our list of the Top 5 amps of 2019, below, just for you…
?⚡?
---
This "black face" solid-state Fender amp is equipped with: 2x 12″ custom Celestion "Midnight 60" speakers for 100 watts of electrified power. With 2 channels, 7 effects, 12 amp sounds and a 2-way footswitch you'll be well on your way for rocking out at home or on stage.
A beautiful
Marshall
tube head
with a
preamp
based on the classic
1959 SLP (super lead plexi)
for that authentic rocking lead sound.  One channel (with
4 separate inputs
) and
five tubes
(2x ECC83, 1x ECC83 [Phase Splitter], 2x EL34) make this amp head roar with
20 watts
of power (can be reduced to
5W
). A
DI out
and
Serial FX loop
are the cherry on top that make this classic amp super desirable in 2019.
This tube amp head, from the Canadian brand
REVV
, is
small
and
lightweight
but
powerful
(
switchable
from
4W
to
20W
)! The built-in
Two Notes Reactive Load & Virtual Cabinets
(
6
customisable
virtual cabinets
) are selectable
via the front knob
or up to
128 via MIDI
. The head is connectable
directly to a mixer, interface or headphones
(without use of speaker) and
gives you all the possibilities you can ask for.
Twenty watts
,
2x 12AX7 preamp tubes
and
2x 6v6 power amp tubes
make this and absolute must-have.
The secret behind the sound of this combo amp is its completely new Bionic Tone Generator technology. Here the complex dynamic processes of classic tube circuitry have been reproduced and optimised with new analog circuitry principles. From this comes the special playing feel as well as the tube-amp quality sound. Four channels (Clean, Crunch, Lead, Ultra) feed this 200 watt  amp through its 1 x 12″ Celestion G12H-75 Creamback speaker. You can store up to 128 presets, emulate 8 different speakers, stream playback of music via Bluetooth and so much more. Check out the product page for full specs.
This electric guitar modelling combo amp has a 1x 8″ custom full-range speaker & tweeter for the flat-response output needed to emulate various amps (or reproduce music clearly via USB or AUX).  Thirty watts of power blast the sound of your favourite renowned sound designers (ex. Dan Boul of 65amps) and offer artist and song presets by Bill Kelliher, Josh Smith, Devin Townsend, Dustin Kensrue, Jeff Loomis, Ola Englund, Fluff, Jeff Schroeder, Oz Noy and Vernon Reid. Its full-range speaker mode is ideal for acoustic guitar and jam track playback. Talk about versatility, and all this (and more) in such a compact amp!
---
There you have it, 5 of the best guitar amps of 2019, handpicked by our staff, just for you. What do you think? Would you have selected others? Let us know!
---
For anyone who is interested in 2018's Top 5 Guitar Amps, here's the video: