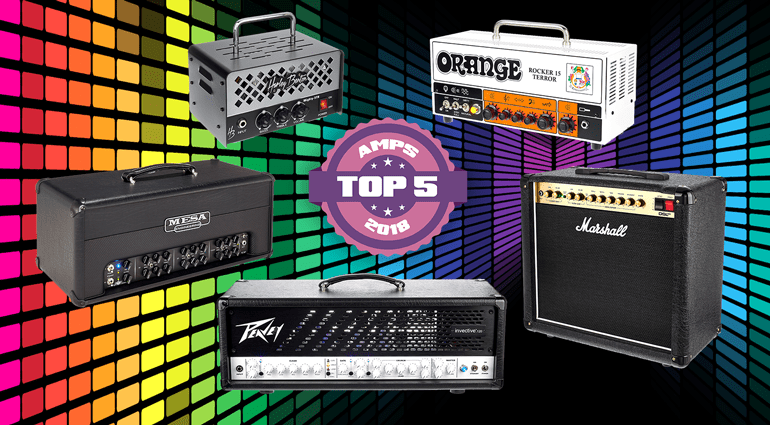 Top 5 Guitar Amps of 2018
Top 5 Guitar Amps of 2018
The year 2018 has also produced some interesting products for guitar amplifiers.
In this list we present you our Top 5 amps that came onto the market this year. And now, without further ado…
---
---
With the DSL20CR, Marshall has launched a reissue of the popular DSL series amplifier that delivers 20 watts as a combo and generates its sound from 3 ECC82 preamplifier tubes and 2 EL34 power amp tubes. It has 2 channels, which can also be switched via foot switch. In addition, there is a tone shift switch, a bass resonance boost switch and an emulated line output for nighttime recording in sensitive environments. Both channels also share a 3-band tone control (bass, mids & treble). A 12″ Celestion Seventy-80 speaker provides fine acoustic reproduction. And all this at a super attractive price!
---
There was also news to report from Orange. The compact Rocker 15 Terror amp head delivers that famous British Orange sound and comes housed in metal and in Orange's well-known company colours. Two channels, a 3-band tone control and an FX loop are on board, yet the small head weighs only 6.4 kg and delivers 15 watts, which can be throttled to 7, 1 or 0.5 watts. Inside, three ECC83, one ECC81 and two EL84 tubes provide the sound and make the small amp a faithful companion, especially since it can be conveniently transported in the gig bag supplied.
---
As with the Orange Rocker, the housing of the Mighty-5TH from Harley Benton is made entirely of metal, is extremely compact and delivers 5 watts, which are generated from an EL-84 power amp tube. The output power can be throttled to 1 or 0.1 watts, which makes playing with sensitive neighbours possible. A single 12-AX7 preamp tube is all the small amplifier needs, as it has only 1 channel and a 2-band tone control (bass & treble). At only 3.2 kg it's easy to take with you on your travels and the price doesn't burn a hole in your wallet either.
---
With the Triple Crown TC-50 head, the Californians at Mesa Boogie blast us out of our seats with this 3-channel and 50-watt beast. Its power is generated from two EL-34 power stage tubes and can also be replaced with 6V6 or 6L6 bulbs according to taste. In the preamp section, six 12AX7 tubes glow to create the sound. Each channel also has its own 3-band tone control (treble, mids and bass) plus a presence control. Equipped with reverb, a MIDI interface and the well-known CabClone Cabinet Simulator, it is predestined for guitarists playing in a wide variety of musical genres. As usual with Mesa Boogie, the amplifier is extremely versatile and offers a whole range of additional switching options for sound optimisation. Foot switch included!
---
The American progressive metal band Periphery can shine with a great guitar sound in addition to their technically sophisticated music. Misha Mansoor, the founder of the band, has played a major role in conceiving this Peavey Invective.120 amp head which was developed on the basis of the popular 5150 and was improved. Its new features include a switchable noise gate, MIDI out/thru sockets and a half power switch from 120 to 60 watts. The amp head can also power 2 effect pedals, a really useful feature! The supplied foot switch board is also a real highlight, because in addition to the classic channel selection and additional switching options, it can also be used to select previously programmed presets. A total of six 12AX7 preamp and four JJ 6L6GC power amp tubes allow a sound that is more specialized in the heavy genres, but classic clean and rock sounds are also possible. This makes the Invective.120 Head a highly professional tool that feels at home in different genres.
---
What did you think of our Top 5 amps of 2018? Would you add any? What is your personal Top 5? Let us know in the comments below or on the facebook post. ✍️