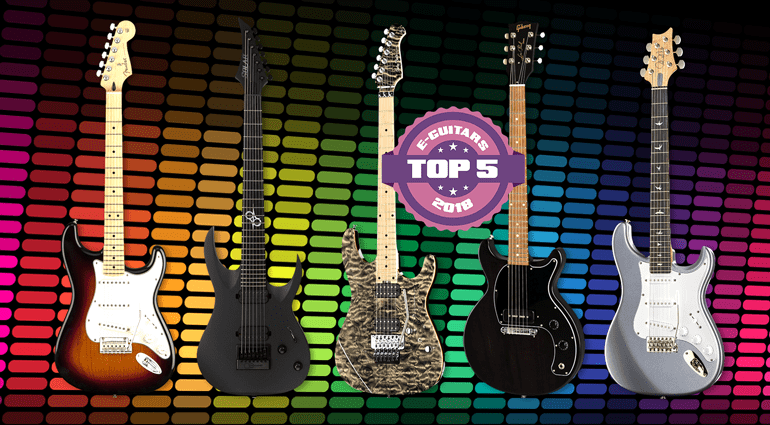 Top 5 Electric Guitars of 2018
Top 5 Electric Guitars of 2018
It's always a good year for guitars, especially electric guitars, and 2018 is no exception. Our staff have chosen the Top 5 Electric Guitars for you in this article and we hope you enjoy it…  
The new Mexican-made Fender Player Series are preferred by many, even over the American-made Strats! And not only because of their nicer price tag. With an alder body, maple neck, maple fretboard, 5-way pickup switch and 3 new Player Alnico V single-coil pickups this Strat has a truly professional look and feel.
For those who have converted to the dark side, this 26.5″ scale 7-string guitar will give you the extra edge you need to fit in amongst the dark lords. With 2 Duncan Solar humbucker pickups you will quake the underworld and you'll remain in tune the whole time because of its award-winning Evertune F-type bridge.
The Harley Benton Fusion series means business: a Floyd Rose locking nut and Floyd Rose 1000 Tremolo mean that you can all the irresistible wobble you want without needing to tune your guitar after every song. Its "Ultra Quilted" maple veneer top in high-gloss charcoal (with matching headstock) and stainless steel frets add style and function to this highly-affordable axe.
Here, Gibson puts all of the best components, materials and design into a beautiful, simplified guitar. This American-made double-cutaway Les Paul is for those who want to rock out in style without complicating things. A "worn ebony" mahogany body, maple neck and rosewood fretboard make this guitar as classic as they come. Remember that simplicity and restriction can often lead to more creativity for a songwriter!
This beauty from PRS features, besides John Mayer's signature, an eye-catching silver tungsten finish on an ergonomic Strat-style alder body, maple neck and a rosewood fret board with small bird inlays. It definitely stands out in a crowd and also wails like a beast with its Mayer-specific custom-wound SSS pickups.  If you're looking for a Strat with a twist, look no further!
🎸🎸🎸🎸🎸
What do you think of our Top 5 selection? Have you tried any of these and would like to elaborate in the comments? Which electric guitars would you add to the list? Let us know! ✍️