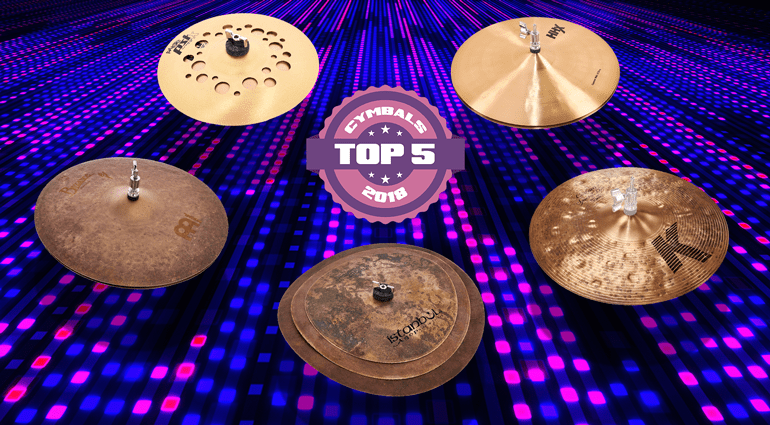 Crash, ride, hi-hat, splash… Cymbals add that extra bit of magic to music that no other instrument can really replace. Atmosphere, resonance and texture are added through the vibration of these intricately crafted discs. Cymbal manufacturers have delighted us again in 2018 with several exciting sounds and interesting concepts. Here is a Top 5 list from this year's offerings…
---
Short, concise and crisp. With the PSTX series Paiste has hit a drummer's nerve, because the effect cymbals made of B8 and brass not only sound good, they are also really affordable. The Splash Stack 10/08, introduced in early 2018, can make more than just one sound. It consists of a perforated 10″ splash cymbal and an 8″ splash with an inverted bell. Not only can the length of the sustain be changed with a tripod screw, but both parts can also be used separately or in combination with other cymbals.
---
Trevor Lawrence Jr. was the inspiration for the development of the Istanbul Agop Clap Stacks. The man not only played with Herbie Hancock, he also knows how a good clap should sound. Three thin, hammered metal discs provide an amazingly authentic imitation of powerful electronic clap sounds. Eleven, 13 and 15 inches, the pizza-dough-like bronze discs are large and, like many other stacks, the cymbal screw acts as a sustain control. Extraordinary sounds can also be created by using different combinations of the discs, of course!
---
The Sabian HHX series enjoys continuous popularity and in the HHX X-treme Groove Pack the Sabian product specialists have recently packed the best-selling models into a very nice sounding cymbal set. The big 15″ Groove Hats sound at once fat and precise and can be used in almost all styles. The thin, quick-responding X-treme crashes, with their slightly trashy character, fit perfectly. The fact that they are one inch larger than the standard sizes at 17 and 19 inches makes things even more exciting. The 21″ Groove Ride has a shimmering and defined attack and doesn't sound too dry,  an all-rounder in the best sense. In terms of budget, the X-treme Groove Pack is unbeatable.
---
The fact that Benny Greb is one of the hottest modern drummers is pretty well known by now. But maybe not everyone knows yet that he has released a powerful 16-inch version of his Byzance Sand Hats with Meinl. They are dry and they sound much darker, more noisy and more retro than his 14-inch model and should therefore not only be perfect for studio work, but also wherever a washy, slightly less sharp hi-hat sound is required. Not only Benny fans should try out these great hats.
---
Zildjian has hit a nerve with their new K Custom Special Dry cymbals. These high class cymbals fit perfectly for many modern styles. They respond quickly, sound dry but not dull, and have a clean definition. This makes them equally suitable for recording and quieter playing. Their shortened sustain, however, also suits drummers who play fast and hard and therefore need cymbals that do not resonate forever. Purchased individually, the 21″ Ride, the 16″ and 18″ crashes and a 14″ hi-hat, require you to hand some serious cash over the counter. For this hand-selected Special Dry Pack, however, the price is very musician-friendly.
---
Cymbals are magic, we hope you enjoyed our Top 5 Cymbals of 2018. Which ones have you tried? Which others would you recommend to the music community? Please let us know below in the comments! ✍️