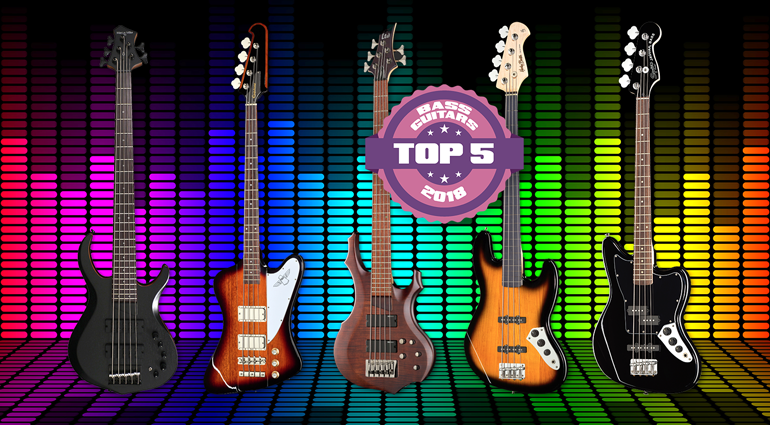 Does a good electric bass need to be expensive? Not at all! Today's bassists can look forward to first-class instruments made of high-quality components that provide a powerful and assertive sound in every band structure. Get ready, dear bass players – here comes our Top 5 selection of electric basses from 2018!
---
---
Marcus Miller was brought on board  to the Sire bass manufacturer as co-developer and namesake for their bass models. It goes without saying that Mr. Miller knows what a good electric bass is all about! In addition to the super successful jazz bass models, the Sire Marcus Miller M2 comes in a more modern look: transparent black lacquered mahogany body, maple neck and CITES-certified rosewood fingerboard. 24 neatly placed medium frets invite you to uninhibited solo excursions if required, and the two powerful "Marcus Blue" humbuckers in combination with the sophisticated "Marcus Heritage 3" electronics provide stunning changeability in a super tight and powerful tone. And the best part:  all for less than 400 euros!
---
The Fender Jaguar Bass has always been in the shadow of its big brothers: the Jazz Bass and the Precision Bass. And yet this model, with its extravagant looks, has many fans all over the world. This slightly modified Jaguar model by Fender subsidiary Squier comes at an unbeatable price with an agathis body and a maple neck with an Indian laurel fingerboard. The size of the electronics is significantly reduced and the scale is shortened (short scale), which makes handling much easier, especially for electric bass beginners.
---
Since the time of bass legend Jaco Pastorius (1951 – 1987) the fretless electric bass has been an integral part of the low-frequency sound palette. But what if you only pick up the fretless bass occasionally and therefore don't want to buy an expensive instrument? Harley Benton has the answer: The JB-40FL comes in a classic 2-tone sunburst at a money-saving price! The body is made of ash, the screwed-on neck is made of maple and the fingerboard of blackwood. Two volume knobs control the AlNiCo single-coil pickups, a passive treble diaphragm is used for sound shaping. Clearly, even Jaco himself would have enjoyed these ingredients!
---
THE rock bass par excellence, made famous by bass legends like Nikki Sixx (Mötley Crüe), John Entwistle (The Who) or Krist Novoselic (Nirvana)! Epiphone's Thunderbird Vintage Pro TS is a remake of Gibson's legendary Thunderbird bass and with its exquisite ingredients comes so close to the original that you can hardly believe it! A mahogany body, seven-stripe neck made of mahogany and walnut, blackwood fingerboard, 20 medium frets and Epiphone Probucker 760 pickups. There is also a two-piece bridge (just like the original from the 1960s!). Hearing is believing!
---
Speaking of rock basses… "Hard hitters" prefer bass models with a corresponding look. The ESP LTD F-205FM with its angular shape is guaranteed to make the corners of every metalhead's mouth curve upward. But looks aren't everything: two super rich–sounding EMG soapbar pickups have been built into the basswood body with maple top. The sound of the pickups can be steered in any direction with the help of three-band active electronics. In addition, the natural sound of the F-205FM has an extra-long sustain due to the extra-long 35-inch scale and the 24-fret roasted fretboard.
---
There you have some low-end to end off the year, enough to make the walls shake and make people dance. 💃🕺 Let us know what you thought of our Top 5 electric bass selection. Which bass is your favourite? What others would you recommend? Comment below! ✍️