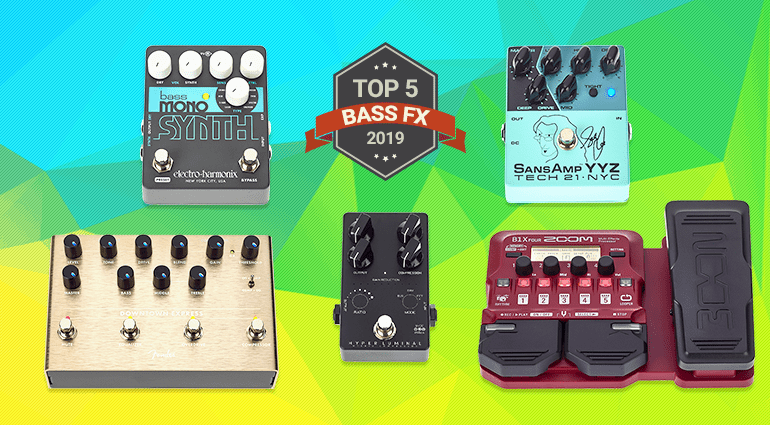 Top 5 Bass Pedals of 2019
Top 5 Bass Pedals of 2019
Playing bass is fun, especially through a great bass amp , but it's even more fun when you add effects. In 2019 some really interesting effect pedals came out from some top brands. Here is our Top 5 list…
---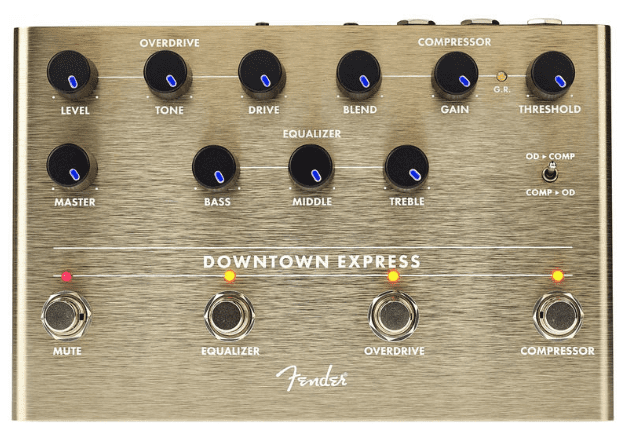 This shiny metallic bass pedal from Fender is sure to please any bassist with its versatility and design. It's main functions are an analog compressor, overdrive (with speaker emulation) and a 3-band equaliser. It's mute switch and DI out make it a pedal ready for any stage.
This snazzy little pedal is the mini version of the rack-mountableTech 21 SansAmp GED-2112 which is Rush's frontman, Geddy Lee's, signature bass preamp. The pedal is smaller but packs a huge punch with its blendable Deep and Drive settings. Lee's tone (and technique) is legendary and you can get pretty close with this pedal. Now get practising!

A multi-effect pedal for bass with 71 effects, 9 amp simulations, looper (max. length 30 sec.), integrated expression pedal, Guitar Lab software for creating, editing and managing effects and patches, 68 rhythm patterns, 50 memory slots, integrated tuner, amp / headphone output, AUX input and so much more. Bring this lightweight all-in-one to your next rehearsal instead of several pedals and use up to 5 effects simultaneously and in any order, switching them with the pedal switches. For this price it's a no-brainer.

Can't decide if you prefer playing synthesizer or bass guitar? Or do you just want to experiment with your bass sound? With this pedal you can turn your bass into 11 different vintage mono synthesizers! Because it's monophonic it only synthesizes one note per oscillator giving it that authentic vintage sound. You know you wanna try it out…

This Finnish-made pedal is super versatile with its 3 switchable compressor models. By digitally modelling the side-chain circuits of some of the most legendary compressors, the Hyper Luminal captures their characteristic behaviour while maintaining a fully analog signal path resulting in superb bass tone. Its touch-through-metal sensor controls for Ratio and Mode are innovative, intuitive and weather- and wear-resistant, we've never seen this technology on a pedal before!
---
Some pretty amazing bass effect pedals there, wouldn't you say so? Which ones have you tried? Which would you add to the list? Let us know in the comments.
---
Also, check out last year's Top 5 in the video below: