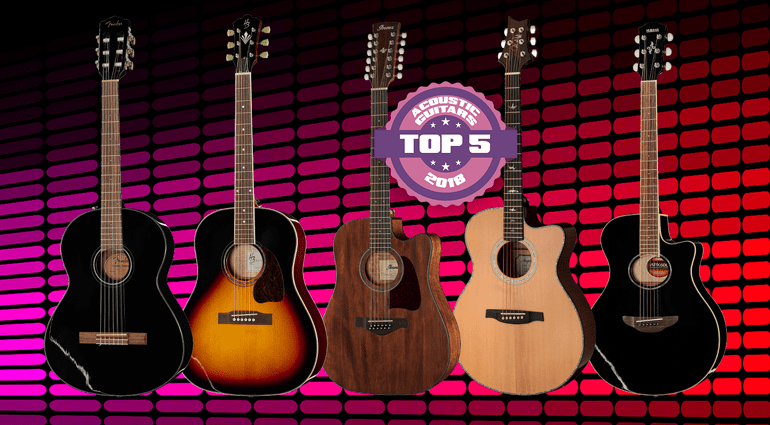 Top 5 Acoustic Guitars of 2018
Top 5 Acoustic Guitars of 2018
Mahogany, maple and cedar… rosewood and ebony. All of these words sound nice on their own, but they sound even nicer when they are resonating as material in an acoustic guitar. Which one you choose depends on your tastes. Our Top 5 list of Acoustic Guitars from 2018 might help you with your choice. 
---
---
Something chic for the start of a guitarist's career: With the CN-60S Black IL, Fender presents a concert guitar that is so far removed from the established traditions, not only visually. The 43 mm narrow neck allows even electric guitarists or people with small hands to reach all strings comfortably. In addition, there is a slightly shorter neck, which makes the strings vibrate more loosely. The top is made of solid spruce, which makes a good sound possible right from the start. And of course there is the deep black, high-gloss finish, which, you just can't deny, looks cool!
---
With the APX 600 Black, Yamaha is bringing a real stage beast onto the market that will feel right at home, especially in loud rock bands. If you are looking for a handy guitar for this purpose, look no further. This Yamaha's body feels great ergonomically, it has a beautifully slim neck and the scale is also much shorter than on the standard models. Such a guitar plays as smooth as butter. There is of course a pickup system for unrestrained use on stage and the locked woods of the body provide sufficient feedback security. And of course there is this cool black varnish …
---
There are surprises from PRS: With the SE A50E Angelus, the American high-end manufacturer presents an inexpensive acoustic guitar from its Asian SE offshoot. The Angelus of course has a massive spruce top, but especially a modified beam system underneath, which provides an airy, dynamic sound. Both the body size and the neck dimensions make the PRS a guitar for the experienced acoustic player. But the aesthetic is not neglected either, because with the body made of maple and the abalone inlays it simply looks great. And to make it work on stage, it has a pickup system from Fishman.
---
A 12-string guitar is usually quite high on the wish list of many guitarists. The Ibanez AW5412CE-OPN Artwood provides several reasons to finally fulfil this wish. The large volume body delivers the low end that really makes the brilliant sound of the octave strings shine. The top is made of solid mahogany, which not only offers a visual change, but also gives the sound a rich, mid-range character. This can be flexibly and simply transmitted to an amplifier via the Fishman pickup. By the way, Ibanez guitars are known for their excellent playability, so don't let the number of strings (12) intimidate you!
---
A dreadnought that isn't a dreadnought? If you're facing this dilemma because you like their sound but don't like their shape, you can breathe a sigh of relief: The Harley Benton Custom Line CLJ-45E VS is a large-body guitar with the sought-after dreadnought sound, but with a pleasing round shape. The solid Sitka spruce top provides a rich, dynamic tone that shimmers in the treble and is present in the midrange while the large body maintains the right amount of bass. Also, with its vintage sunburst finish, this guitar is undeniable attractive.
---
What did you think of our Top 5 acoustic guitars? Would you add any others? Have you tried any of the ones we mentioned? What's your favourite? Let us know in the comments! ✍️