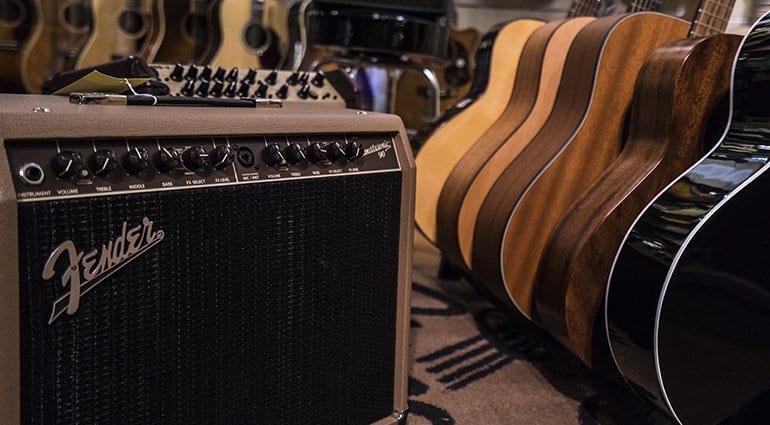 Top 5 acoustic guitar amps for on stage
Top 5 acoustic guitar amps for on stage
When choosing an acoustic guitar amp there are several factors to consider: portability, built-in effects, microphone input, volume, feedback reduction and especially the sound reproduction and fidelity to the sound of the instrument. Here we compiled the top rated picks from our customers and take a closer look at their characteristics and strengths.
---
The AER Compact 6 considered the rolls of acoustic amps, has become a benchmark in its class. Rugged and compact as its name suggests, but most of all its accuracy: the sound is incredibly clear, very transparent and neutral in its ability to faithfully reproduce the original sound of your instrument without any distortion. The integrated effects are of very high quality and the reverb is notably impressive! This 2 channel amp is not without various connection possibilities: several inputs (guitar, microphone, effects loop, tuner) and several outputs(line, headphones, DI). 6.5 kg of joy, it's a must!
This amp has everything you need: aesthetics, power, "voicing" control to simulate a jumbo guitar, dreadnought or parlor, but also an amp simulator and integrated effects. The Fender Acoustasonic is equipped with a feedback-elimination control switch, XLR output with level control and a USB port for digital recording. A complete solution combined with Fender quality!
The AS100D is known to reproduce the sound of acoustic guitars very accurately. This amp has 4 independent channels with two 8 "speakers and two tweeters! Channels 1-3 are for acoustic instruments and microphones, while channel 4 has an auxiliary input that can connect a drum machine or CD/Mp3 player. And to top it off, various controls that do a good job at manipulating and equalizing the sound, as well as integrated stereo effects, such as reverb.
This 80 Watt amp with 8″ speaker and tweeter, has 2 identical channels with very specific tone controls and anti-feedback filter. Combi jack/XLR inputs lets you connect an instrument or a microphone to each channel. It also has controls to adjust the input signal, headphone output, and an effects loop. Surely the best quality/price ratio in its class.
120 watts of pure power and versatility make the Loudbox Artist PRO an amplifier capable of performing in any context. This amp offers a very crystal clear sound. In addition to the aux-input and headphone output, it should be noted that it has an effects section, an EQ and also an output for each of the two channels, which can be very useful in order to achieve a precise and harmonious mix. In short, it's a powerful and complete, yet affordable amp.
And what's your personal choice of preference when amplifying your acoustic guitar?