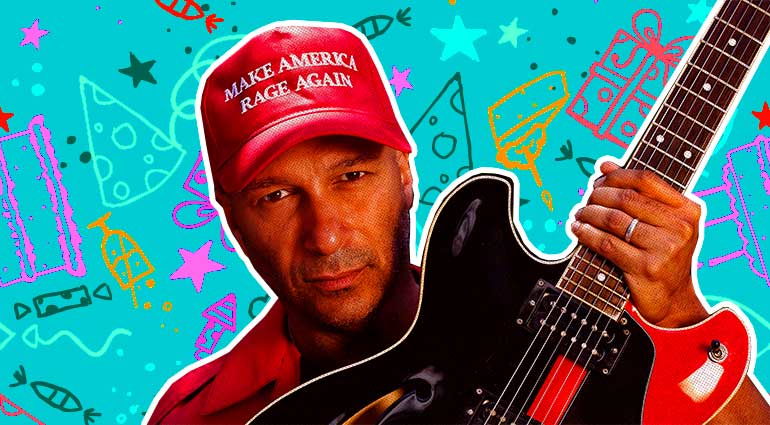 Tom Morello – restless guitar hero
Tom Morello – restless guitar hero
Tom Morello is, according to Rolling Stone, none other than one of the 100 greatest guitarists of all time. Today, May 30th, he celebrates his 56th birthday. Being so personable yet at the same time so critical of the music industry, this artist has been known for fighting political and social injustices for the past decades with his axe. With extraordinary sounds and unconventional virtuosity he has inspired and motivated entire generations of guitarists. We say congrats, Tom!
---
Tom is a self-confessed and restless workaholic who is constantly working on projects. As a guitarist for Rage Against The Machine, he has played countless concerts and has toured the whole world. In the meantime there have been other formations such as Audioslave and later Prophets of Rage and Street Sweeper Social Club; he also had/has solo projects called The Nightwatchman (2003) and Tom Morello (2018), in which he expresses his political commitments in a singer-songwriter tradition with acoustic guitar.
Politically, Thomas Baptist Morello does not allow anyone to shut him up, he also happens to be one of music's international trendsetters. He's always looking for something new and unfamiliar and it amazes his community of fans. Just as special: How few other guitarists play he's perfect even when he's on stage during the show. A real maniac.
Worldwide fame with Rage Against The Machine
Rage Against The Machine has a unique crossover mix of rock and rap, metal and funk. They ended up headlining gigantic festival stages until singer Zack De La Rocha quit the band due to creative differences. In the meantime they formed and succeeded with their separate groups until they reunited in 2011 all with Grammy awards below their belts. This year there was a world tour and various festival appearances announced, which, however, will not take place due to the ongoing covid-19 pandemic. The reunion tour has now been postponed to 2021.
Magician with immense variety of sounds & playing technique
Tom conjures up a more than impressive variety of sounds from brute to delicate and emotional. A special trademark of his is modifying the guitar sounds until the instrument is barely recognisable. His most important tool for this is the kill switch, via which he switches the signal of the guitar on and off and thereby producing the concise stutter effect. And his playing technique is so extravagant and tricky that he is even known to imitate the scratching sound produced by DJs.
Tailor-made: Fender Signature Tom Morello Strat

Incidentally, the signature model, the Tom Morello Fender Strat, was freshly presented at the NAMM Show 2020. The Tom Morello Soul Power Stratocaster is visibly modified and of course equipped with the famous kill switch. The guitar has a Floyd Rose tremolo, so with these two features alone you can get closer to Morello's sound, if you can in any way imitate his playing style. It is equipped with Fender Noiseless Pickups and a Seymour Duncan Hot Rail in the bridge position.
Well-stocked Pedalboard
Morello handles his effects in a wide variety of ways. Sometimes he uses many, sometimes none at all. The
truth is he does the actual artistry with his hands. On his pedalboard there are, for example the BOSS TR-2 tremolo and a Dunlop Crybaby Wah, a Digitech WH-1 Whammy as well a Boss DD-2 delay. The musical toolbox is completed by a DOD graphic EQ, an MXR Phase 90 and a DFL Flanger from Ibanez. At least these are some of his most used effects. Have fun warping your guitar's sound beyond recognition! ?
---
If you also want to congratulate Tom, leave us a comment and maybe, just maybe, he'll see it.