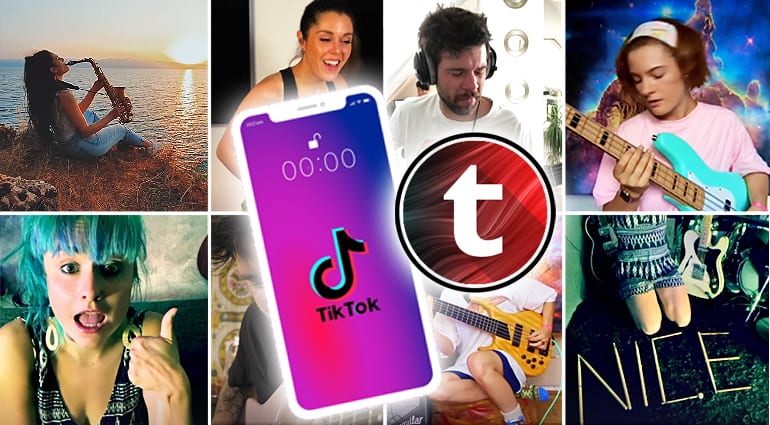 Thomann launches TikTok account
Thomann launches TikTok account
We recently started our own channel on TikTok, formerly known as "Musical.ly". If you want to check out what we are doing on there then please follow this link immediately:
You can follow us within the app at "@thomann.music" and get to know our international host team. And we dare to say: there should be something for every taste! Let's start with multi-instrumentalist Charly Klauser from Germany:
It would be quicker to list which instruments she doesn't master than to list what she can actually play. 😉 You may already know Charly from the stage. She plays for Sasha and Peter Maffay on tour, among others. Percussion, violin and guitar. She also sings.
For the show band "Girls 'n' Pussies" (Pussy Terror TV with Carolin Kebekus) she sets the pace behind the drums. Now she's shaking up TikTok for Thomann by also rocking the piano. Stay tuned!
International hosts and a whole host of genres
Our TikTok crew has a lot more to offer. There are: saxophonist Alexandra Illieva from North Macedonia, drummer Domino Santantonio from Canada and bassist Laura Jašková from Slovakia.
They support our colleagues Guillaume Chenin and Kris Barocsi on guitar and YouTube bass host Julia Hofer on cello in the production of TikToks videos.
And of course, we can't forget about singing. Rock star Marcela Orosi from Croatia and the German musical actress Julia Heiser shock you with their powerful voices – sometimes funny, sometimes thrilling, sometimes pompous, sometimes quiet. But always in the right pitch. How about a duet? 😉
If you are in the mood for our surprising and varied mix of music clips (live performances, tutorials, hacks) and the typical fun of TikTok (challenges, duets, etc.), then just take a look and subscribe, like or comment here: www.tiktok.com/@thomann.music
Looking forward to seeing you on TikTok 🙂