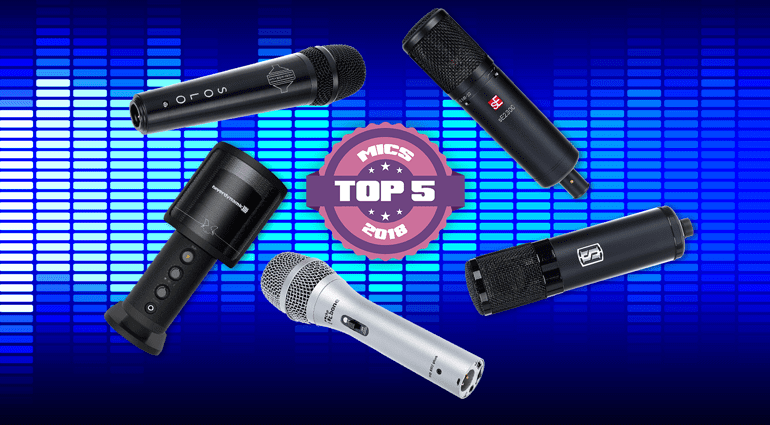 The Top 5 Microphones of 2018
The Top 5 Microphones of 2018
Many new microphones were launched in 2018. In this article we show you the five most exciting ones here, according to our experienced staff. Watch the video here 👇 and read more details about each mic below… 
---
---
The American-Chinese manufacturer SE Electronics is known for microphones with an excellent price-performance ratio. After launching the SE2200 in 2017, a worthy successor to its popular large-diaphragm cardioid microphone, the SE2300 was released, which also offers omnidirectional and figure-8 polar patterns due to its switching options. Combined with two-stage Lo-Cut filtering (80 and 160 Hz), two-stage pre-attenuation, high detail, clear treble and outstanding technical specifications, the SE2300 is a full-blown all-purpose studio microphone at a low price.
---
If you are looking for a robust dynamic microphone, the Sontronics Solo is for you. The mic, made by the British microphone maker, is equipped with a supercardioid capsule. High output as well as clear presence and treble are characteristic of a modern microphone. The sturdy Sontronics Solo also fits well in the hand because it weighs almost 800 grams and has a large shaft diameter. However, don't limit its use to only vocals: The solo is also excellent as a general-purpose weapon on percussion instruments, brass instruments, guitar amps and many others.
---
Buy one microphone and get many? Oh, it can be done: The Slate Digital ML-1 is a an excellent mic which barely colours the sound, resulting in a very accurate reproduction of it. But in cooperation with the Slate Digital Virtual Microphone System ("VMS") it really blossoms! This provides a whole series of classic mics and preamps, the sound of which is generated by virtual modelling. More versatile, and above all cheaper, than a cabinet full of vintage mics, the Slate Digital ML-1 has impressed many producers in a short time.
---
At first glance, the t.bone MB 88U Plus looks like any other vocal stage mic. But it's far from it! Although it can be connected to the live soundboard or in the rehearsal room via XLR like any other microphone, the highlight is that it also comes with a USB connection. Via an AD converter, the signal of this cardioid microphone can be routed in 24 bits with USB 1.1 to USB 3 to a Windows (7/8/10) or Macintosh computer, without the need for installing a driver. A headphone output turns the microphone into a complete small home studio front end! So practical!
---
Beyerdynamic, the manufacturer from Heilbronn, Germany is never overlooked in the headphone and microphone market. With the Fox they presented their first USB microphone in 2018. Inside is housed a large diaphragm condenser capsule, making the Beyerdynamic Fox particularly suitable for recording the human voice. The beautifully designed microphone comes with pop protection and a practical tilting stand, but can also be placed on any mic stand. The technical specs aren't too shabby either: the conversion rate is up to 96 kHz at 24 bit and the frequency range is 70 Hz up to 20 kHz. The Fox is also well equipped with headphone amplifiers, various controls and a mute button.
---
What did you think of our selection? Which ones have you tried? Did we miss a mic you love in our Top 5? We'd love to read about your favourites, just drop us a line in the comments below or on the Facebook post. 📝