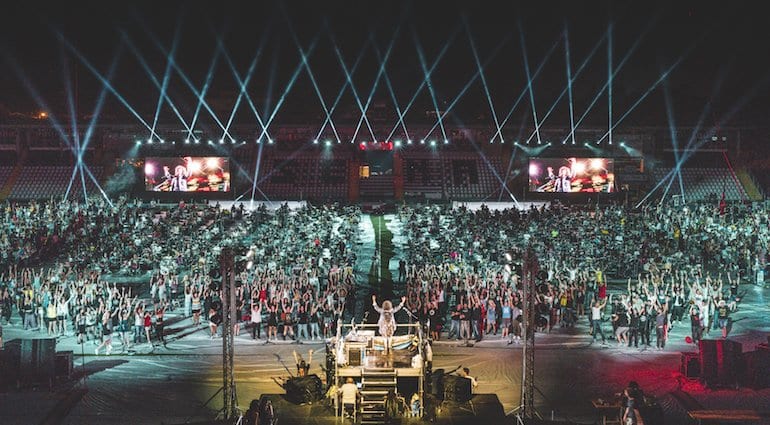 That's Live: 1200 musicians playing a gig!
That's Live: 1200 musicians playing a gig!
One of the most ambitious project in the world: 1200 musicians, together, playing a whole gig! Are we crazy? No, we just witnessed "That's Live"!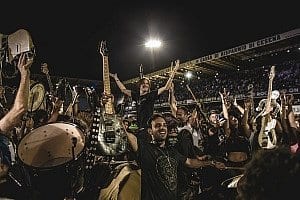 It all started with the Rockin'1000, the viral video, based on an idea of its founder Fabio Zaffagnini, that recorded 1000 musicians playing "Learn To Fly" by Foo Fighters in a field. Dave Grohl himself watched it and decided to arrange a gig in Cesena afterwards. This year, they raised the bar with another project: That's Live. 1200 musicians playing an entire gig together.
The event was held on Sunday, July 24 at the Orogel Cesena Dino Manuzzi Stadium, and the whole "rock orchestra" was directed by the Italian composer Marco Sabiu, who joined the stage riding a motorbike and wearing a … bathrobe!
More than 13000 people were present at the event, attending a revolutionary listening experience. The sound perception was huge and unique, thanks to the insane amount of drummers, guitarists, bassists and singers. The "biggest rock band in the world" performed alongside violinist, pianists and even bagpipe players. The event was described by many as a life-changing experience, that brought a new meaning to the phrase "be a part of something".
Musicians from all over the world joined forces and played side by side with some recognizable Italian artists such as Cesareo (guitar player of Elio e le storie tese), Cesare "Mac" Petricich (Negrita's guitarist), Saturnino (Jovanotti's bass player), Federico Poggipollini (Litfiba and Ligabue), Nevruz and even the swing king Raoul Casadei. 
The event was packed with positive vibes, energy and a lot of fun. Fabio Zaffagnini's goal was to revolutionize the world, reuniting people from all over the globe to play for the joy of playing… and he succeeded. Before starting, the whole stadium observed a minute's silence in memory of the late David Bowie. The english singer was honored again at the end of the concert, when the 1000s played "Rebel Rebel".
That's Live was credited by many, including the Italian Prime Minister Matteo Renzi, as a unique and magic experience, a result of the hard work of many, representing the power of unity.  We can't wait to see what they will come up with next!
Here's a the complete rendition of "Rebel Rebel". 
The official tracklist
Verve – Bittersweet Symphony
Beatles – Come Together
Black Keys – Gold on the Ceiling
Steppenwolf – Born to be Wild
Rolling Stones – Jumpin' Jack Flash
AC/DC – It's a Long Way to the Top
Eddie Cochran – C'mon Everybody
Clash – Police on my Back
White Stripes – Seven Nation Army
Ramones – Blitzkrieg Pop
Nirvana – Smells like Teen Spirit
David Bowie – Rebel Rebel
Patti Smith – People have the Power
Neil Young – Rockin' the Free World
Blur – Song2
Medley (Purple Haze, Foxy Lady – Jimi Hendrix / Kashmir, Moby Dick, Heartbreaker, Communication Breakdown, Whole Lotta Love – Led Zeppelin)
Foo Fighters – Learn To Fly