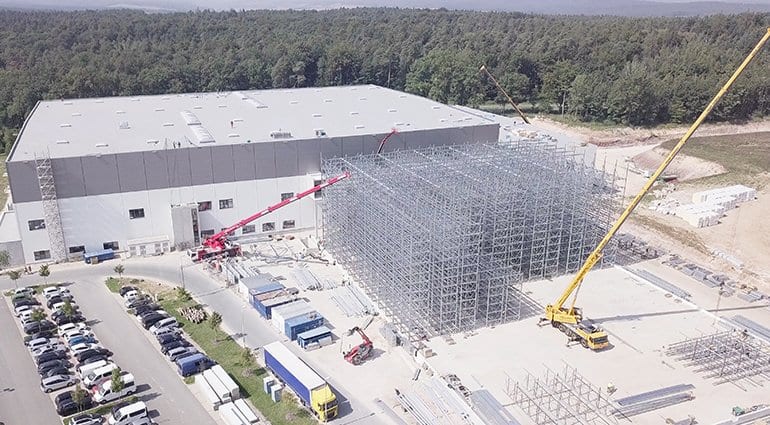 ++++++++++  UPDATE  +++++++++++
Wednesday. September 20, 2017, 11:00 am
Dear customers,
We can see the light at the end of the tunnel: Unfortunately we still cannot give you an "all systems go". All of the storage areas are fully functional and there are very few breakdowns at the facility, so in the last few days many older orders could be sent. 
Currently we are still delayed by 5 to 7 days, but we are catching up and hope that the anguish will soon be over. Again, thank you for your patience.
Your Thomann Team ❤
---
Thursday, September 14, 2017, 2:00 pm 
Dear customers,
At the moment you can expect a dispatch delay of approx. 7 – 10 days for new orders.
Existing orders can be processed faster (with a delay of approx. 4 – 6 days). Unfortunately, as many older and larger orders have also accumulated, we have to take care of them before we can send new orders.
Our system is now stable and we are working practically round the clock to catch up and get back to our usual fast shipping times. Thanks again for your patience, for the many encouraging words and the great support.
You are simply the best customers in the world!
Your Thomann Team
---
Monday, September 11, 2017, 4:00 pm
Dear customers,
Please note: at the moment you can expect a shipment delay of at least 4 to 5 days.
The good news: we can ensure stability in parts of the system, and it is possible that customers will receive their delivery as before. This is especially so with smaller orders, and the goods will arrive within the usual Thomann delivery times. Ultimately, every individual order is different, which is why we can not guarantee the usual delivery times for every order.
We thank you for your patience and deeply apologize to each and every one of you.
We're finally seeing the light at the end of the tunnel and our colleagues in the dispatch center are working full force, so that you will receive your ordered goods as soon as possible.
♥️ Your Thomann Team
---
Friday, September 8, 2017, 10:00 am
Dear customers,
Currently you must expect a delivery delay of at least 4 to 5 days.
Important: The waiting time differs from order to order since different parameters, such as number of items, storage location etc, play a role. According to the "First In, First Out" we are trying to process orders chronologically, but this is not always possible.
Our team is working with full commitment and is doing its best to solve the problem as quickly as possible. As soon as there is news, we will inform you here. A huge sorry from us for the inconvenience to each and every one of you waiting for your order.
We have received many kind words – thank you again for your patience and understanding.
♥️ Your Thomann crew
---
Monday, September 4, 2017, 3:00 pm
Dear customers,
Currently a delay of 5 to 6 days is expected.
In individual cases, it may be possible that the shipping of the order is delayed even longer if, for example, many different products have been ordered. For this reason "simple" orders (or single product ones) can be sent faster.
The shipping of a purchase order depends, among other things, on the number of items and the storage location of the items. Therefore, a general statement is unfortunately difficult. But we have good news to report: We are making progress, we are progressing, albeit little by little.
Our team is doing the best and is working hard to get your order in your hands as soon as possible. We understand that many of you are disappointed and frustrated, and unfortunately we can only ask for comprehension at this point and say that we are infinitely sorry.
Sincerely Yours,
The Thomann Team
---
Friday, September 1, 2017, 12:15 pm
Update on the current situation regarding our dispatch center: while the system is running relatively stable at the moment, it isn't reaching its usual performance yet. This means that there will be a delivery delay of several days. Unfortunately, we are not able to give an exact indication of the actual delay time for each individual order. We are sincerely sorry for the inconvenience! Our colleagues in the logistics department are doing their utmost best to ship your orders as quickly as possible!
We will keep you updated!
---
Tuesday, August 29, 2017, 2:00 pm
In order to improve our workflow and adequate our software and monitoring tools for the next big change, a few updates have been rolled out during the last weekend.
Unfortunately, something went wrong… 🙄😟
Since Saturday we are running at no more than 20% of our total performance load and had several failures with the logistics software, hardware and moving parts. This was obviously not planned, nor could we imagine this and we had no sign of it coming. To make it very short: we are INFINITELY sorry for all our customers affected by this.
Our team is working non-stop since Saturday, doing its best to fix this problem as soon as possible and start to ship out orders at the usual super speed we've known for.
We have always been honest and transparent and we won't hide numbers and figures : our back order consists of over 25.000 orders. What does this mean? That we can't guarantee that the next orders will ship before 2-3 days.
If you want to order something that you don't need urgently, please consider to wait and order after we will clear our situation.
If you need a software product, visit our Download Store – ready to deliver and filled with over 1000 software titles for direct download to your computer.
If you currently have an open order with us and are worried about it: worry not. We are very sorry for the inconvenience and guarantee that we will do our very best to ship your goods as soon as possible. Ultimately, we will roll out updates to our customers to inform you on the real-time situation as our team works to fix this up.
Keep your fingers crossed with us as we do whatever it takes to solve this problem and return to our well-known buttery smooth workflow.
Rock'n'Roll! 🤘
Your Thomann Team
Lawrence started playing the electric guitar because of his passion for rock music. Back in the day he played in a metal band, but now plays more for himself.