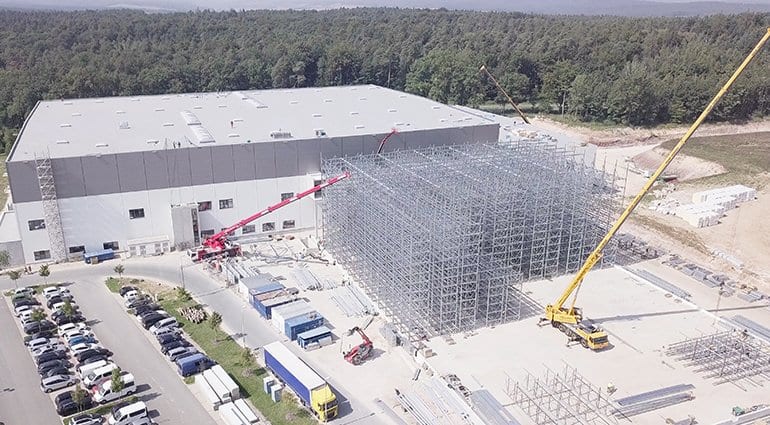 THOMANN'S GEARHEAD UNIVERSITY #TGU18 LIVE UPDATES
THOMANN'S GEARHEAD UNIVERSITY #TGU18 LIVE UPDATES
++++++++++  UPDATE  +++++++++++
Monday, May 14, 2018, 3:00 PM
Rooms start to take shape as we put down the carpets and start setting up the racks and amp shelves. We start to wonder what kind of collaborations will take place in these spaces! There is A LOT of gear involved and we can't thank our partners & supporters enough for this!
Monday, May 14, 2018, 12:00 PM
The squad takes a little break from the hard work and enjoys a lunch in the t.kitchen. Henning (Eytschpi42) has has own method of getting from point A to point B. Psst: more madness can be found on our Instagram stories – there's some crazy reportage going on!
Monday, May 14, 2018, 10:00 AM 
The video team just arrived at Thomann HQ in Treppendorf and is starting to organise their work in order to build the video rooms – the magic and music-infused places that will host our YouTubers Squad who will arrive in a few days.
---
Tuesday, October 17, 2017, 5:00 pm 
Dear customers,
With these words, I would like to address myself to you personally. I apologize for the delays in delivery in the past few weeks and the inconveniences that have befallen you.
We are just relieved that we have reached the usual shipping times again. From now on, you should have your orders in your hands as quickly as usual.
We appreciated the many warm words in the comments on this blog. I would like to thank you for this and for your trust, understanding and loyalty in the last few weeks.
Thank you, thank you, thank you.
Yours sincerely,
Hans Thomann
---
Thursday, September 28, 2017, 5:00 pm 
Dear customers,
We have some more good news for you from the dispatch: The delay for new orders is currently only 1 to 2 days.
Step by step it's going forward, the system is running stably. We are reaching the usual delivery times. Our team is working on it and we are very confident.
Once again:
# ThanksForYourLoyalty
#ThanksForYourUnderstanding
#BestCustomersInTheWorld
#ThomannLovesYou
Your Thomann Team ?
---
Wednesday, September 27, 2017, 11:00 am
Dear customers,
We are pleased to inform you that the shipping delay is now only 2 to 3 days.
It is steadily going uphill. The last few days, our team has been giving their all to send as many orders as possible. We are optimistic that everything will get back to normal and we will not have to wait any longer.
We can only say it again and again: Thank you for your understanding and your loyalty in the last weeks.
? Your Thomann crew
---
Monday, September 25, 2017, 3:45 pm
Dear customers,
We have good news! – the shipping delay is shrinking and is now down to an average of 3 to 4 days.
We can't give an all-clear just yet, but we are confident to say that we're getting close! Thank you, thank you and thank you once again for your patience!
Your Thomann Team
---
Friday, September 22, 2017, 2:15 pm
Dear customers,

We are moving forward: Our shipping team is catching up and the delay is now an average of 4 to 5 days. Our colleagues work in three shifts round the clock and give it their all so that as many orders as possible can be sent. Therefore, we are confident that we will soon reach level you are accustomed to.
Above all the criticism, we received many lovely words of support from you. Thank you very much for your trust and understanding! #bestcustomersintheworld
? Your Thomanns
---
Wednesday, September 20, 2017, 11:00 am 
Dear customers,
We can see the light at the end of the tunnel: Unfortunately we still cannot give you an "all systems go". All of the storage areas are fully functional and there are very few breakdowns at the facility, so in the last few days many older orders could be sent.