A Man with a Mission and… a Van
A Man with a Mission and… a Van
#ThePowerOfMusic
"Sounds Like Van Spirit" is the name of Marten Berger's project and mission to get talented street musicians heard by larger, international audiences and "to bring the European Continent a little closer together just with an old rusty van and a bunch of microphones. The ideas was to find the best street musicians from all around Europe, record their music, and share their stories with the world". A very ambitious and noble mission for this young German sound engineer living in the Netherlands. He continues his journey after 2 years of travelling and now comes the time to share his experiences, and the sweet music he recorded, with the world.
---
"Van Spirit", what's that?
Well, besides the reference to Nirvana's "Smells Like Teen Spirit", "Van Spirit" seems to be Marten's motivation for this project, and this drive was sparked by, you guessed it, the power of music. Walking home from music school one day, Marten encountered Christiaan Mauer performing in the street and was deeply moved by his raw and beautiful music. Marten's only way to help the man be heard was to offer him a recording session at his university. An album was recorded and it was a success, especially for Christiaan's spirits and family life. This encounter touched Marten profoundly and he decided to embark on a journey across Europe doing more of the same during his time between university and "the real world" (for lack of a better term). "Van Spirit" drove Marten, in his old rusty van, across 25 countries…
---
OK, one big Eurotrip in a van, so what?
This wasn't your typical road trip across Europe to find oneself while strictly having a good time. Although many great times were certainly had, the mission was kept at the front of Marten's mind: help unite Europe through street music and, in the process, help those musicians be heard. It was not all fun and games; working hard and getting out of one's comfort zone were required to connect with strangers and create beautiful recordings.
But it paid off, now Marten and the many talented musicians he met along his journey have an album to show the world. The album is available digitally and on double 12″ vinyl, CD and cassette (for others who ride in old vehicles) but that's not all, there are also tote bags, a book about the journey and a 2-hour documentary film!
---
Awesome, where can I buy these?
This is where the important links come in… Marten is trying to raise enough money to continue manufacturing and distributing the products. He needs support and every little bit counts.
You can support his project, and consequentially the musicians involved, by visiting his website and purchasing the digital album, the album on cassette, the album on double vinyl, the book, the tote bag + digital album and/or the movie stream. Here is the link:
---
OK great, I will support, but where does my money go exactly?
This information is all transparent and here is a quick breakdown: 50% of all album sales will go towards all the costs required for the project (printing, pressing, production, promotion, fees, gasoline) and the other 50% will go to the Musicians Without Borders, a charity organisation that helps bring peace and unity to the world through music projects. Click the logo below for more details: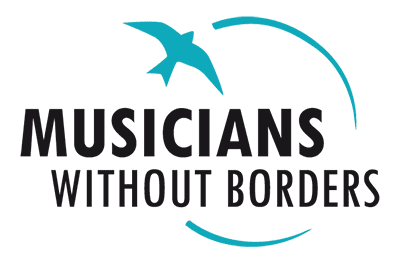 ---
Can we talk gear for a second?
Of course, for all you gearheads out there, we were in touch with Marten and he was kind enough to share his recording setup with us… Simply amazing (see the gear list below)!
Computer: Macbook Pro Retina 15″
Monitors: Yamaha NS 10, 2x JBL Charge 3
Power: 250 Watt Solar Panel & MPPT charger / 260AH 12V Gel Battery
Microphones:
Stereo XY: Shure KSM 131
---
Wow, I want more!
Be sure to check out Marten's YouTube channel where you will find more insight into his trip and some amazing sessions with the musicians he encountered on the road. Here is the perfect example:
---