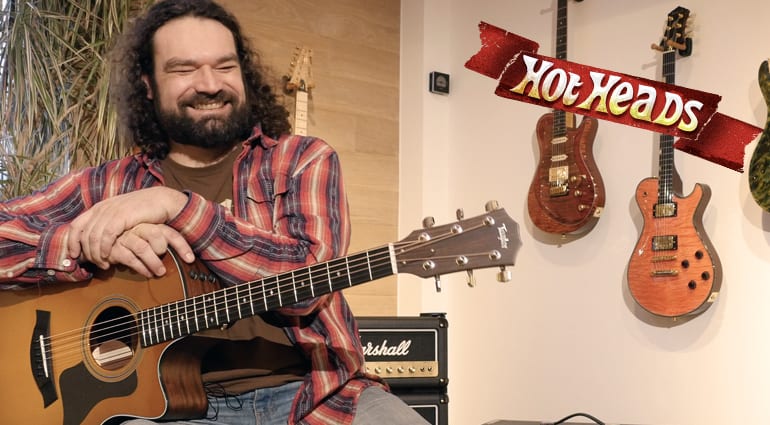 Riccardo Piccolo – HotLine Italy
Riccardo Piccolo – HotLine Italy
Many of you will probably know him: 6 years working at Thomann, always ready to help the customers of the Bella Italia! We spoke with Riccardo about life in Germany, escaping from Italy, music and, obviously, what it's like to work at Thomann – for real! Enjoy the interview and the beautiful (original) song performed throughout the video – ladies and gentleman, il signore Riccardo Piccolo!
| | |
| --- | --- |
| Favorite Album | "Are You Experienced" by Jimi Hendrix |
| Favorite Song | "Grace" by Jeff Buckley |
| Place of Birth | Rome |
Hi Riccardo!
Hi, I'm Riccardo from the Italian HotLine – I work in the pre-sales department. I was born and raised in Rome but spent eight years in Canary Islands teaching surfing. I live here with my German girlfriend and my little daughter – she's 7 years old and already speaks German way better than me!
Do you play an instrument?
I play guitar, bass, drums and… my voice! I have a band, a duo called 'Transfarmers' – I actually play guitar with my hands, a drum kit with my feet and I also sing – the other dude plays cello. We gig locally and are currently releasing our first debut album, Bluestrip , entirely self-produced.
How did you arrive here, in Treppendorf?
In the Canary Islands it was hard to get a hold of instruments – they were way too expensive and you didn't have that much of a choice regarding musical instrument shops. The only way was to buy directly from Thomann, and that's what me and my band were doing all the time. One day, while browsing, I noticed that they were hiring someone, so I sent my CV and… here I am! It was so cold, lots of snow – way too much for a dude coming from Canary Islands but then I stepped inside this room and suddenly I felt much warmer 😉
What't your typical day like?
We set up all the addresses, we process the incoming orders and everything else that is needed and mandatory from the moment the customer hits "Buy" up to when the package leaves our warehouse – that's my job.
Funny and weird stories?
Are you sure you want to hear them? We had a customer who bought a notation book for piano and, seeing a grand piano on the cover, she genuinely thought we were going to send her a real grand piano for fifteen euros!
Another customer was looking for a Bassoon case – the woodwind instrument – and given the case that the instrument and dog breed are spelt the same in English, he ordered one and proceeded to insert his DOG inside the case upon arrival.
We also have lots of customers ordering fretless basses without actually knowing what fretless means, and we get angry calls all the time "Did you forget to put the frets on my bass or what?!" – same goes for kids drum kits: people get them because of the convenient price and then complain about the size being too small to be properly played by a full grown man.
Would you return to Italy?
Not now. Living here is way better and I'd leave for a place that has an Ocean nearby. I escaped from Italy and I really hope it will recover. You have way better work contracts, life quality, burocracy and everything is plain simple and practical.
Advice for people applying for a position here?
You need to be passionate about music, because that's what you will talk, hear, eat and breath every single day. Good language skills, English above all but also foreign languages and a strong will to work in such an environment, where the customer's satisfaction is mandatory and represents one of our core values – something you don't really find so often elsewhere. There's a lot of communication going on between us and the customers, information, helpful tips and it's really important to keep it that way.
Thanks to our customers and my colleagues Luca, Sara, Paolo, Alessio and Cristian.
Listen to the whole interview by watching the video below: