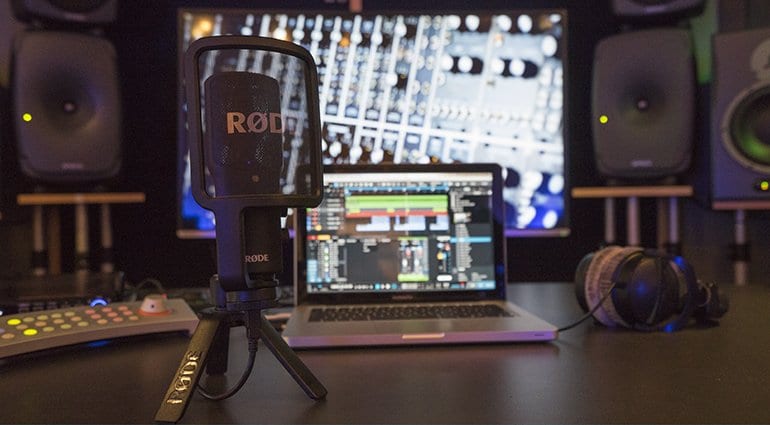 Podcasting – possibilities, solutions & tips
Podcasting – possibilities, solutions & tips
Podcasts are a great medium for presenting interviews, reviews and news in audio format. Anyone who has ever dreamed of working as a radio host can come close to fulfilling their dreams with their own podcast. And it makes it easier to bring content, presentation and sound engineering under one roof. However, you will also find that sometimes it is not that easy to keep track of the required technology. Therefore, some prior knowledge here and there, would be helpful in making your recordings sound so good that they will inspire your listeners in a number of ways. This article will help get you on your way.
---
Getting started easily
As a beginner, you can start without much complication, even with minimum equipment you'll be able to quickly and easily produce your first episodes, and with great results. You'll only have to get clear on a few steps and know what equipment you'll be needing. Besides good content, all you really need to get started is a microphone for voice recordings, an audio interface for your computer and software to edit and publish your recordings.

For these purposes, a minimal setup is often enough. One such solution can consist, for example, of a simple USB microphone plus desktop stand and simple recording software. Free recording programs like Audacity and studio microphones with capacitor technology (like the t.bone SC 440 USB) already available for under €60, makes it easy to get started. And on a minimum budget, you can even acquire a podcast bundle such as the t.bone SC440 USB Podcast Bundle 2 with microphone desktop stand and Samplitude 11 silver recording software.
Can we step it up?
For more advanced podcasting, you can also record your recordings with a second microphone, one for the interviewee. If you are looking for monitor speakers to listen to your podcast episodes during production, then the Behringer Xenyx 302 USB Podcast Bundle might be something for you. These speakers receive their signal via Bluetooth, which means less cable clutter on your desk as opposed to conventional monitor speakers.
Numerous tools can help make your sessions more comfortable as well as optimize the sound of your recordings. Often with more experience, comes more requirements as you'll want to make the work a little easier and at the same time pay more attention to sound subtleties. Solutions such as the Miktek ProCast Studio Station offer an audio interface, a mini mixer, a flexible desktop stand, a microphone with broadcast sound and two independently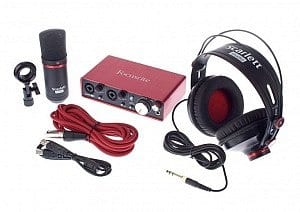 controllable headphone outputs. Speaking of headphones: a set like the Focusrite Scarlett 2i2 Studio Pack 2nd, includes a microphone, a preamp with audio interface, headphones and required studio software, basically everything a Podcaster's heart desires, without having to find individual parts. Here, for example, the balanced outputs of the audio interface allow you to process the analog audio signal more professionally.
Tips & tricks for better recordings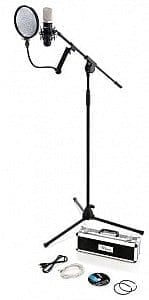 You will soon realize that voice recordings have their problems. Plopp and pop sounds are among such problems and are not that easy for inexperienced speakers to handle. A so-called pop-protection, can prevent this noise, as does the Sirus Pro Poppfilter PXF-1 Metal. Of course, you can also prevent this in the very beginning by using an entry-level set which includes a pop filter, such as the t.bone SC 450 USB Podcast Bundle. A more flexible table stand will also make life easier. uEs provides for more freedom of movement to capture the best possible sound. The Millenium DS100 table stand for example can be fixed as well as clamped, and you can swivel it horizontally and vertically as well as adjust the height in various ways. Cable routing goes a long way, providing for a tidy desk during your podcast recording.
As an experienced podcaster you will surely want to hear the quality of your audio signals more precisely. Depending on the editing environment, studio headphones can help you a great deal. Closed-end headphones such as the Beyerdynamic DT-770 Pro for example, not only ensures that outsiders won't be disturbed by internal sounds, but it also shuts out external noise and thus improves the quality of the audio signal. Plus you can even turn up your voice signal without causing feedback during the recording, which isn't only annoying, but can also ruin your best takes. You will also be able to listen more accurately, without ambient sounds and echoes disturbing your recordings. When conducting interviews with two microphones, you may find it difficult to separate audio signals or, which in the worst case can lead to comb filter effects. Due to their damping and reflection properties, acoustic screens such as the Vicoustic Flexi Screen Ultra can help reduce annoying early reflections as well as cross-talk.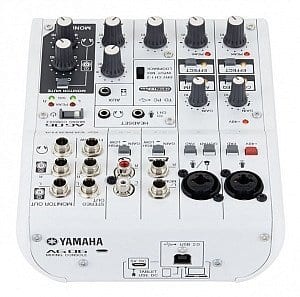 As an experienced professional podcaster, your demands regarding recording equipment will certainly have risen even higher. Not that you can't "conjure up" wonderful podcast episodes without a mixing console. But eventually you will find that the more convenient, flexible and clearer the audio signal path is from miking to amplification as well as the digital conversion in editing and monitoring, the more you can creatively implement your podcasts. This way, mixing consoles such as the Yamaha AG06, which provides your voice signals with the desired sound, which will save you some steps. This small mixer is equipped with internal DSP effects such as a compressor, equalizer and reverb, and can also transmit digital audio signals with a quality of 24 bit and 192 kHz to the computer and recording software.
In any case, the audio quality plays an important role, especially for professionally. If, for example, you want a powerful and yet low-noise pre-amp for your microphone signal without having to accumulate real equipment, then you can fall back on an audio interface that is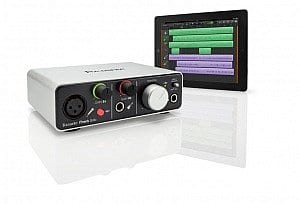 already equipped with high-quality preamps. The Audient iD4 for example, offers Class A preamps, like the large mixing desks by the same manufacturer. Evidently, you will produce quality sound when you podcast on the go with your iPad. Audio interfaces such as the Focusrite iTrack Solo Lightning offer a perfect connection to your iOS devices.
Conclusion
As a podcast beginner, you'll only need a handful of equipment and with just little prior knowledge you can go straight into recording. With some experience, you can easily expand this setup by adding new tools or by replacing it with higher-quality components – until your home studio podcasts eventually sound so professional inviting more and more listeners. Fortunately it doesn't cost much for the simplest equipment and so for your first podcast you'll mostly need motivation and great ideas.