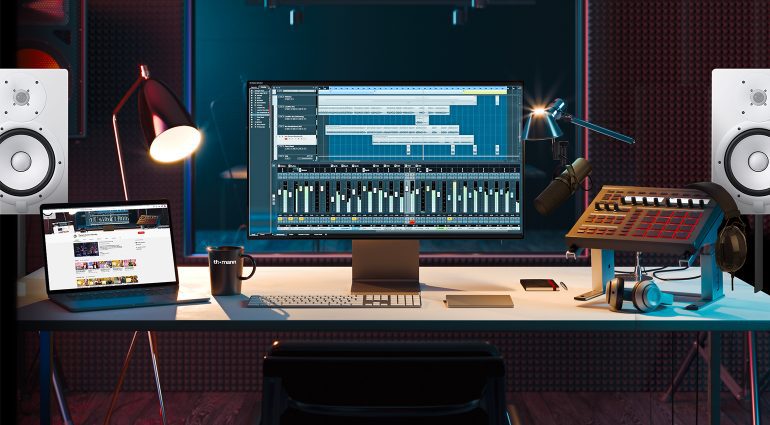 New YouTube channel: Studio & Recording
New YouTube channel: Studio & Recording
We've got great news for producers, bedroom beat-makers and all music tech heads in our community: Our brand new Thomann Studio & Recording YouTube channel is up and running, and is ready to give you tips and tricks in recording and producing, as well as inspiration and new methods to improve your workflow! What kind of gear do you need for your home studio? Where can you find the dopest samples for your mixtape? Tag along with our hosts Sensho, Captain Pikant and Doctor Mix and find out! 😍

In The Beat – Sensho
Sensho is a music producer / sound engineer – some might even title him as a "beat chef" – who hosts unique tutorials about the mysteries of your DAW, dope beat/ sound cook-ups and gives you tips on how to improve your artistic workflow – with a dash of delightful positivity! In Sensho's first episode on our channel he tells you where to find the best samples for your music and how to personalise huge and widely used sample banks to your needs without sounding like everyone else! Tune in to check out his pro tips 😎
Captain Pikant – Audio Laboratory
Captain Pikant wants you to hop on their vessel of educational content, mesmerizing visuals and deeply satisfying video work, to say the least.  If you have any questions about signals, electricity in music or sound in general, go check out Pikant's videos on our channel. Captain Pikant is the master of soundwaves and always happy to answer frequently asked musical questions! All Aboard!
Doctor Mix – In the Studio
We would like to give a warm round of applause to our studio mastermind: Doctor Mix! Mr. Mix is THE go-to person for questions regarding setting up your studio, synths or mixing and mastering. In the series "In The Studio" Doctor Mix welcomes us to his professional studio and gives us important tips that help us manage our wired mess of a home studio. No more tripping on too tightly pulled wires and no more mud on the mix: The Doctor's ready to see you.
Interested? Yeah, so are we. Remember to subscribe to the Thomann Studio & Recording channel for the most educational (yet entertaining) music tech content! You can do so by pressing the subscribe button below! We'll see you there!