NAMM 2019 Studio & Tech coverage
NAMM 2019 Studio & Tech coverage
#ThoNAMM19
? Music never stops evolving, and often this is thanks to the technology involved in producing and recording it. Highly-regarded producers have always been the ones who pushed the envelope when it comes to recording techniques and innovation in the studio. Follow us here on the t.blog where you will find all the latest, up-to-the-minute information about new studio & tech products unveiled at NAMM 2019… ?
---

IK Multimedia iLoud MTM is a 2-way active monitor with 1″ tweeter and 2x 3,5″ woofer and high performance bass-reflex port. Because of its unique design it can be placed horizontally or vertically and comes with a tilting mount which angles from 0° to 20°. What's most interesting about this monitor is that it can digitally calibrate to suit the room that you are listening in. It does this using DSP and the built-in ARC technology and microphone. Fantastic!
---


The Focal Trio11 Be Red Burr Ash is a 3-way AND 2-way monitor in one. How is that possible? Well, with a switch it can be changed from a 3-way to a 2-way system allowing for comfortable comparison listening. Its rotatable midrange speaker and tweeter makes it equally suitable for horizontal or vertical alignment. EQ possibilities mean it can be adjusted for any room and a nice decoupling mechanism of the midrange speaker, via silent blocks, make its reproduction very accurate. Check the link above and the video below for more info…
---


The Steinberg AXR4 is a rack-mountable Thunderbolt 2 audio interface with 28 x 24 Channels, 32-bit integer / 384 kHz recording & playback; 4x AXR Hybrid mic preamps with Rupert Neve designs SILK circuit emulation, SSPLL technology for extremely low jitter, DSPX chip and dsp Mix FX technology for latency-free monitoring with DSP-based effects, 28 x 24 matrix mixer and an LCD display. Truly professional stuff.
---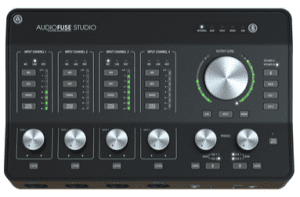 This USB 3.0 audio interface captures your audio in 24-Bit / 192 kHz, has 18 inputs and 20 outputs, Bluetooth audio receiver supporting aptX and AAC, built-in monitor controller with DIM, MUTE and MONO functions, speaker and source selector, integrated 3x USB hub for external devices and USB-C connector. The future is here.
---

Tascam Series 208i & 102i
---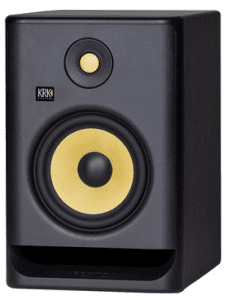 KRK has raised the bar yet again with their Rokit G4 series and announced three new two-way monitors in 5″, 7″ and 8″ as well as a 10″ three-way monitor. Be sure to check out this video for more information:
---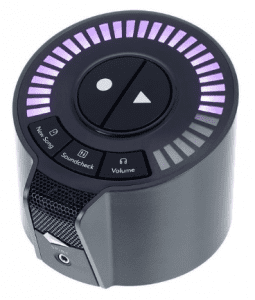 "Whether capturing a moment of inspiration or collaborating with remote bandmates on a series of tracks, Spire Studio works together with the free, integrated iOS app to deliver a new kind of recording experience encapsulated in a coffee cup-sized device and mobile phone. The wireless system solves for the technical and logistical hurdles that get in the way of capturing creative ideas – making professional quality, multi-track recording spontaneous and simple." (quoted from: www.izotope.com). Learn more about the Spire Studio and new exciting software coming from iZotope:
---

The Studio 26c, Studio 68c, Studio 1810c, and Studio 1824c are PreSonus' new USB-C 24bit, 192 kHz audio interfaces from their updated Studio Series. These complete all-in-one recording solutions feature a USB-C connecter, DC-coupled outputs for sending control voltages, MIDI I/O and includes PreSonus' award-winningStudio One®Artist music production software. For more info check out the video below:
---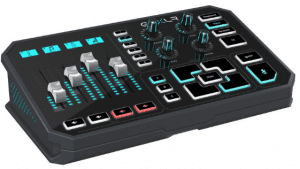 "Take everything you used to know about broadcasting audio and forget it. What would take dozens of pieces of hardware and software can now be achieved by one sleek and intuitive solution. Mix your audio in real time, change your voice, use industry defining hardware and software, and engage your audience like never before." (Source: TC Helicon Gaming YouTube channel)
---
The Successor is Heritage Audio's new stereo bus compressor. Featuring a 1073-inspired preamp circuit with Carnhill transformers and diode bridge circuit for a vintage sound character; ultra-fast attack and release times, blend controls for parallel compression and much much more.
---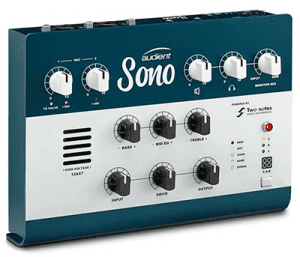 The Audient Sono, the brand new amp modelling interface presented by Audient in collaboration with Two Notes Audio Engineering is truly remarkable: with a quality that goes up to 24-bit/96 kHz, 2 mic/line inputs equipped with two Class-A preamps (60dB Gain), near zero latency, tone controls, Torpedo's own power-amp and cab modelling, there's simply nothing else we could ask for.
---
IK Multimedia just announced the AXE I/O, a high-end audio interface with guitarists and bassists in mind. 2 inputs, 5 outputs, adjustable impedance, re-amping, high-end mic converters and pre-amps (and you can choose between Class A Pure and JFET types), support for external controllers (such as volume pedals and wah pedals), and MIDI connectivity. The sounds are provided by the excellent AmpliTube and T-RackS series.
---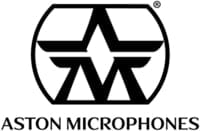 Aston, the UK-based microphone manufacturer, releases a dynamic microphone with switchable sound settings that can be used in the studio, on stage and for broadcast. Featuring a Class-A preamp, high off-axis attenuation of ambient noises, built-in Sorbothane shock mount and an active/passive mode, the Stealth is ready to conquer your world.
---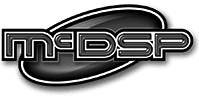 ? The McDSP 6060 Ultimate Module Collection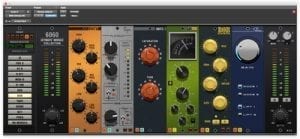 The McDSP 6060 Ultimate Module Collection Native (ESD and HD) is a brand new effect plug-in bundle, consisting in a variety of virtual effects such compressors, equalizers, saturation filters, distortion modules, noise gates, expanders, de-esser & much more. The effects can be arranged in virtual racks with up six modules at a time. The signal flow is completely customisable, and the sound is to die for.
---