NAMM 2019 Miscellaneous coverage
NAMM 2019 Miscellaneous coverage
#ThoNAMM19
??? Music can be a lot more than just the rock & roll formation of drums, bass and guitars. What about synthesizers, keyboards, pianos, wind instruments, orchestra instruments and cultural topics? Here you will find all the latest, up-to-the-minute information about new products from all other categories and some cultural happenings at NAMM 2019… ??
---

Audio reproduction for your new Clavia Nord has never sounded (and looked) so good. This pair of monitors are developed for perfect dynamic playback of the Nord Piano Library, are optimized for near-field listening and have an additional auxiliary audio input for connecting a laptop or smartphone. They can also be mounted on the Nord Piano 4 with optional monitor mounts.
---

The Akai MPK Road 88 is, as you can probably tell from its name, a keyboard that is ideal for touring. In fact it's a USB keyboard controller with 88 velocity-sensitive keys with hammer action and aftertouch, built-in 2-channel USB audio interface, transpose, split and preset selection controls, pitch and modulation wheels, MIDI input and output and much more. A serious road warrior!
---


This harmonica is beautiful to look at, what a masterpiece, but when you try playing it that's when you'll really be convinced. Try playing Billy Joel's Piano Man, go head, you'll see and hear that it really resembles the original recording. Andy spoke to Hohner's spokesman Gerhard at NAMM, check out the video below:
---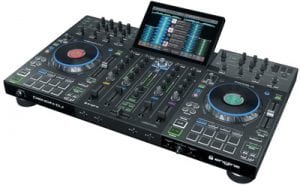 Denon throws itself into the world of 2-channel DJ consoles: thanks to Prime Engine software and full compatibility with Serato DJ Pro, Traktor Pro and Rekordbox, the Prime 4 makes a pure entry into the DJ world. For more info, check out the video below:
---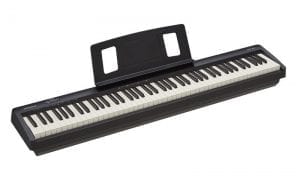 An affordable and portable digital piano, super lightweight, and with an incredible ivory-like texture on the keys. This piano includes the Roland sound of the SUPERnatural keyboard. There's no digital piano on the market that can beat the sound for this price of the Roland FP-10.
---

"Meet the six track groovebox that offers massive sound in a compact size. You get pretty much all of the Elektron superpowers in a sleek, lightweight, and accessible package. Loads of useful presets and loads of space for your own sounds. The controls are right there at your fingertips. A truly plug-and-play bundle of joy!" (Quoted from www.elektron.se) Check out our demo video below:
---

Get the computer out of music production! Akai has finally done it with their standalone production house, the Akai Force. This is ideal, for example, for those who spend all day working in front of a computer screen and still want to create music in the evenings. Some would opt for analog gear and tape machines but for others the Akai Force would be more ideal for their preferred genres of music. Clip launching via an 8×8 RGB matrix, step sequencing, sampling, effects, built-in synths (Bassline, TubeSynth, Electric and Hype) and more can all be controlled on the 7-inch multitouch display. Two audio inputs, four audio outputs, MIDI and CV I/O allow you to record and control from any external device to 8 stereo tracks (realtime timestretching & pitchshifting are supported). There are 16GB of built-in storage (expandable by SD card & USB) and a 2.5-inch SATA drive connector, for virtually unlimited storage.
---

Welcome the new member of the Volca family, the Korg Volca Modular, a modular analog synthesizer based on the "West Coast" synthesis style: 8 modules, 50 connection points, 16-step sequencer, random function for the sequencer and 2 new modes for sequence playback among other neat features.  The built-in speaker, headphone output and the option to use the gadget with six AA batteries lets you use it on-the-go. Perfect!
---
Korg has developed a new Volca Drum, a digital percussion synthesizer with 6 drum parts using analog modelling synthesis. Its 2 sound layers offer great versatility and its motion sequence feature, for recording parameter changes, and the slice function can create pattern variations or drum rolls. In addition, there is a MIDI input and syncin/out (3,5 mm TS), a combined line/headphone output and built-in speaker! Like the other Volca brothers, it can be powered with 6 x AA batteries or with a KA-350 power supply (not included).
---
If you're a Korg fan you'll know that one of their best sellers is the Minilogue. The Japanese company has reviewed this polyphonic analog synthesizer and has introduced us to its improved stepbrother, the Minilogue XD. Unlike the original, this one has a third oscillator and accepts code load developed by Korg and by third parties (similar to the Prologue) even for digital effects. For the aesthetes: it comes in a sexy black finish…
---

This fantastic series of Korg workstations is top notch: 88 (or 73 or 61) "Real Weight Hammered Action 3" keys, pre-installed KApro sounds, 9 sound engines, Smooth Sound Transitions, built-in effects, 8" touchscreen, on board sequencer and the Open Sampling System technology. The features of these keyboards are countless, that's why we recommend you check out their product pages (by clicking on the links above) to see what these new jewels from Korg are all about.
---

Two brand new CPDs (Compact Digital Pianos) from Casio! These are ultra lightweight, compact and portable full-functioning pianos with excellent tone and playability. The CDP-S350 (or CDP-S350 Bundle) features fully-weighted, hammer-action keys, the option for battery power, and a weight of only 10.9 kg (the CDP-S100 only 10.5 kg).  The "little brother", the CDP-100, is a great value, especially when purchased together with our bundle.
---

The CP73 and CP88 (the numbers represent the number of keys) are a new series of stage pianos by Yamaha that bring the controls out of screens and directly to your fingertips. This return to tactile controls is in high demand by those who want to see exactly what's going on at all times, especially for those who frequently play live. Some call it retro or vintage, we call it practical. Click the links above for the full specs and click below to zoom in on the controls:

---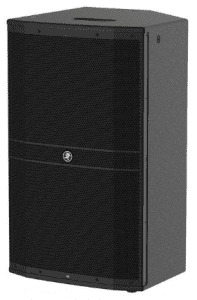 Mackie is your go-to brand for speakers and monitors and this year at NAMM they present both a 12″ and 15″ 1600 W active speaker which offers enough headroom for professional applications. Click on the product titles above to read all the specs, you won't be disappointed.
---


The new Roland GO:Piano88 is the best way to continue your piano learning as it contains all 88 keys and a few very special features.It has built-in stereo speakers which shine with Roland's "natural sound". Bluetooth connectivity allows you to connect your phone or tablet wirelessly, for streaming audio or online lessons through the piano's speakers. It can run on batteries (or plugged in) and is very lightweight at only 7kg! 
---
Check out this tablet holder from IK Multimedia, a much needed accessory for musicians these days. It can hold tablets from 7″ to 12.9″ (with or without case), allowing access to all buttons and ports through newly designed "Smart Brackets". Its "Gorilla Grip" ensures a secure grip, a spring mechanism makes installation a breeze and the 360° ball joints make it convenient to use. Easy mounting on tripod tubes up to 30 mm. Nicely done!
---