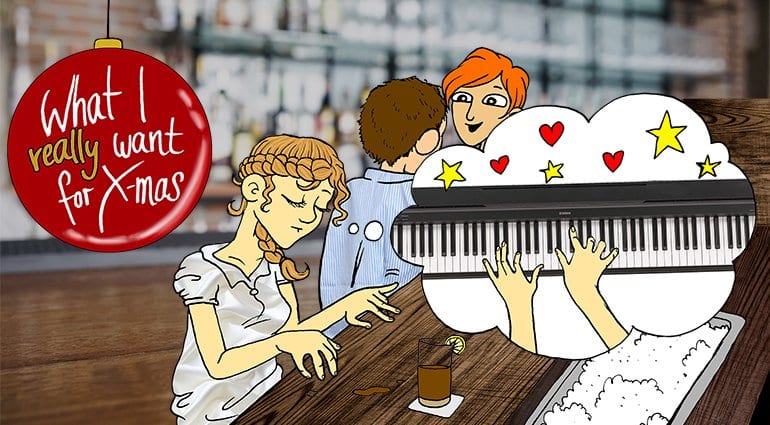 Keyboards and E-pianos: our gift ideas and suggestions
Keyboards and E-pianos: our gift ideas and suggestions
Keyboards and pianos are timeless instruments that simply never go out of fashion. Whether you play classical piano music, perform your favourite hits on the keyboard or produce songs in the studio – no musician can totally avoid the black and white keys, nor should they. We've put together an overview of cool products from the world of keys here you will find something perfect for beginners as well as for advanced players.
---
– Keyboards for at Home –
For those wanting to take their first steps towards keyboard playing, this keyboard is the perfect start. 61 keys, 390 voices, many backing songs and rhythms as well as built-in speakers. → See more keyboards for at home here! 
If you've already taken your first steps and know that you'll be having fun at the keyboard, this model is your ideal partner for the future. The Yamaha is equipped with better sounds which are fantastic when played through the 2 x 2.5 watt speakers. Features like a sequencer and the many great effects are just the icing on the cake.  → See more keyboards for at home here! 
---
– Stage pianos –
A stage piano puts the emphasis on having fewer but better sounds combined with a
feel and touch that resembles that of an acoustic piano as closely as possible. The weighted keys play a fundamental role in this. This model is perfect for all piano students who can't have an acoustic piano within their own four walls but still want to learn to play. → See more stage pianos here!

Of course there is an option that offers experienced players exactly what they are looking for. Sounds of even higher quality and a "more authentic" touch that comes very close to the feel of an acoustic piano. Kawai has earned itself an excellent reputation over the years by producing these instruments and that is something– in our experience – that is well deserved. → See more stage pianos here!
---
– Digital pianos –
You have probably noticed that we are now coming very close to the appearance of a concert piano, and the included equipment too will leave nothing to be desired. The three necessary pedals and the 88 keys of a piano are all there, as are the built-in speakers. An excellent instrument with a wonderful sound – great for the living room. → See more digital pianos here!
---
– Accessories –
It is no longer difficult to find genuinely good headphones at a low price – you just have to look in the right shop! 😉 Our Superlux headphones offer brilliant value for money and really boost your spirits. → See more headphones here!
Beyerdynamic DT-770 Pro 32 Ohm
If your enjoyment of music is dependent on every nuance (which is completely understandable), you can't get around spending a little bit more. But if you do that, you will then have bought something for life: there is good reason why the DT series has served for years as the benchmark in headphone production. → See more headphones here! 
People who don't fancy using headphones or who want to play to an audience will need, of course, an amp – and this one has emerged over the years as the ideal amp for this purpose. On top of that, you can also plug in your acoustic guitar and a vocal microphone. → See more keyboard amps here!
Those who prefer not to stand while playing are best served by this piano stool. It is affordable but nevertheless well-made and very sturdy. And if matt black isn't your thing, you can choose between 8 other colours for this model alone. → See more piano benches and stools here! 
Millenium Super Flex Light
Lamp Black
Every musician has seen poorly lit venues. But before you decide to turn on the lights in the concert hall, you can simply clamp this light to your music stand. The LEDs will make the batteries last a long time and there's no need to connect this lamp to the mains.→ See more music stand and clip lights here!  
Music Sales Mug with Lid "Staff Lines"
Every artist needs the occasional break, and what better way to relax than with than a fresh cup of tea or coffee? Your drink will stay warm thanks to the lid while the design will make a wonderful addition to your world of keys. → See more mugs and glasses here! 
Wittner Metronom 845001 Wurz
elholz braun
Of course all digital pianos have a built-in metronome, but they don't look stylish and don't radiate the same charm as a classic metronome. → See more metronomes here! 
Music Sales Bag With Keyboard/Piano Design

Nowadays, walking around without a bag pretty much makes you stick out like a sore thumb. How about a model in piano style? It even includes a matching smartphone pouch! → See more bags here! 
An alternative to having an amp or speaker on the floor, these active speakers are for use at ear level and offer a high quality stereo sound. They are also ideal for mixing recordings in your home studio.→ See more near-field monitors here! 
Electro Harmonix B9 Organ Machine
The legendary organ sound of the 60s in all its variations could, for a long time, only be reproduced with expensive vintage equipment. Now this little box can bring you that perfect, authentic sound at a low cost. → See more effects here! 
We have a protective bag to fit every keyboard. If you're on the road or won't be using your instrument for a couple of days and don't want it to gather dust, a bag is a must in order to spare yourself some hassle. → See more bags here!
For the sound freaks among you, the Stylophone is the perfect addition to your armoury. Available since 1967, it offers that special sound that everyone has heard at some point! → See more mini synths here! 
A sustain pedal is vital for every keyboard, so if there is none included in your purchase, it makes plenty of sense to buy one since you'll definitely be needing it. → See more sustain pedals here!