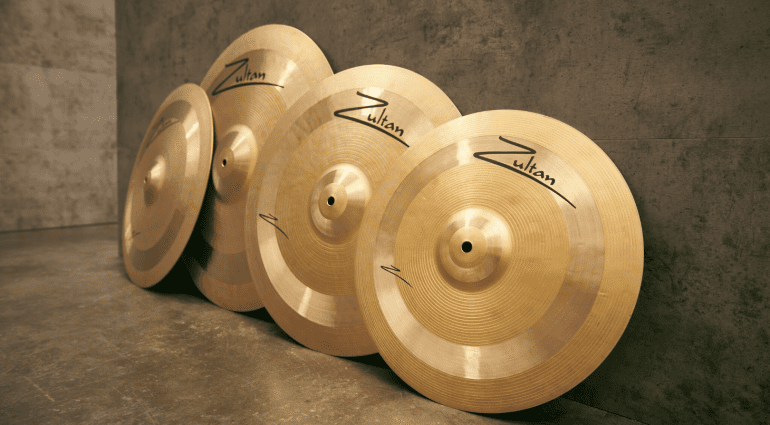 Introduction to Zultan Cymbals
Introduction to Zultan Cymbals
Zultan is a cymbal brand that has been growing rapidly ever since 2009. It now has ten series and over 200 products in their catalog which creates a vast selection of cymbals for all kinds of tastes. Zultan has established its brand in the cymbal markets and you can find their cymbals on the kits of beginners to professional drummers. In this article we are going to introduce you to all series of Zultan to show how versatile the brand is. Enjoy!
---
Brief history of Zultan
The brand of Zultan was established in spring 2000 by Martin Hofmann who owned a music shop "Musik-Service Aschaffenburg" in Germany with his brother Johannes. Martin had noticed the rapid lift of prices among the big brands and he knew that he could offer high quality cymbals at much lower prices.
Enthusiastic about this he started to search for manufacturers who produce cymbals using traditional techniques and he found them eventually in Turkey. After this he established a new cymbal brand under the name Zultan. Martin's goal was to import high-quality cymbals directly from relatively unknown manufacturers and offer traditional craftsmanship combined with high quality at a fair price.
Zultan's first series the Rock Beat quickly became an insider's tip inside the drummer community. The rest is history…
---
Philosophy and selection
Zultan's selection is aimed towards the demands of the modern drummer and it consists of variety of cymbals for every style and personal taste (single cymbals in different sizes to complete sets and various effect cymbals like splashes, stacks and bells). All cymbals are manufactured by hand and tuned carefully to avoid alteration in sound, weight and appearance.
All Zultan cymbals are crafted according to three principles that are clear, simple and apply equally for both an affordable beginner's set and for a classy premium ride: Zultan stands for hand-hammered cymbals made of premium bronze alloy at an attractive price.
---
Series
Zultan cymbals are made of high-quality bell bronze with a ratio of 80 % copper and 20 % tin (B20 bronze alloy). The only exception is the CS Series which is B25 bronze (75 % copper and 25 % tin) and it possesses very unique sonic characteristics.
The Rock Beat Series is the first series of cymbals that was manufactured under the Zultan brand. These hand-hammered B20 cymbals are crafted by hand using traditional Turkish cymbal-making techniques and they are then waxed and polished to an absolute shine. The thin and polished layer of wax prevents the dust and abrasion from the drumstick from accumulating on the surface of the cymbal.
Applications: Multipurpose cymbals for pop and rock music
Sound: Clear and brilliant
Keywords: Classic and bright
As the name "Aja" (as in "Asia") suggests, these cymbals are the only Zultan cymbals which are produced in China. The Aja Series presents an attractive alternative to other inexpensive cymbals as one of the few in their price range that are hand-hammered B20 bronze. You can't get a better beginners cymbal than this!
Application: Excellent beginner's cymbal for every style of music.
Sound: Slightly "trashy", pronounced treble range with even decay.
Keywords: Solid start
The hand-hammered cymbals of the Q-Series are easily distinguishable from regular cymbals by their looks. They are also made of high-quality B20 bronze and after hammering (about 4000 strokes for an 18″ cymbal) only a part of the cymbal's top surface is milled which creates an extravagant look. In contrast the underside is milled completely. Finally the entire cymbal is sealed with wax and polished. Because of the special milling process the Q-Series cymbals are slightly sturdier and their volume lies between the Rock Beat and F5 Series.
Applications: Funk, pop, modern rock, alternative rock, grunge
Sound: Warm and well-balanced
Keywords: Warmth and extravagance
The name of the F5 Series comes from the classification system for wind speed and destructive force of the heaviest tornadoes. This series contains, without a doubt, Zultan's loudest cymbals and they are perfect for drummers who love to let it rip! The F5 Series' thicker B20 blanks have more mass and they are shaped with a larger hammer and polished to a high gloss after milling.
The F5 Series also have special pure and big bell cymbals for creating effects. This series is perfect for a heavy hitter! ?
Applications: Rock, hard rock, metal
Sound: Voluminous, assertive, piercing
Keywords: Heavy and present
There are only a few cymbal makers who are able to process B25 bronze (25 % tin and 75 % copper) in a way that the cymbals are equally as durable as the B20 ones. Zultan introduced the CS Series in 2006 and it's characterized by its robust durability. The higher tin content makes the CS cymbals sound a bit warmer and gives them a really rich harmonic spectrum.
This series is popular among demanding drummers who like their cymbals to "have a nice drive". While the CS Series cymbals may not suit for "heavy hitters", they are a fantastic choice for flexible studio drummers.
Applications: Studio, pop, jazz
Sound: Full-bodied, dynamic, rich harmonics
Keywords: Golden and precise
"Caz" means "Jazz" in Turkish. The B20 bronze cymbals of the Caz Series are little thinner and lighter than the traditional Turkish cymbals. They offer a rapid response and both rich and warm harmonic content yet their volume range is not so overwhelming. These jazzy cymbals are delicately milled on both top and bottom, sealed with a special wax and only lightly polished to leave it look a bit "dusty". The Caz series is for drummers who like their cymbals sound like a grandmother's warm hug, but we have heard that the big rides have been very successful in rock music too.
Applications: Jazz, fusion, softer music, acoustic sessions (also rock)
Sound: Soft, full, warm, traditional
Keywords: Silvery, warm and beautiful
The Z-Series cymbals are everything a drummer can have from classic Turkish cymbals made of B20 bronze. The surface of these pretty cymbals is polished in a striped pattern which makes them look like the Q-Series' beautiful cousin. In addition to their attractive appearance the striped pattern makes them decay quicker.
Applications: All-purpose cymbals, pop, rock, funk
Sound: Clear and well-balanced, sweet, dynamic
Keywords: Universal and good-looking
The Zultan Dark Matter Series was introduced in the autumn of 2013. These B20 bronze cymbals receive about 4000 strokes (18″ crash) with a relatively light hammer which is guided by the hands of an experienced cymbal master. This gives the cymbal its characteristic curvature.
The Dark Matter cymbals receive their extraordinary dark look from submerging them in a special liquid before the cymbal is polished with bronze fragments. The final step involves sealing each Dark Matter cymbal with wax to protect it from moisture and so it can keep its appearance. The Dark Matter Series is for drummers who like to create an impact with the look of their cymbals and play hard.
Applications: Rock, metal, pop
Sound: Dark yet clear, explosive and washy
Keywords: Distinct and delicate darkness
The RAW Series, introduced in 2016, is one of the newest members of Zultan family. Instead of being milled the RAW Series cymbals are left in their raw state after the hammering process. This results in an extraordinary unique look. There's only a really thin wax polish applied to them which ensures a lasting visual appearance. The fine crashes and exceptional hi-hats and rides make the RAW Series cymbals a feast not only for your eyes, but also for your ears. Perfect for funky and jazzy drummers who like their cymbals dry and fast decayed.
Applications: Funk, fusion, jazz, studio
Sound: Earthy, dark, slightly trashy and dry, fast decay
Keywords: Raw and elegant
The Heritage Series was created to honour the legacy of the traditional cymbal makers of the past. Each Heritage Series cymbal is carefully hand-crafted with the recipe of ancient traditions and they meet the highest standards. You can see the intricate look achieved with various hammers at first sight. The Heritage Series cymbals get an extraordinarily high amount of hammer strokes per cymbal so they are highly compacted which you can hear as a fantastic sound with rich harmonics.
The Heritage Series cymbals are not that loud, but they assert themselves in a wide variety of musical genres: their crashes sound warm and rides are shimmery. These B20 bronze cymbals are the perfect choice for a really demanding drummer.
Applications: Jazz, gospel, world music, pop
Sound: Classic Turkish traditional sound, shimmery, washy
Keywords: Tradition and sophistication
Last but not least we have our newest member: The Rocket Staxx. It is a B20 bronze cymbal stack that combines both smaller effect crash with holes and a larger china cymbal with holes. These fiery beasts can be used to complete any cymbal setup. The sound of the stack is very trashy and they distinguish and cut sharply through anything. It's like a rocket launching to the sky!
Applications: For every style of music to add effects
Sound: Really trashy, cutting
Keywords: Distinguishable sharp effect
---
If you liked this introduction about all our Zultan Cymbals, please make sure to follow Zultan on Facebook where you can find video clips of most of the series, and Instagram. You can also find your dream cymbal using the "Cymbal Finder" tool on Zultan's official website.