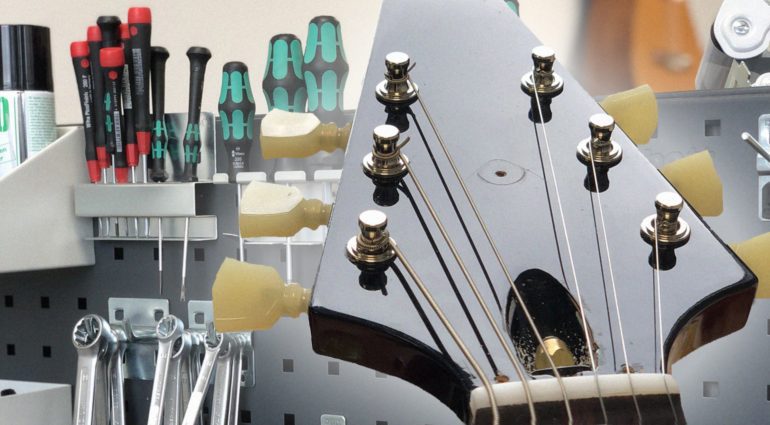 In-house Service Centre: Guitars & PLEK
In-house Service Centre: Guitars & PLEK
Our Guitar & PLEK Service Centre is constantly receiving guitars that need a little tender love and care and our employees are passionately doing their best detailed work on these axes. In this blog article we give you an inside peek of what goes on behind the doors. And if you're wondering "What the heck is PLEK?" we'll explain that too!
---
Leave it to the pros!
Whether your guitar is simply buzzing in a few spots or its action is so high that it's unplayable, we've got you covered. Our Service Centre and Workshop workers are all guitarists and will understand your problem, no matter how small.
Services at SC Guitar
Our team of experts offers a comprehensive range of services including:
Changing strings 
Repairing, adjusting or modifying tuning pegs, bridges, and nuts 
Filling holes, cracks (including broken headstocks) or scratches in the instrument's wooden components 
Cleaning, polishing, staining or waxing wooden components 
Adjusting the instrument's truss rod, intonation, fret height, fret curvature (radius) 
Testing electric instruments using an amp and fixing electronics if necessary (replacing or soldering)
Warranty checks for our own brands (in cooperation with our customer service)
Warranty checks of all guitar brands within the third year of our Thomann Warranty
Answering email requests 
Watching customer videos to identify the issues and find the most fitting solution
Checking the quality of returned goods in order to store them as B-Stock again (if transport damages occur, we try to solve it in the most economical way)
Solving issues, over the phone, from internal stakeholder such as customer service, logistics, partner management, product management, etc. (as well as external service partners and manufacturers)
---
Tools we use
The number one tool used in the guitar service centre is the screwdriver, but sandpaper, hand files, chisels, hammers, vice grips, screw claps, string winders, drills, wood glue and super glue are all used almost daily. Then there are special machines like the PLEK machine (more on that below) and this homemade "pickup testing machine":
---
What the heck is PLEK?
PLEK is a computer controlled system used to measure and adjust instruments – aligning frets and checking that neck curvature and string action match individual preferences. The PLEK Station is a machine that is manufactured by A+D Gitarrentechnologie GmbH in Berlin. There are currently 57 machines in the world and we've got one of them!
The probe measures the neck and frets of the instrument under full string tension (i.e. under real playing conditions) and from this, creates a profile.
The PLEK machine produces an evaluation from the probe in graphical form: on the computer screen you can see the difference between the ideal curve (green) and the actual position of the string (red) above each fret.
The computerized machine mills the frets with a precision of 1/100 millimetre to the desired height. Intonation problems are eliminated unless they result from a string action which is too high or low.
The result can be seen and heard: strings will not buzz against the fret.
Before the instrument is returned back to you, our guitar team polishes the frets, and adjusts the intonation and string height to your desired settings.
*In addition to electric and acoustic guitars and basses, PLEK works with mandolins, 6-stringed banjos and resonator guitars.
For more info on the PLEK service check out 👉 THIS LINK! 👈
---
Inside the Service Centre
Check out this short Instagram Video to have a look inside the service centre:
Sieh dir diesen Beitrag auf Instagram an
---
Don't hesitate to contact us
Guitar Service Centre:
email: sc.guitar@thomann.de 
phone: +49-9546-9223-476
Guitar Department in the shop:
email: gitarre@thomann.de
phone: +49-9546-9223-20