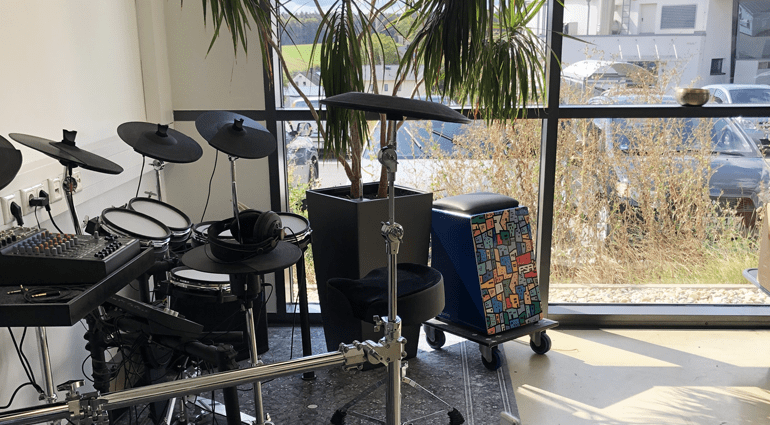 In-house Service Centre: Drums & Percussion
In-house Service Centre: Drums & Percussion
Our drums and percussion department is gaining new customers at an incredible rate. We think it's due to an ever growing selection of exciting products, and also a highly professional team of staff. With the increase of drum and percussion products also comes a more regular need to repair, modify or tune them up. That's why we present to you a short blog article about our Service Centre: Drums & Percussion department at the Thomann headquarters in Treppendorf. In fact you voted for it in our Instagram Stories poll a few weeks ago ️Enjoy! 
---
Get it fixed!
Whether it's a problem with a cymbal, drum shell, drum hardware, cajón, handpan, singing bowl, timpani drum, xylophone, glockenspiel, shaker, electronic drum component, electronic drum pad or a gong (just to name a few) we are surely willing to help you with our tools and expertise. Give us a call or enquire online via live chat or email.
Keeping sustainability & economy in mind
Basically, we are the in-house customer service contacts that receive questions for special cases like a cracked cymbal or a malfunctioning e-drum kit module. We supply information on how to ideally solve the problem directly at the customer's house, before anything else. If an e-drum pad is defective we first try solving it by sending a spare part instead of taking it back, which can be costly and not so ecologically friendly. When absolutely necessary these repairs are mainly done by our in-house electronic workshop, with whom we work in collaboration.
Tasks at SC Drums & Percussion
Answering email requests
Looking through customer videos to identify the issues and find the most fitting solution
Checking the quality of returned goods in order to store them as B-Stock again (if transport damages occur, we try to solve it in the most economical way)
Solving issues, over the phone, from internal stakeholder such as customer service, logistics, partner management, product management, etc. (as well as external service partners and manufacturers)
Identifying serial issues and trying to prevent those from happening again
Changing drum skins
Repairing tuning lugs and shells (often gluing back together)
Cleaning cymbals 
Changing drumheads (which are not under warranty)
Testing e-drum modules, cymbals, percussion, classic drums and all for functionality and repairing what is needed (tuning, tightening screws, etc.)
Warranty checks for our own brands (in cooperation with our customer service)
Warranty Checks of all brands (within the drum universe) within the third year of our Thomann Warranty
---
Inside the Service Centre
View this post on Instagram
---
Tools we use
Our "special tool" is simple but very useful: The drum tuning key and even better – the drum tuning drill bit for an electric drill which makes changing drum heads a real pleasure!
Contact us!
☎ by telephone: +49 9546 9223-8241
by email: sc.drums@thomann.de
by live chat: Right side of this page where it says "NEED HELP?"
Hope to see you soon!