How to practice in a small room
How to practice in a small room
Whether it's a child's room, a student dorm, or a shared apartment, space for practicing with your instrument is often limited. Especially as a beginner, questions arise about how to practice with limited space. We provide tips on what to consider to make practicing in a small room successful and enjoyable. 🤘👇
---
Reserve a small corner
Set up a small area for your instrument. It's not productive to have to search for your instrument amidst the clutter of a small room before you can start playing. A few inches on the wall or a corner are sufficient to ensure your instrument always has its own place. Make sure all the parts are kept together. If you have to search for headphones and a keyboard stand buried under a pile of T-shirts because they're not with the instrument, practicing usually doesn't happen.
Useful accessories for practicing in a small space
For smaller instruments and sheet music, you can set up a shelf. We offer a wide selection of suitable stands for wind instruments in our shop. You can also place a guitar or bass on a stand or hang it on the wall (avoid cold exterior walls). Your drum set should always be in a fixed corner. For keyboards, there are various stands that can be easily folded up. And if you prefer to tidy everything away, take a look at our extensive range of bags and cases for every instrument!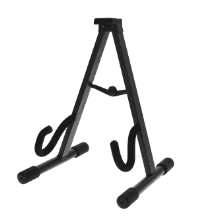 Practicing in a Small Space: Compact Instruments as an Alternative
For smaller instruments, there's usually always room to spare. But when it comes to larger instruments like pianos or drum kits, things can get quite tight in a small space. Fortunately, there are now compact alternatives available. A stage piano like the Yamaha P-125A or the Thomann SP-5600 offers 88 keys with hammer action and excellent playability and can be easily stored upright when not in use.
Modern electronic drums like the Roland TD-07DMK or the Millenium MPS-850, thanks to mesh pads and cymbals with stop functions, provide a realistic playing feel. They can be set up and taken down in no time, requiring very little space.
Alternatives for Loud Instruments
Small rooms often come with the problem of not being able to play loudly all the time. Whether it's the neighbors, roommates, parents, or siblings – someone is always disturbed. Fortunately, Yamaha Silent Brass systems offer a solution for many loud instruments like trumpet, trombone, horn, or saxophone. You can also play the violin quietly. And thanks to effect units with modern amp simulations like the Boss GT-1000CORE or Line6 Pod GO, electric guitar and bass can be enjoyed with headphones and a professional sound! And as a bonus, they take up much less space than an amplifier and speaker.
Choosing the Right Headphones for a Small Space
Speaking of headphones, if you can't play loudly, your headphones should at least not distract you from practicing. They should be comfortable, stay securely on your head, especially when you get into the groove during practice, and accurately reproduce the (digital) sound of your instrument. They're perfect when you forget you're wearing them while practicing! Our selection here is vast, ranging from studio classics like the AKG K-240 Studio to the ultra-loud Sennheiser HD-25. And even headphones should always be within reach. Use a stand or hook to give them a designated spot.
Small Practice Room? Play into the Room!
When playing an instrument in a small room, sound bounces back from the walls quickly. Therefore, it's recommended to play with a wall at your back or, even better, from a corner into the room so that the sound doesn't bounce directly back at you. Here's a pro tip from people who like to record at home: An unevenly filled bookshelf can absorb sound almost as effectively as a professional absorber in a recording studio! This way, the sound doesn't reverberate as quickly in the small room, allowing you to enjoy the sound of your instrument while practicing.
---
Are you also practicing in a small space? How do you deal with it? Do you have any tips for making it work with limited space? Share your thoughts with a comment!
Click here! 👇 #Back2School