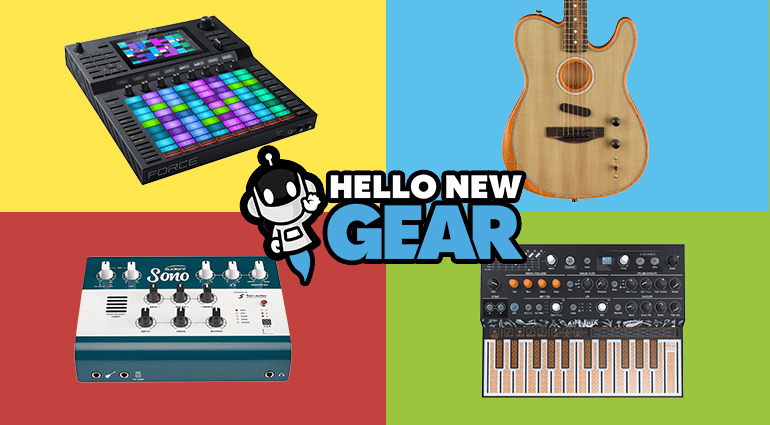 Hello New Gear – NAMM 2019 edition
Hello New Gear – NAMM 2019 edition
Hello everyone! Hello New Gear is back with a special NAMM 2019 edition and a whole slew of new exciting products! 🙂 
---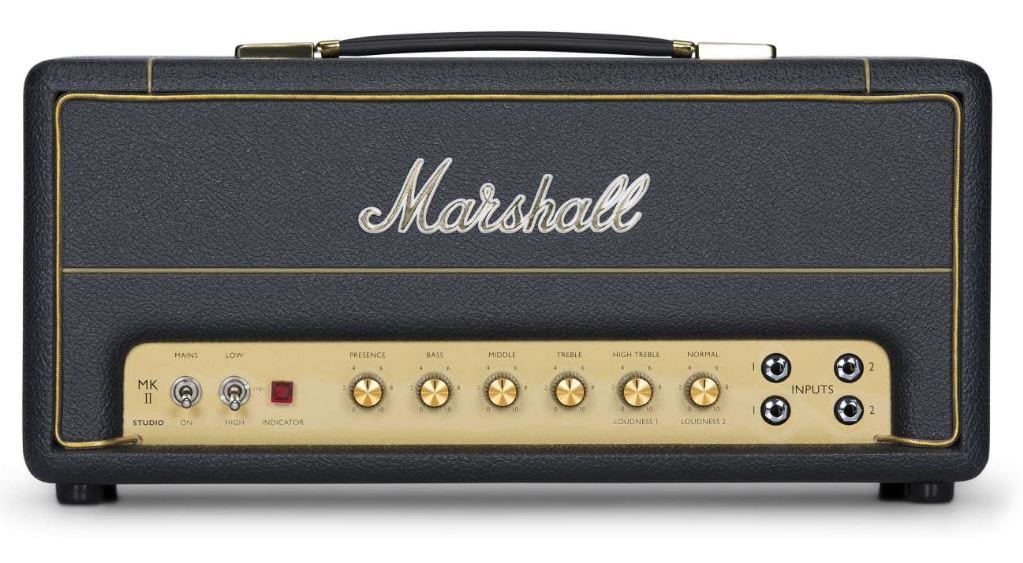 The SC20H valve amp is from Marshall's Studio Classic series and inspired by the legendary JCM800 2203! Key features include: 20W or 5W of power, 2 x ECC83, 1 x ECC83 (phase splitter) and 2x EL34 valves, preamp and master volume, presence control, effects loop and DI output. Be sure to also check out the combo version of this model, the SC20C. 
Marshall's 1959 SLP-inspired SV20C valve amp combo is a member of their Studio Vintage series featuring a single channel with four separate inputs, treble, middle, bass and presence controls, DI out and power reduction. The head version is the SV20H, a powerful beast.
Then there are the corresponding cabinets: the SV112, SV212, SC112 and SC212.  Available with both 1×12″ and 2×12″ Celestion V-Type speakers and in both 70 watts and 140 watts. Power!
---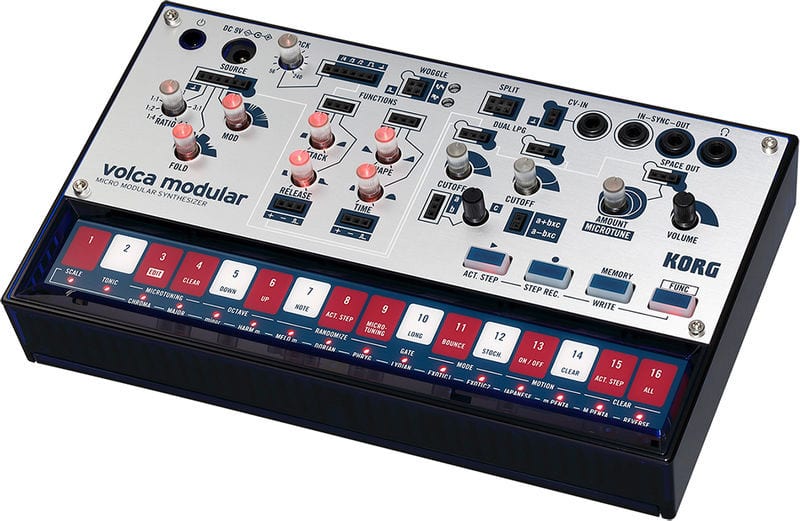 Welcome the new member of the Volca family, the Korg Volca Modular, a modular analog synthesizer based on the "West Coast" synthesis style: 8 modules, 50 connection points, 16-step sequencer, random function for the sequencer and 2 new modes for sequence playback among other neat features.  The built-in speaker, headphone output and the option to use the gadget with six AA batteries lets you use it on-the-go. Perfect!
---
Revv's Red Channel 4 tone is now available to everyone in a less-expensive pedal format, a thick gain monster with tube-amp-like distortion that can also reproduce old-school tones! You no longer need to carry around that heavy (yet amazing) Generator 120 MKII amp! Click the link above for full specs.
---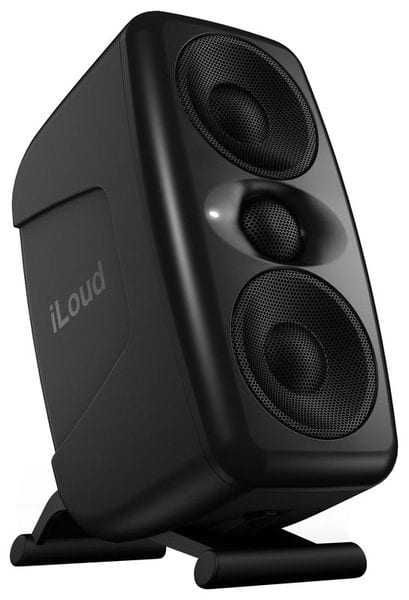 IK Multimedia iLoud MTM is a 2-way active monitor with 1″ tweeter and 2x 3,5″ woofer and high performance bass-reflex port. Because of its unique design it can be placed horizontally or vertically and comes with a tilting mount which angles from 0° to 20°. What's most interesting about this monitor is that it can digitally calibrate to suit the room that you are listening in. It does this using DSP and the built-in ARC technology and microphone. Fantastic!
---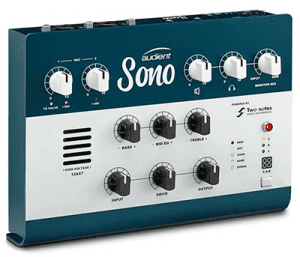 The Audient Sono, the brand new amp modelling interface presented by Audient in collaboration with Two Notes Audio Engineering is truly remarkable: with a quality that goes up to 24-bit/96 kHz, 2 mic/line inputs equipped with two Class-A preamps (60dB Gain), near zero latency, tone controls, Torpedo's own power-amp and cab modelling, there's simply nothing else we could ask for.
---
Get the computer out of music production! Akai has finally done it with their standalone production house, the Akai Force. This is ideal, for example, for those who spend all day working in front of a computer screen and still want to create music in the evenings. Some would opt for analog gear and tape machines but for others the Akai Force would be more ideal for their preferred genres of music. Clip launching via an 8×8 RGB matrix, step sequencing, sampling, effects, built-in synths (Bassline, TubeSynth, Electric and Hype) and more can all be controlled on the 7-inch multitouch display. Two audio inputs, four audio outputs, MIDI and CV I/O allow you to record and control from any external device to 8 stereo tracks (realtime timestretching & pitchshifting are supported). There are 16GB of built-in storage (expandable by SD card & USB) and a 2.5-inch SATA drive connector, for virtually unlimited storage.
---

The symbiosis of electric and acoustic guitar is held in your hands with the Acoustasonic Series Telecaster from Fender. A hybrid that offers you new sound and playing possibilities. This baby is assembled with the Stringed Instrument Resonance System (SIRS) and provides natural, rich and loud sound. The transfer happens via the Noiseless Pickup and a special Fender / FishmanAcousticSystem. Find all the specs thomann.de. 
---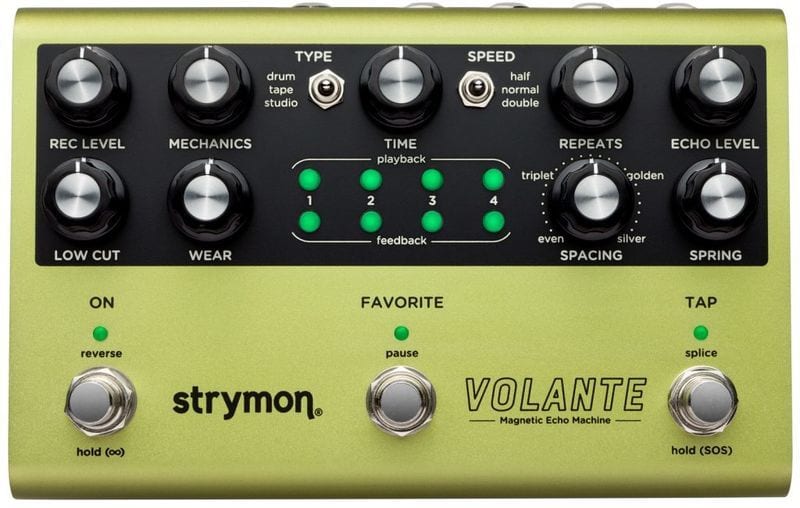 If vintage tape delays are your thing then this is the pedal for you because it allows you to control 3 magnetic delays (drum, tape, studio) as well as spring reverb and a looper! Its true bypass is complemented with a switchable buffered bypass. Strymon never disappoints!
---

The CP73 and CP88 (the numbers represent the number of keys) are a new series of stage pianos by Yamaha that bring the controls out of screens and directly to your fingertips. This return to tactile controls is in high demand by those who want to see exactly what's going on at all times, especially for those who frequently play live. Some call it retro or vintage, we call it practical. Click the links above for the full specs and click below to zoom in on the controls:

---

This amazing product knows how to do it all: Variable response Directbox Loadbox, Analog Active Power Amplification, Microphone Sound Simulation, Impulse Response Charging and Recording Interface; all in one easy-to-use box designed for touring!
---
Neumann presented his very first monitoring headphones, the NDH 20! It's a closed circumaural studio headset with 38 mm speakers with neodymium magnets and Duofol diaphragm, aluminium construction, memory foam pads, and foldable format!
---
"Meet the six track groovebox that offers massive sound in a compact size. You get pretty much all of the Elektron superpowers in a sleek, lightweight, and accessible package. Loads of useful presets and loads of space for your own sounds. The controls are right there at your fingertips. A truly plug-and-play bundle of joy!" (Quoted from www.elektron.se) Check out our demo video below:
---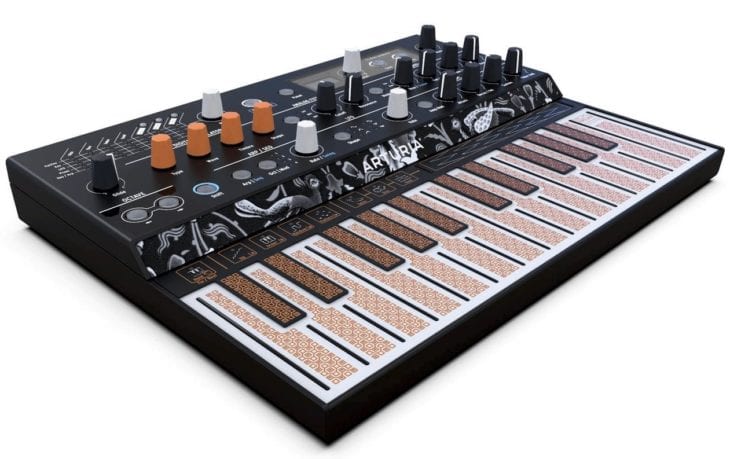 Arturia presents its first digital synth made in collaboration with Mutable Instruments. It is distinguished by its touch-sensitive keyboard and the presence of an analog filter. All the info in our video:
---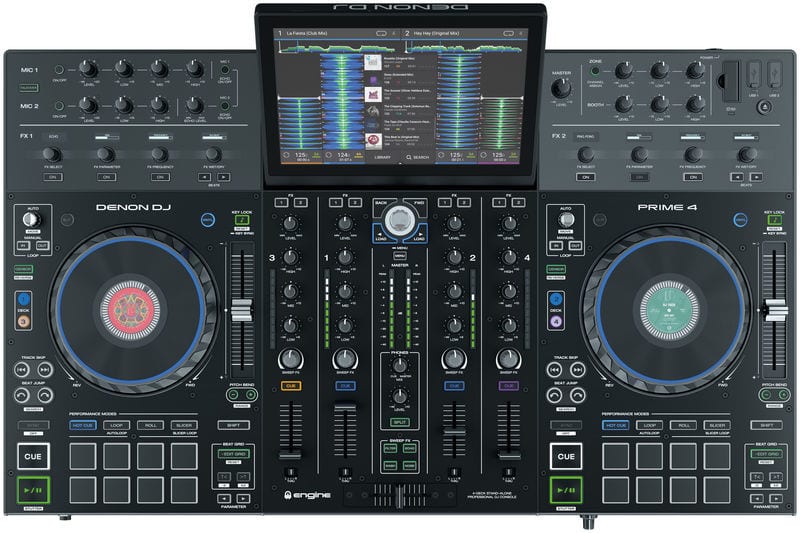 Denon throws itself into the world of 2-channel DJ consoles: thanks to Prime Engine software and full compatibility with Serato DJ Pro, Traktor Pro and Rekordbox, the Prime 4 makes a pure entry into the DJ world. For more info, check out the video below:
---
The Two notes Torpedo CAB M is a fantastic guitar and bass guitar simulation pedal. It can be controlled by software via USB or Bluetooth wireless. More info in the video below:
---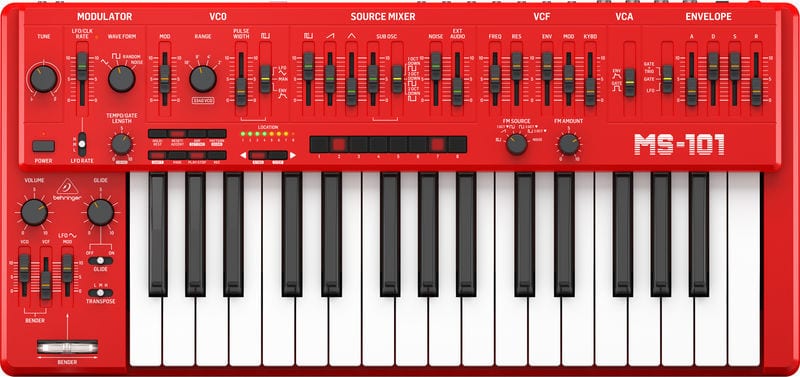 Behringer has introduced two new synths: the MS-101 RD, analog mono synthesizer with authentic VCO 3340 that has 4 simultaneous waveforms, a VCF, an envelope ADSR and a 32-step sequencer! The manufacturer also introduced the Vocoder VC340 which is an analog string synth with vocoder sets with a full three-octave keyboard.
---
Wow, that's a lot of new gear! We hope you enjoyed reading about it and watching the videos. Now get off the Internet and go try these products out! 2019 will be a busy and musical year! ?