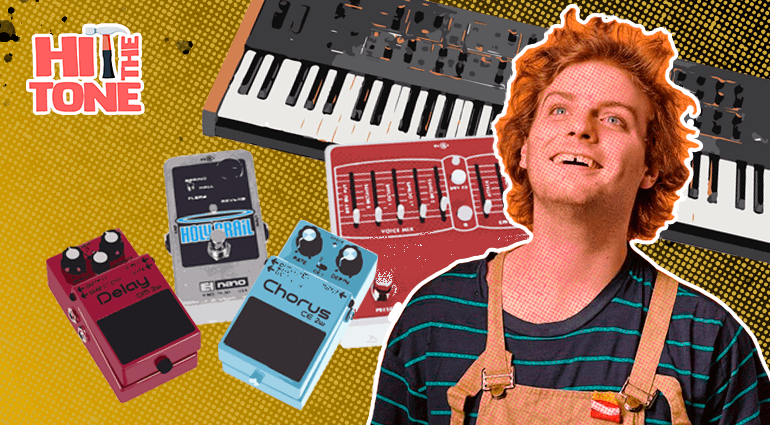 Hit The Tone! Mac Demarco & his gadgets
Hit The Tone! Mac Demarco & his gadgets
INGENUITY, SIMPLICITY & STYLE
---
You mean that goof with the gap between his teeth?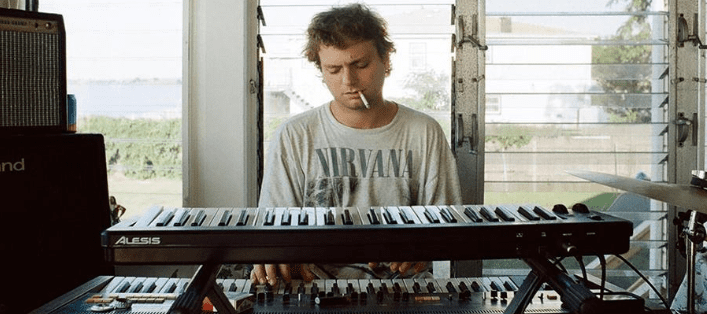 Among other things, but yes, that's him. Throughout the history of popular music there has been a constant tug-of-war between solemnity (in terms of sound and lyrics) and a sense of humour. Some of the greatest music ever made balances magically between saving the world and making fun of its absurdity. Progressive rock and punk, grunge and brit-pop all contain examples of this throughout history and there's no doubt that Mac DeMarco is succeeding in this magical balancing act. His music could be understood as the ironic -and brilliant- response to the messianism of history's pop and rock icons. DeMarco embodies the opposite of over-the-top commercial pop: lightness, simplicity, low fidelity, vintage integrity, slacker attitude, a wacky, almost vulgar, sense of humour (especially on stage) and undeniably catchy melodies. Through his three LPs and two EPs, this Canadian has developed a sort of marriage between jangle pop and low-fi psychedelia. The result, we'll tell you in case you haven't tasted it yet, is irresistible.
Mac releases his new album today, May 10th, called "Here Comes The Cowboy"!
---
Tell me your secrets, please!
Since Mac himself won't (fully) reveal them, it's up to us to listen, and watch, for the details. In addition to using vintage guitars, one of the great secrets of DeMarco's sound is the application of effects to those guitars. One of the permanent effect pedals in his arsenal is the Boss CE-2w, a combo of chorus and vibrato that recovers the sound of the mythical CE-1 and CE-2, key figures in the sound that we associate with jangle pop and the C-86 schools, from which our Canadian hero seemingly takes inspiration. Two of the secrets of DeMarco's guitars are his tasteful use of reverb and delay. Regarding the first one, he usually uses the vintage-tinged Electro Harmonix Holy Grail, and for delay his favourite is an '80s classic: the Boss DM-2W Delay, which is also characterised by its analog aroma. To finish off about pedals, it's necessary to talk about one of the jewels of his crown, the Electro Harmonix POG2, a generator of polyphonic octaves of which DeMarco himself spoke thus: "It just kind of makes your guitar sound like a weird church organ or something strange. It's a cool thing. It's a weird, weird sound." No further questions, Your Honour.
---
Okay, but his sound isn't made with just guitars!
That's right. It's time to talk about another of the great – some say the greatest – secrets of Mac DeMarco's sound: his use of synthesizers. As we spoke before, a common feature of all the equipment used by the Canadian is its marked vintage character. It's the same story with his synths: one of his favourites is the Prophet-5, a Californian synthesizer manufactured from 1978 to 1984 inclusive. Luckily, today the market offers us alternatives to the Prophet-5. One of the most striking, without a doubt, is the Dave Smith Instruments Prophet REV2-8.
This is an eight-voice polyphonic analog synthesizer (Prophet-5, of course, had five voices). Eight voices, by the way, expandable to 16 through an external voice card. Among other things, the upgrade of the built-in software (one of the most common complaints of musicians who used previous versions), the polyphonic step sequencer with up to 64 steps (6 notes per step) or the 512 factory programs (4 banks of 128) and 512 user programs stand out.
Another of the synthesizers that suits Mac's tastes is the Roland Juno-DS 61, heir to the mythical Juno-60. This is one of the most intuitive synthesizers out there. For this reason, and for its average price, it is usually recommended for musicians who are entering the wonderful world of synths.
The Juno-DS 61 includes a polyphony of up to 128 voices, 256 user memory patches (8 drum kits and 128 interpretations) or an intuitive eight-track pattern sequencer with nonstop recording, ideal for recording song sketches quickly and securely.
Another model to consider is the Yamaha Reface DX, a compact 37-key synth with a format (common to all Refaces) designed to be transported and possible to operate with batteries, keys at 85% of their usual size and dimensions that make it look more like a desktop module than just another synth. As far as its operation is concerned, it must be said that almost all signs of functional complications are eliminated.

We end this section with two very adaptable and portable Korg models. The first of them would be the Korg microKORG, a analog modeling synthesizer, very versatile for its small size and based on the sound engine of the great Korg MS-2000. It has three octaves and offers 4 polyphonic voices. Its built-in microphone allows working with a vocoder. In addition, it comes with an arpeggiator, resonance filter, a multitude of effects and inputs to manage external audios.
The second, with very similar but somewhat more varied features, would be the Korg microKorg XL+, with an eight-voice polyphony, a 16-band vocoder and 128 preset sounds. The big difference with the microKorg is its sound engine. While that, as we have commented, has the MS-2000, the XL works with an R3.
---
Wow, anything else at this point?
We're afraid so. There are still more synthesizers to talk about. In this case, it's synthesizers that deserve a separate chapter. We are talking about the Moog, of course. Considered by many to be the best -most complete, dynamic and versatile- synthesizers ever created, it would be unforgivable to end a tour of the synthesizers without talking about at least three or four of their references. Because, undoubtedly, Mac DeMarco also uses Moogs. Let's start, naturally, with the Moog One.
Available in versions with 16 voices and 8 voices, this is a real gem, a multitimbral synthesizer with up to 3 simultaneous sounds, 3 oscillators (VCO) for each voice, with the capacity to generate complex waves, double filter (ladder Moog style and variable state, with HP, LP, BP and notch responses) and 4 LFOs and 3 envelopes in each of the sections.
The Subsequent 37 is another very noteworthy model. In this case we are talking about a 37-key synthesizer, with mono and duet paraphonic mode, arpeggiator, step sequencer and, among other things, 256 presets. It is also known for its tremendous and balanced response in both bass and treble.
Nor should we forget the Grandmother, a semimodular 32-key synthesizer with arpeggiator, integrated hardware spring reverb based on the Moog 905 or storage of up to 3 sequences with up to 256 notes.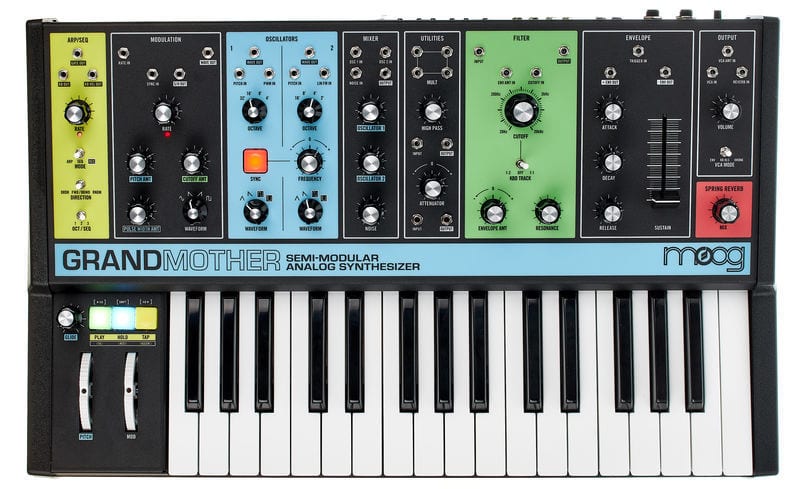 We finish off by talking about the Sub Phatty, a monophonic synthesizer that might seem less luxurious compared to the aforementioned, but we must not forget that it is a Moog, and that this is always a guarantee of quality. The Sub Phatty, with a price of €739, is designed for pockets that cannot afford the big technological mastodons that are the Moog One or the Subsequent 37. But watch out: this is a very versatile synthesizer: 16 presets, Multi-Drive Circuit analog distortion, 2 variable wave oscillators or a square wave suboscillator are some of its features. In addition, with a suitable software editor you can get a lot out of it. Check out this demo:
---
Conclusion
The great lesson that comes from looking at Mac DeMarco's gadgets is clear: no matter how much the Canadian transmits a disjointed slacker image, the reality is that he has a very clear idea of what he wants. He knows what technology to use to produce exactly the jangle-psychedelic sound -"jizz jazz", according to him- that we hear on his albums. And the most irrefutable proof of this is that, if he didn't know exactly what he's up to, it would be impossible for him to record songs so supposedly simple, so concrete, with such a myriad of synths and pedals. As is always the case: the songwriting is what matters most. From there the songs bloom aesthetically, and that's exactly where Mac's ingenuity shines.